Vietnamese students earn prizes at largest global highschool STEM competition
The third prize of the Regeneron International Science and Engineering Fair 2021 goes to Vietnamese highschoolers.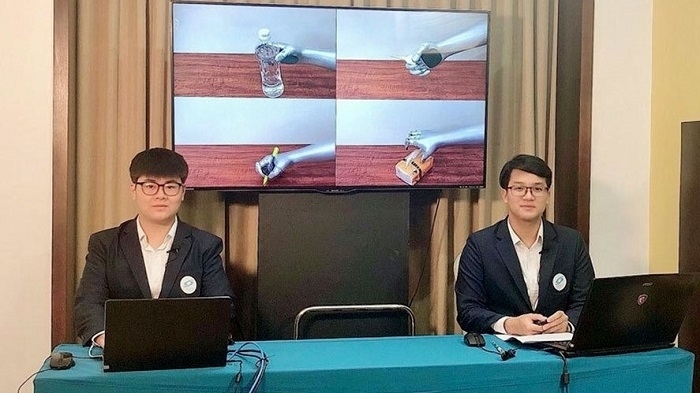 Presentation by Pham Duc Linh, Nguyen Duc An at the event. Photo provided by the organising board
A Vietnamese project has won the third prize at the 2021 Regeneron International Science and Engineering Fair (Regeneron ISEF), the world's largest global high school competition, reported NDO on May 22.
The project on robot arms for the disabled with full arm paralysis by Pham Duc Linh and Nguyen Duc An from Han Thuyen High School in the northern province of Bac Ninh obtained the prize.
It made Vietnam one of 34 countries and territories to be honoured among 81 taking part.
The project also was honored the first prize at the Vietnam National Science and Technology Competition for the school year 2020-2021.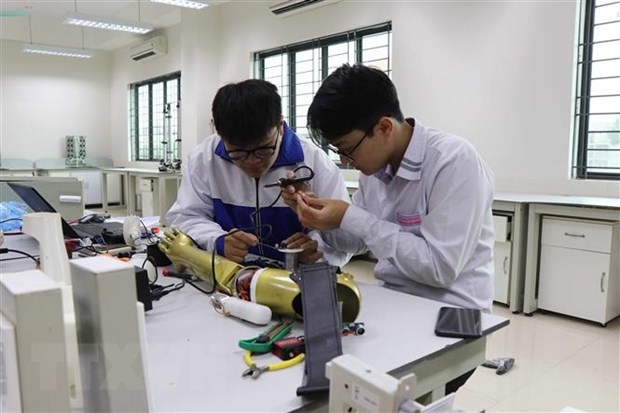 Pham Duc Linh and Nguyen Duc An working on robot arms for the disabled with full arm paralysis. Photo: VNA
Meanwhile, two special prizes were given by Science - Technology and Enterprise organisations.
Another project on dealing with high school students' psychological difficulties in online learning by Hoang Viet Phuc and Vu Phuong Mai from Lao Cai High School for the Gifted earned the third prize presented by the American Psychological Association and the special consolation prize by the American Statistical Association (ASA).
The ASA also granted the special consolation prize to a project on stimulating math thinking by Huynh Dang Khoa and Le Anh Chau from Nguyen Tri Phuong Secondary School in the central province of Thua Thien Hue.
Regeneron ISEF provides a global stage for future leaders in STEM – bringing together the best and brightest young minds to present their original research ideas to leading scientists and peers. Founded by the belief that advances in science are key to solving global challenges, Regeneron ISEF works to support and invest in young scientists who are generating ideas and acting as catalysts for the change needed to improve the well-being of all people and the planet.
Historically held in person, 2021 marks the first time in its more than 70-year history that the competition took place virtually.
The competition was held in the US from May 3-6, with 1,431 projects from 81 countries and territories. Vietnam sent seven projects to the event. There were 382 winners, accounting for 26.67%./.