Visiting Place in US Where President Ho Chi Minh Used to Live and Work
On the occasion of the 133rd birthday of President Ho Chi Minh (May 19, 1890 - May 19, 2023), the delegation of Vietnamese representations in New York led by Ambassador Dang Hoang Giang, head of the Permanent Delegation of Vietnam to the United Nations (UN), and the delegation of the Ministry of Public Security led by Major General and Deputy Minister Le Van Tuyen visited the Omni Parker House in Boston (US), where President Ho Chi Minh worked from 1911-1913.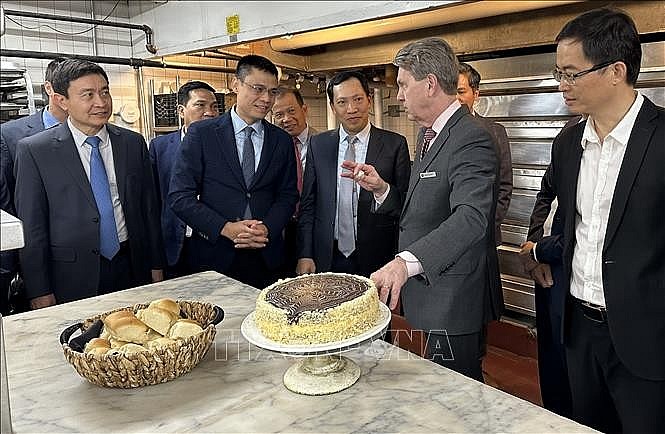 Omni Parker House General Manager, John Murtha (2nd, right) introduced two types of Massachusetts brand cakes "Parker House rolls" and "Boston Cream Pie" that President Ho Chi Minh used to make on this marble table.
Welcoming Vietnamese delegations to visit the hotel on this meaningful day, General Manager John Murtha introduced a number of documents and artifacts related to President Ho Chi Minh, especially the marble table where he used to work as a baker and in charge of the pastry chef. President Ho Chi Minh followed a number of recipes that are still used by the hotel to this day.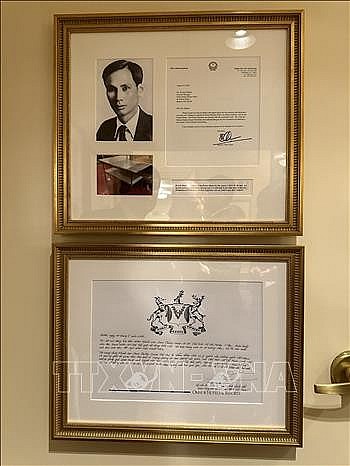 Information about President Ho Chi Minh and the notes of Prime Minister Pham Minh Chinh during his working visit to the United States (May 14, 2022) are framed and hung solemnly in the lobby of the Omni Parker House.
Looking back on President Ho Chi Minh's great journey to find a way to save the country, including meaningful days in the cities of Boston and New York, Ambassador Dang Hoang Giang expressed his respect and appreciation for Omni Parker House's help to preserve an important relic associated with his life and career.
The Ambassador thanked the leaders of the hotel for welcoming many high-ranking delegations and all levels of Vietnam to visit.
He wished that this precious heritage will continue to be promoted, honoring the great leader, national liberation hero, and world cultural celebrity and contributing to the development of Vietnam-US relations.
Boston, Massachusetts is one of the destinations in President Ho Chi Minh's journey to find a way to save the country. That's where President Ho Chi Minh studied history, and learned about the American people's struggle for independence, freedom, and unification. He also witnessed and supported the African-American equal rights movement.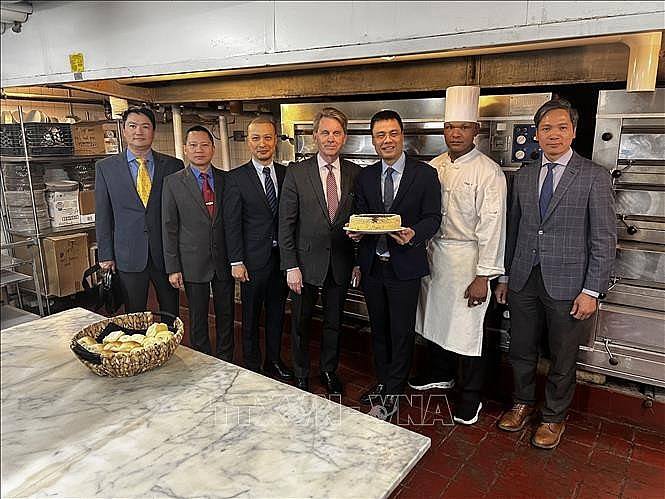 Ambassador Dang Hoang Giang (3rd, right) received gifts from Omni Parker House General Manager John Murtha (4th, right) and Tran Van Chanh (2nd, right) - a Vietnamese Americans baker working at this bakery for 22 years.
The Omni Parker House opened in 1855, is recognized as America's oldest continuously operating hotel. Located opposite the old town hall, close to the cultural center of Boston, and not far from the prestigious Harvard University, this hotel is where many celebrities of the United States and Massachusetts frequented, or used to visit, including former Presidents John F. Kennedy and Bill Clinton.