Books about President Ho Chi Minh leave strong imprint at St. Petersburg Book Fair
Vietnam introduced many books on President Ho Chi Minh at an International Book Fair which officially opened in Saint Petersburg City, Russia on May 26.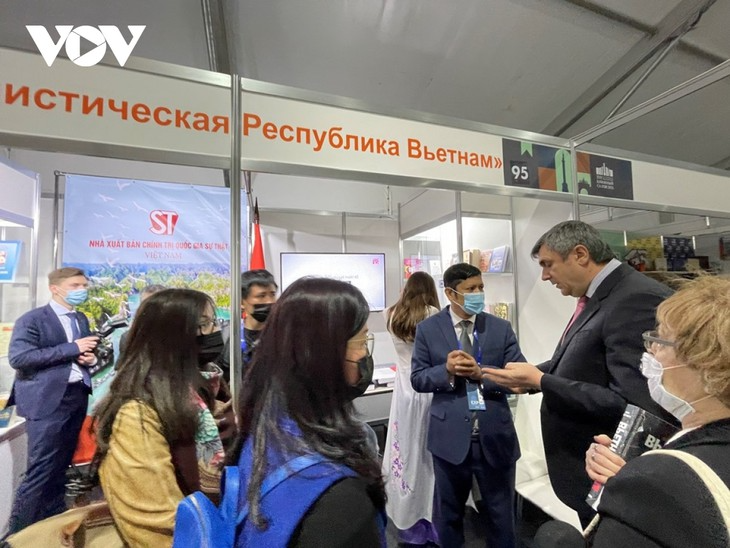 At the function, a Vietnamese stall jointly organised by the Su That (Truth) National Political Publishing House and the Overseas Vietnamese Association in Russia is participating in the event. Photo: VOV
The Vietnamese stall, especially books about President Ho Chi Minh, is attracting a large number of Russian visitors at the 16th St. Petersburg International Book Salon, which opened on May 26.
Held on the occasion of the 800th birth anniversary of Grand Prince Alexander Nevsky and the 200th birth anniversary of Fyodor Dostoevsky and Nikolai Nekrasov, the event drew the participation of 111 leading publishing houses, university publishing centres and professional associations, with more than 170 pavilions and 200 speakers, cited Vietnamplus.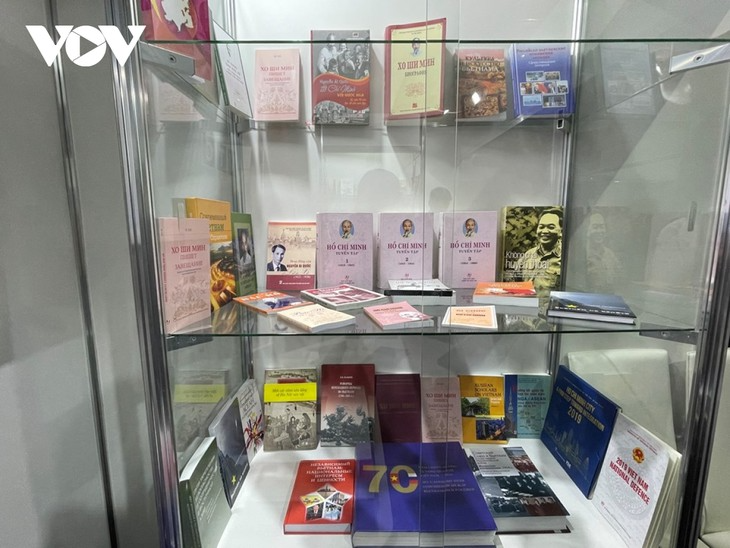 A series of books providing information about President Ho Chi Minh serves as the highlight of the Vietnamese stall. Photo: VOV
Hosted by the Vietnamese Association in Russia, the Vietnamese stall displays books in the fields of economy, politics, culture and history in Vietnamese, Russian and English, notably books about President Ho Chi Minh by the National Political Publishing House.
The opening ceremony saw the attendance of Chairman of the Federation Council Valentina Matviyenko and Governor of Saint Petersburg City Alexander Beglov, reported NhanDan.
Taking place across four days, the fair is an outstanding cultural event in Russia's northern capital with many activities promoting books from leading publishing houses and featuring the participation of various famous writers and speakers.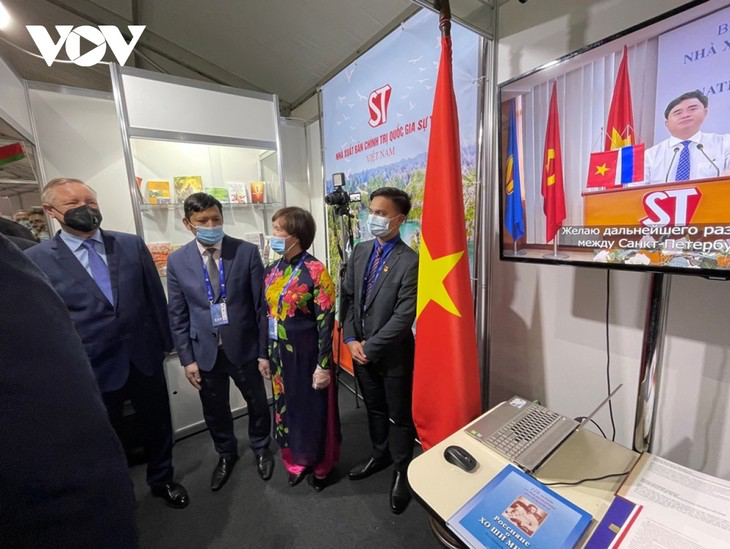 Governor of Saint Petersburg Alexander Beglov paying a visit to the stall. Photo: VOV
Nguyen Quoc Hung, Vice Chairman of the Vietnamese Association in Russia and member of the management board of the support fund for Russia – Vietnam cooperation, said on the occasion of the 110th anniversary of Uncle Ho's departure to find the way for national salvation, the National Political Publishing House translated and published a book about Nguyen Ai Quoc's activities in the former Soviet Union from 1923-1938 in Russian language. The book was introduced at the event via videoconference, according to Vietnamplus.
The book "Activities of Nguyen Ai Quoc in the Soviet Union (1923-1938)" vividly and systematically reflects the activities of Nguyen Ai Quoc (another name of President Ho Chi Minh) during the time he lived in the Soviet Union as well as the valuable support and goodwill of the Soviet Government and people for Vietnamese people's struggle for national independence.