Can You Pass The Official 2022 Vietnamese Proficiency Exam?
Set your timer and sharpen your pencil for this intense language test! Can you get the perfect score 30/30 in 40 minutes or less?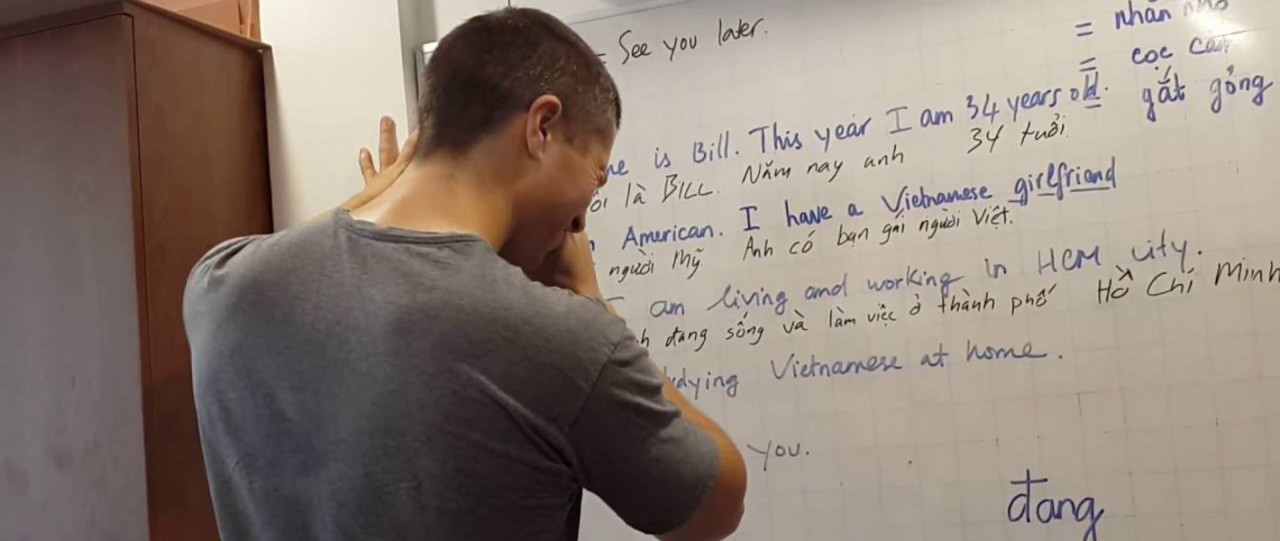 It is not easy to get the perfect score in Vietnamese language exam. Photo: City Pass Guide
Your Vietnamese proficiency test is coming up and you want as much practice as possible? We've got just the thing you are looking for! Korean colleges distilled their study resources for foreign language learning including Vietnamese. Sharpen your pencil and see if you can get the perfect score 30/30 in 40 minutes or less.
The 2022 Vietnamese proficiency exam in Korea
On Nov. 18, the Korean university entrance exam was held, including second language proficiency tests. Beside English, students can choose to take Chinese, German, Japanese or Vietnamese.
Second language exam usually takes place in the late afternoon (5:00 - 5:40PM), when candidates have fully completed the subjects of National Language, Mathematics, English, Korean History and elective subject (Social Science, Natural Science, Occupation, Foreign Language, Chinese Literature). There are nearly 510,000 students in Korea taking the national university entrance exam or Suneung exam for the academic year 2022 at 1,396 test sites across the country.
The 2022 Vietnamese proficiency exam has 30 multiple-choice questions, and duration is 40 minutes. Vietnamese learners quickly turned it into a handy must-have volume for practicing.
It is not easy to get the perfect score as the Vietnamese language exam in Korea is considered to be brain-cracking riddles. This also partly shows how hard and relentless the most important exam in student life in Korea is.
The test forms can even make native Vietnamese speakers break into sweats. The forms include:
1) Fill in the missing syllables in the vocabulary;
2) Choose the correct word to complete the sentence;
3) Choose the whole phrase to complete the sentence;
4) Answer questions with hints;
5) Choose the appropriate question to complete the reading;
6) Choose the best content of the reading passages;
7) Arrange the order of dialogue so that it is logical and appropriate;
8) Choose the correct sentence that describes the picture;
9) Select content that is not in the reading passage.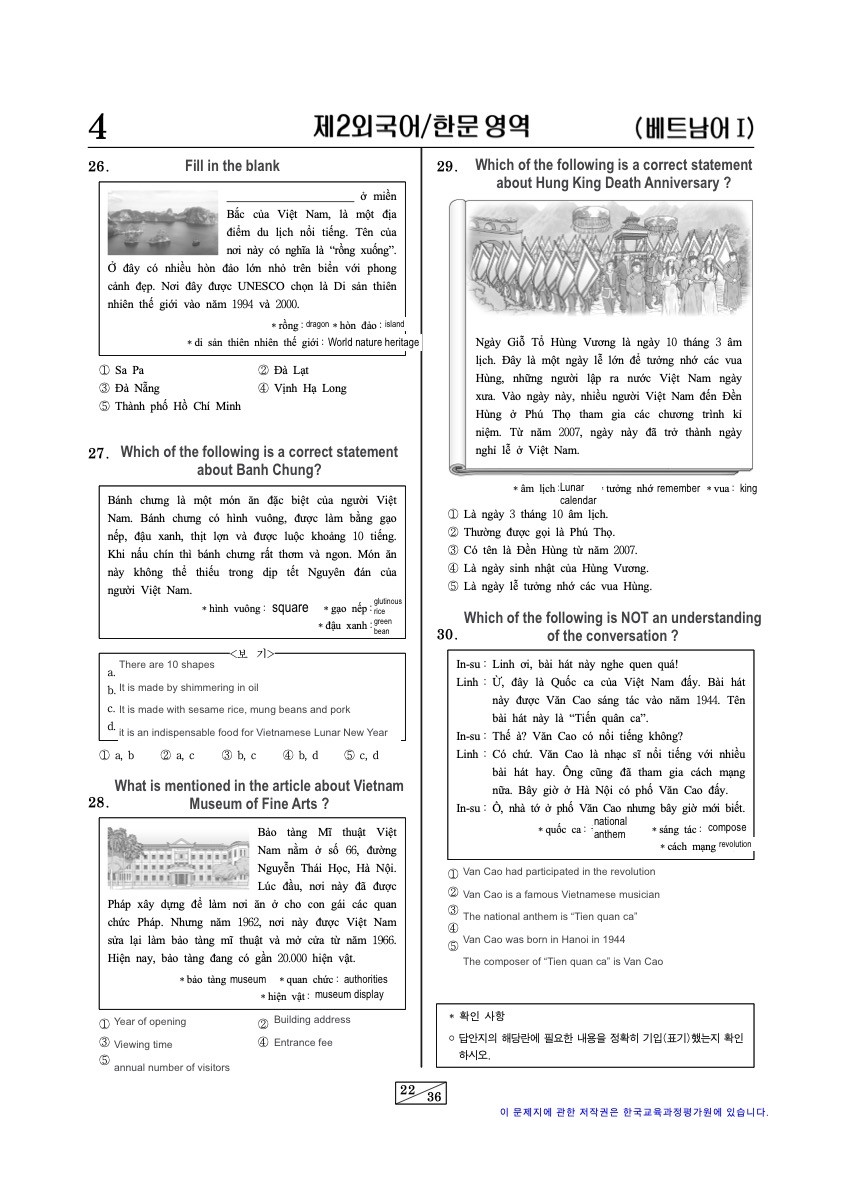 Korea University Entrance Exam AY 2022 - Vietnamese proficiency exam
Vietnamese placement test in Vietnam
For any who wishes to take the Vietnamese placement test in Vietnam, you can relax because this test is much less intense.
You will be tested on listening, speaking, reading and writing. Listening, reading and writing skills will be tested on paper or using computers, while the speaking skill test will be completed in face-to-face interviews with examiners or using computers.
The testing format will be decided on a case-by-case basis by test organizers, and informed to test takers before their registration.
Eligible for hosting tests are tertiary education institutions providing literature studies, Vietnamese literature teacher training, Vietnamese language studies, and Vietnamese culture studies, as well as units assigned by state agencies for providing Vietnamese language training for foreigners.
How to pass your Vietnamese test with flying colors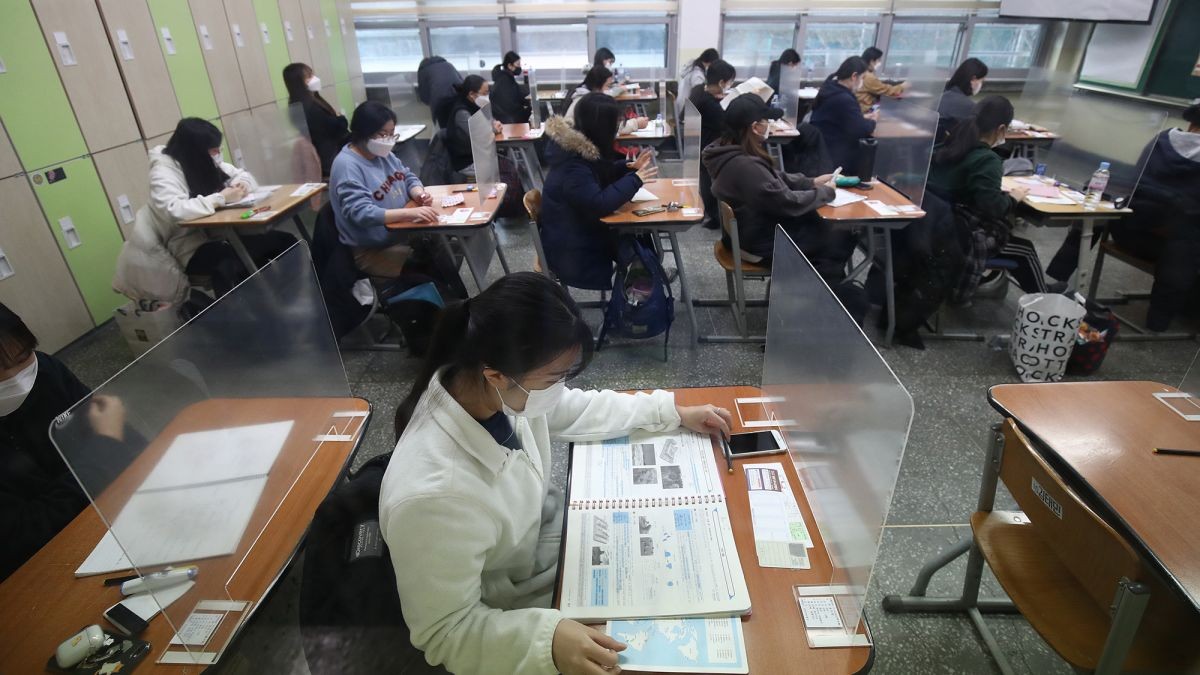 Test taking can be stressful. Photo: CNN
Vietnamese learners can improve test-taking skills significantly using these tips:
- For Grammar questions, quickly write them down or read them to yourself quietly to break down the sentence patterns.
- Printed vocabulary out in Time News Roman font to memorize them better (the font used in the test paper)
- Any question or sentence you are not sure about, divide them into 2 parts: the part you understand (1) and the part you do not understand (2). Cover part (2) and try to guess its meaning using the meaning of part (1).
Learning Vietnamese language a new language trend among many foreigners especially students from East Asia. Vietnamese studies in general is the study of Vietnam and things related to Vietnam. It refers, especially, to the study of modern Vietnamese and literature, history, ethnology, and the philological approach, respectively.
Several major universities in the United States offer a Vietnamese studies major or program, including Brown University, the University of Houston, University of California, and Yale University. The Tokyo University of Foreign Studies also offers a program in the field.
*The key to the exam is

HERE

>>>>