CNN: Abandoned Theme Park In Hue Among Top 10's Most Fascinating Parks In The World
CNN has listed dragon-themed Thuy Tien Water Park on the outskirts of Hue in central Vietnam among the world's 10 fascinating theme parks that have closed forever.
The amusement park opened in 2004 and closed down just a few months later due to financial problems.
It has since remained abandoned, but its creepy and desolate image is a cause for curiosity for many foreign tourists.
Due to its severe deterioration, local authorities prevent people from entering it on safety grounds.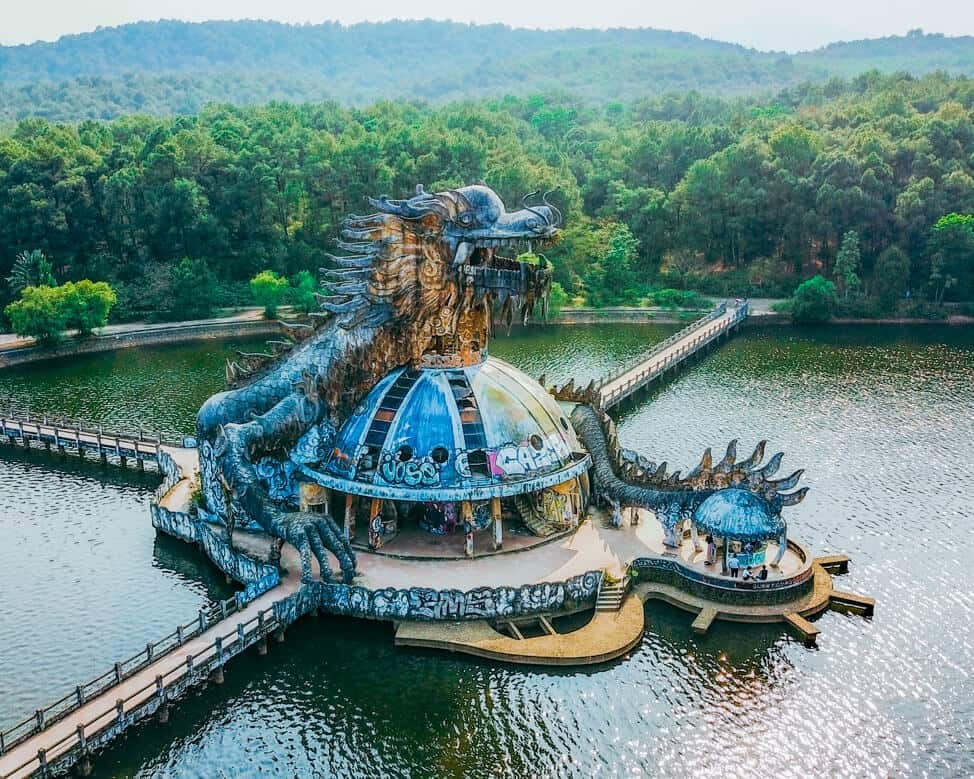 Photo: dulich3mien
"Nowadays it's an unofficial tourist attraction, the decaying dragon, water slides, and other features looking more like ruins from a thousand years ago rather than a 21st-century attraction," CNN said.
Recently authorities have been considering renovating the park at a cost of VND20 billion ($860,000) and turning it into a public tourist attraction.
Other names on the list are Yongma Land in South Korea, Nara Dreamland in Japan, Mimaland in Malaysia, and Berliner Spreepark in Germany.
Why was Thuy Tien water park closed?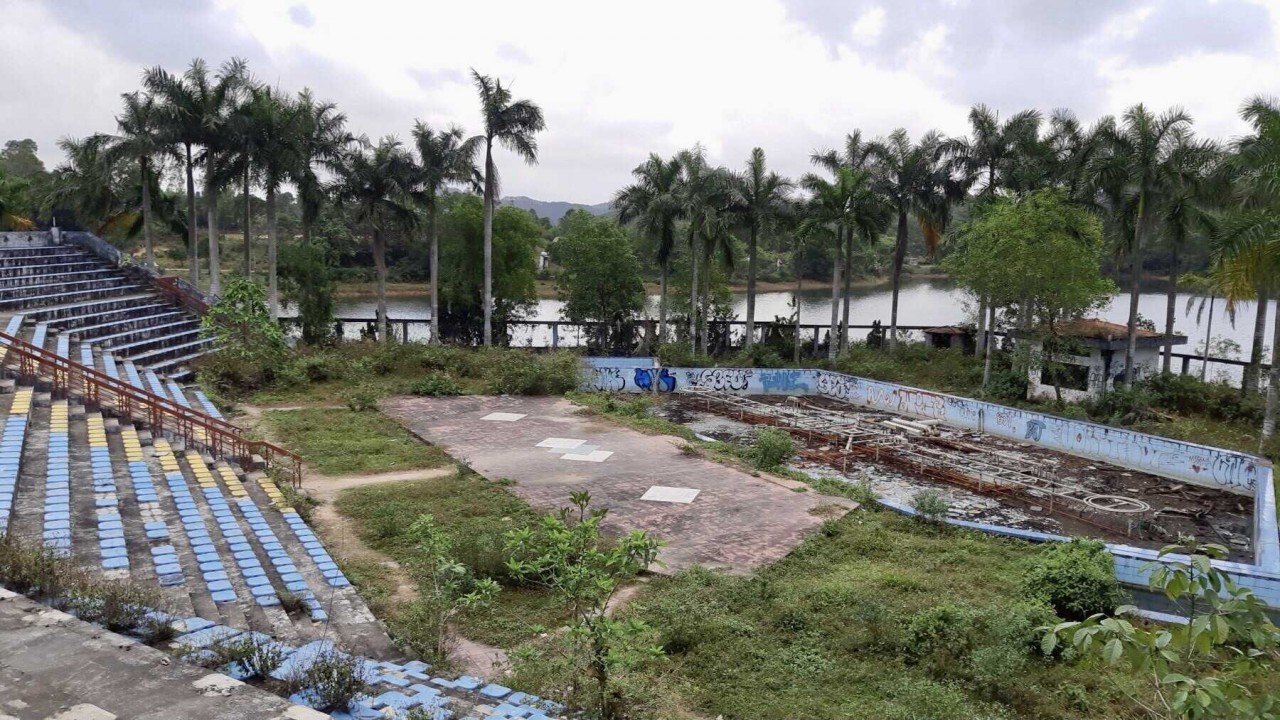 Photo: Hoang Hy
Thuy Tien Park was officially opened to welcome guests in 2004, even though it was not completed at that time.
However, after putting into operation, the park was degraded, inefficient, and eventually abandoned.
Since then, Thuy Tien Lake has become devastated, and the structure is crumbling and covered with moss.
Photo: VinWonders
Moving from the city center to Thuy Tien's abandoned water park is easy. Tourists can take a taxi, drive a car, or ride a motorbike. It takes only 25 minutes to move by car and about 40 to 50 minutes by motorbike.
When choosing a personal vehicle, take the route from Le Duan Street to Da Vien Bridge. Then turn right on Le Ngo Cat Street and turn left to Minh Mang Mausoleum. After that, follow the road sign for about 1 kilometer to Thien An Hill. There is a parking lot in the foothills. Park here and walk to the lake.
Admire the giant dragon sculpture
Giant Dragon Scuplure is the symbol of Thuy Tien Lake. It is a majestic scene of a giant dragon wrapped in a mossy and dusty ball. All details were meticulously made and came with a mysterious tone, leaving a deep impression on visitors. And that's why this place soon becomes inspirational for many artistic photos.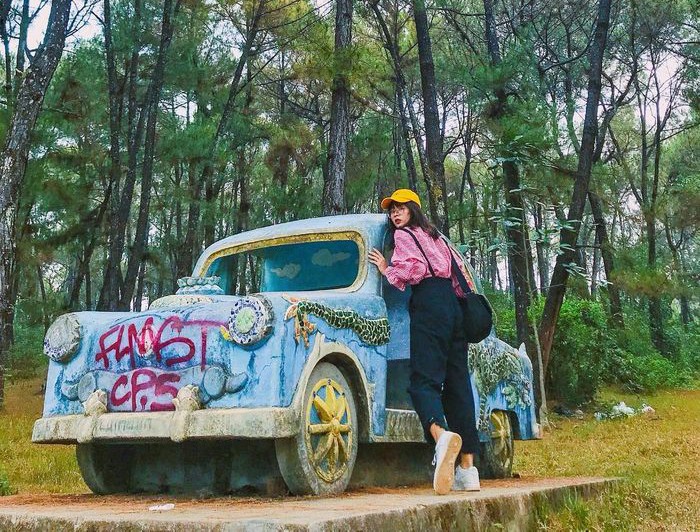 Photo: VinWonders
This architecture has two attractive spots: the dragon's head and tail. Dragon's Head is the highest point of the water park, where tourists can find a panoramic view of the lake and the nearby hill. And the tail was designed as a cool hut with concrete seats for visitors to take a break.
Remember to take photos on the drawing wall here. The wall full of odd, strange drawings from visitors will be an excellent background for unique photos.
Go inside and explore the abandoned aquarium
Get deeper into the aquarium area, and you will find the spooky look of Thuy Tien Lake's abandoned water park. Be careful because you must go through dense grass around your feet.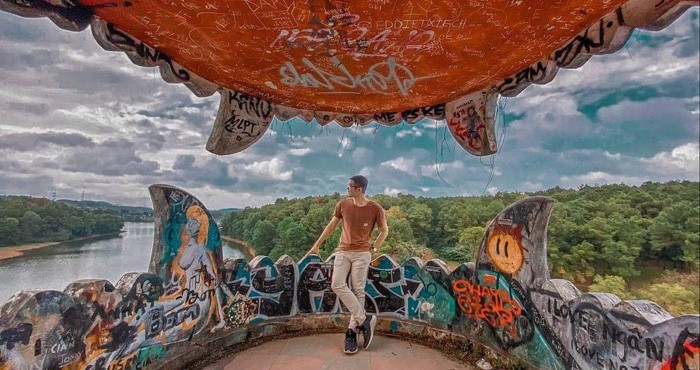 Photo: Alodi
Inside the large building are creepy remnants of the famous aquarium. The whole space is filled with ruins, overgrown trees, stains, broken fish tanks, and ghostly walls. Everything evokes a desolate scene, like a ghost house in horror movies.
Because of the cold and dark colors, the scene is somehow scary. However, it's also the unique attraction of abandoned water parks.
Wander around the lake and the stadium for the dancing fountain
The stadium for the dancing fountain was the most impressive and sumptuous area of Thuy Tien Lake. It was planned for fantastic musical-on-the-water performances with over 2500 seats. However, after being abandoned for so long, the seats are now faded and moss-covered.
Standing on the raised seats, watching the vast landscapes where lonely coconut trees cast shadows under the blue sky, is both frightening and exciting for everyone. The contrast between man-made constructions and the intense vitality of trees makes it even more mysterious.