English Training Course Launched for Coast Guard Officers
On April 4, in Phu Quoc city, the Command of the Coast Guard Region 4 opened an English language training course for officers.
Over the past time, the Coast Guard Command of Vietnamese Navy Region 4 has focused on providing professional training for officers and staff, including the organization of English training courses. These courses are set up in an attempt to implement Directive No. 10222/CT-BTL dated August 11, 2020 by the Coast Guard Command on "Strengthening foreign language learning in the Coast Guard to adapt to the new situation".
According to Colonel Ngo Minh Tung, Deputy Commander of the Coast Guard Region 4, the English language training course plays an important role for improving quality of training the unit and enhancing the foreign language skills of officials, meeting the requirements in the new situation.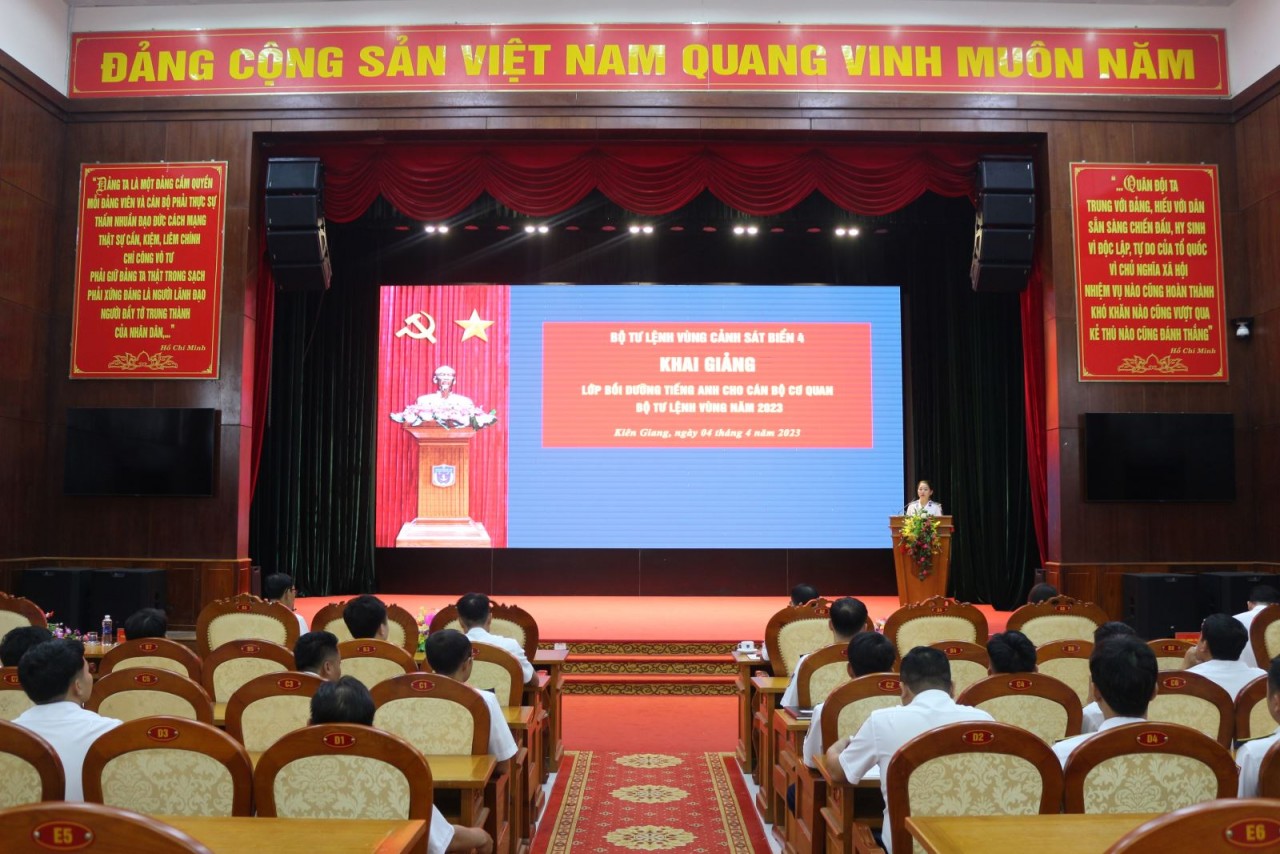 Overview of the opening ceremony. (Photo: Thoi Dai)
The project of "Training and enhancing foreign languages ​​for the Vietnam Coast Guard in the Period of 2022 - 2030" has achieved many results. The Command of Navy Region 4 held 3 classes with the participation of nearly 1,500 officers.
Foreign language skills of officials and officers are reviewed and classified clearly to develop plans and determine guidelines and orientations for better training effectiveness. The quality of performing the task of patrolling, controlling and maintaining law enforcement at sea has increased significantly. Besides, the ability to manage, exploit and master modern weapons and technical equipment is improved, contributing to completing the task of protecting sovereignty and maintaining the enforcement of the law, security, order and safety on the sacred seas and islands of the Fatherland.
Colonel Ngo Minh Tung said that for the training class to fulfill the purposes and contents of the program, the Party committees and commanders of agencies and units should pay attention and create favorable conditions in terms of time and assigned tasks for officers. Awareness of the role and importance of foreign language learning should also be understood and aware thoroughly, to ensure the observance of the training time of subordinates and the effectiveness of training courses.
Trainers need to stick to the approved lesson plans and documents and focus on researching and innovating teaching methods suitable to the actual working conditions of the unit to ensure the quality and evaluation of substantive results. Trainers are also required to promptly report, advise and propose to the Head of the Command issues that are beyond his authority and need to be directed.
Learners need to have a sense of responsibility, positivity, and self-discipline to study, practice, properly, and fully absorb the contents and strictly abide by the discipline and regulations of the training course. At the end of the course, it is expected that all participants will get A2 or B1 certificates.