Japan Eyes Importing Vietnamese Longan
The Vietnam Trade Office in Japan held a wide range of activities to promote Vietnamese lychee and other fresh fruit during the Vietnam Festival in Tokyo.
At the recent Vietnam Festival 2022, several companies introduced the journey of Vietnamese lychee to Japan, helping people gain a better insight into the quality management process for the fruit before it is exported, reported VNA.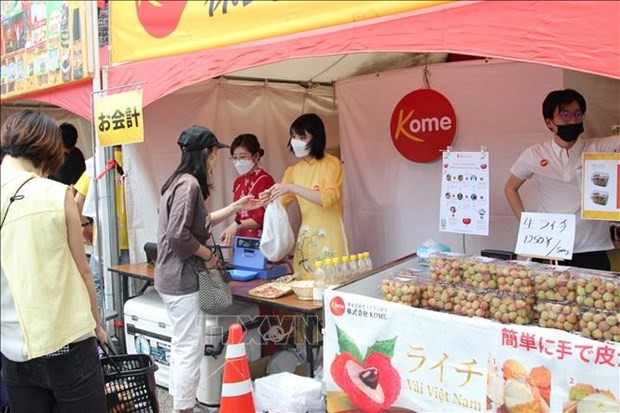 Activities introducing and promoting litchi and other Vietnamese fruits at the ongoing Vietnam Festival in Japan have attracted attention of a large number of Japanese people. Photo: VNA
According to Ta Duc Minh, Vietnam Trade Counselor in Japan, the trade office has used the occasion of the Vietnam Festival and coordinated with Bac Giang, a major litchi growing province in northern Vietnam, and export companies to introduce Vietnamese agricultural products, including fresh litchi, to Japanese consumers and overseas Vietnamese in Japan.
He added that litchi started entering the Japanese market in June 2020 and immediately became popular with Japanese and OVs living here.
Many types of tropical fruit from Vietnam have made inroads into Japan, including bananas, mangos, dragon fruit, lychees, and coconut.
Lychee first entered Japan in June 2020 and immediately became popular among Japanese and overseas Vietnamese. In 2021 alone, more than 400 tonnes of the fruit were sold. Meanwhile, Japan imported more than 1,500 tonnes of bananas from Vietnam worth JPY166 million (US$1.3 million), a year-on-year rise of 38.5% in volume and 30.2% in value, reports Japan Customs.
Minh said that as the Japanese government is expected to continue to grant import permits for Vietnamese longan this year, the trade office will organise programmes to introduce fresh longans to Japanese consumers.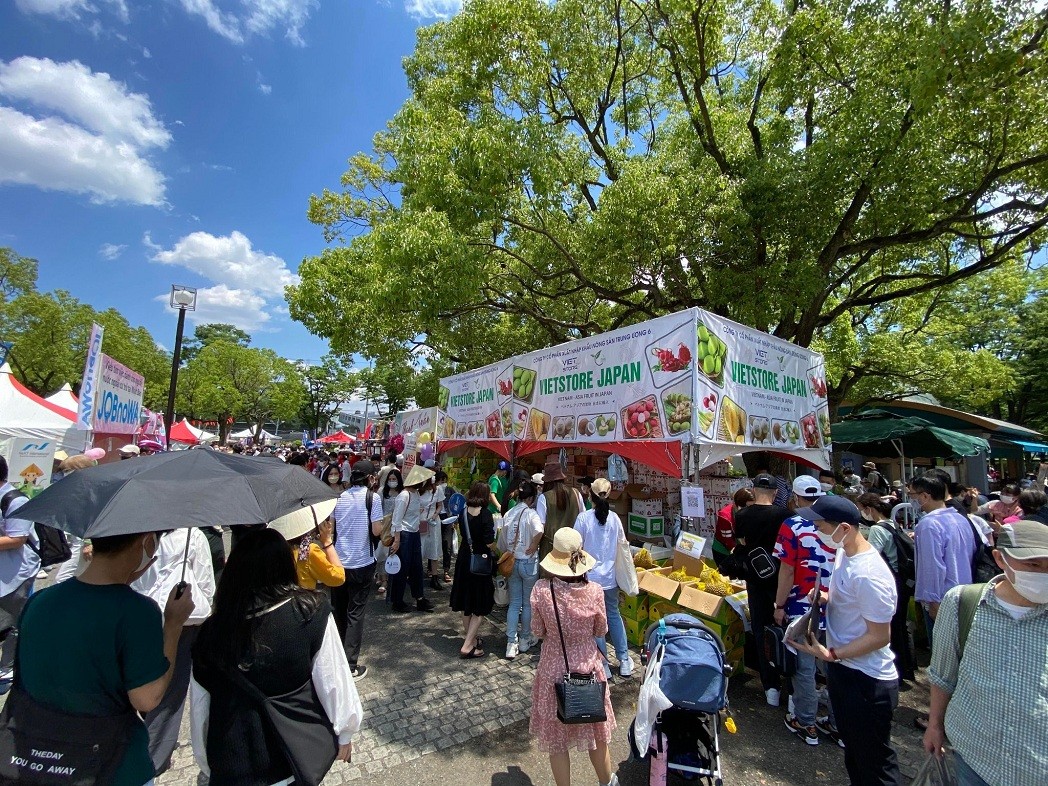 Vietnamese fruits attract attention at festival in Tokyo.
With a population of over 126 million, Japan has high demand for imported agricultural products.
In addition, tariff cut commitments in the free trade deals to which both countries are parties like the Vietnam - Japan Economic Partnership Agreement (VJEPA), the ASEAN - Japan Comprehensive Economic Partnership (AJCEP), the Comprehensive and Progressive Agreement for Trans-Pacific Partnership (CPTPP), and the Regional Comprehensive Economic Partnership (RCEP) are also expected to open up big chances for Vietnam's products, including coffee, Cong Thuong (Industry & Trade) newspaper reported.
The festival, the 14th of its kind, held on June 4-5 at Yoyogi Park in Tokyo with Japan's former Prime Minister Yasuo Fukuda and Parliamentary Vice-Minister for Foreign Affairs Miyake Shingo in attendance.
In his welcoming remarks, the Vietnamese Ambassador to Japan Vu Hong Nam highlighted the significance of the festival to the development of friendly relations between the two countries.
This year's event returns to its pre-pandemic scale after two years of scale-down because of the Covid-19 pandemic, he said. The ambassador thanked the Japanese Government for easing restrictions to facilitate the organization of this year's festival.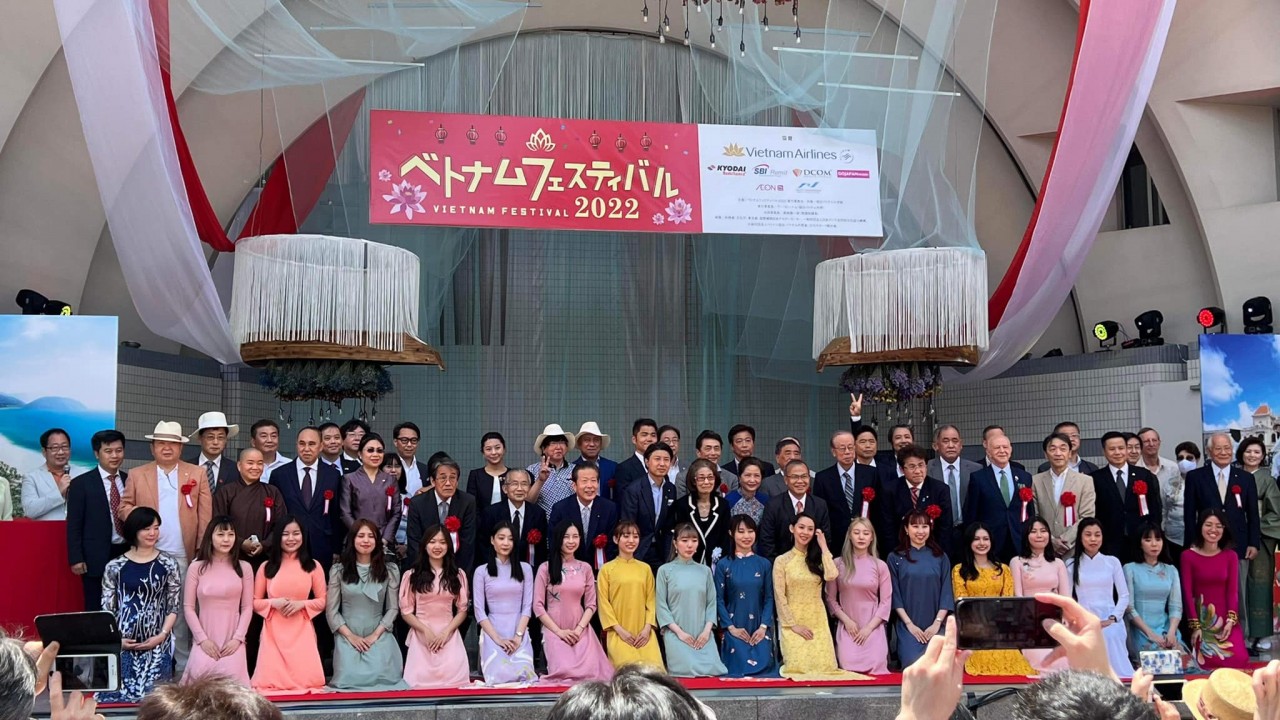 At the launching ceremony.
The festival has welcomed a large number of visitors, out of expectations, Ambassador Nam told the Vietnam News Agency's resident reporters.
Visitors also had a chance to enjoy signature food such as pho, banh mi and tropical fruits from Vietnam like litchi.
Japan's capital reported 2,681 Covid-19 cases on May 6 after registering 2,320 cases the previous day, the Tokyo Metropolitan Government announced. Therefore, visitors were required to wear masks and practice physical distance while attending the festival.
A Vietnamese international student studying in Chiba said that he came to the festival before its opening ceremony. He felt very happy to meet many Vietnamese people here. In addition, seeing foreigners enjoying Vietnamese food and art, he also proud because such events can introduce Vietnam's culture to the world.
Two Japanese who came to the festival said this was their first time attending and they wanted to come to feel the cultural atmosphere of Vietnam. They said, "We found Vietnamese food and beer to be very good." They want to travel to Vietnam but have not had the opportunity because of the influence of Covid-19.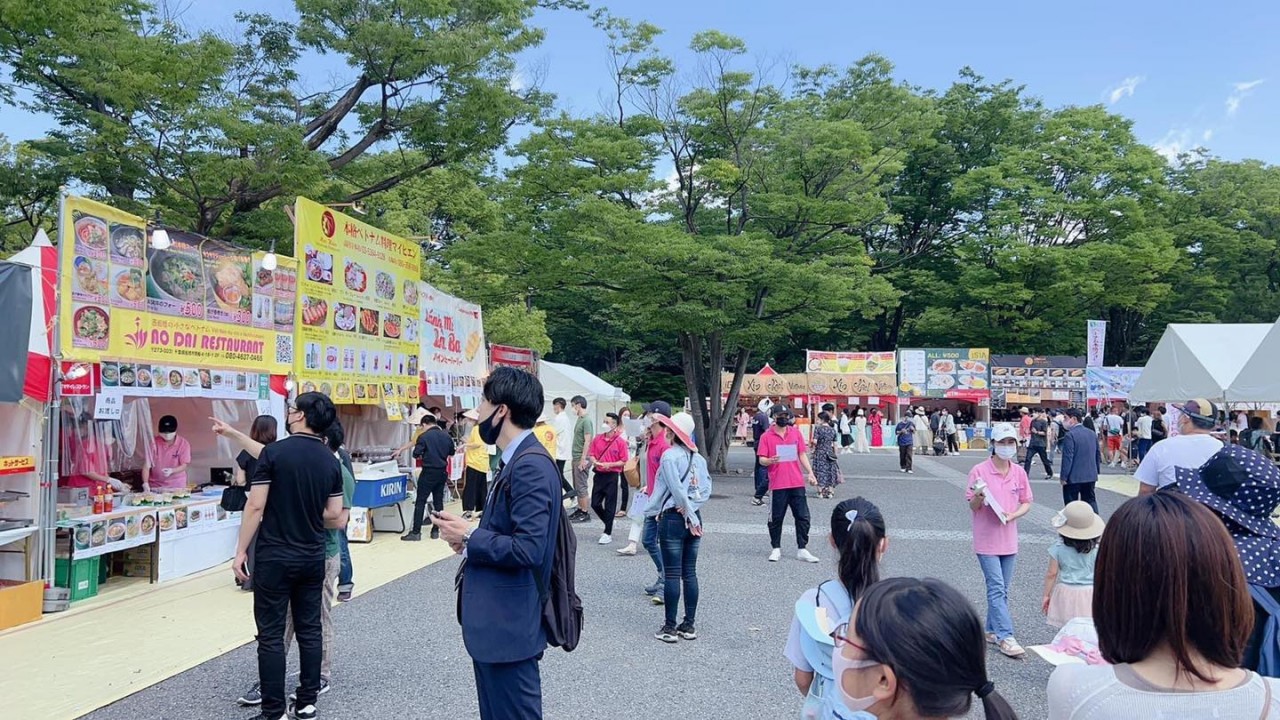 Visitors were required to wear masks and practice physical distance.
First held in 2008 on the occasion of the 35th founding anniversary of the Vietnam - Japan diplomatic ties, the Vietnam Festival in Japan is one of the biggest annual festivals in Tokyo.
It not only helps to promote Vietnamese culture and cuisine to Japanese people but also contributes to strengthening mutual understanding between the people of the two countries.
This year, activities introducing and promoting litchi and other Vietnamese fruits at the Vietnam Festival in Japan have attracted the attention of a large number of Japanese people.