Join Forces for Sustainable Agricultural Production in the Central Highlands of Vietnam
Leaders of the Ministry of Agriculture and Rural Development witnessed the sign of a memorandum of understanding, paving the way for the implementation of a project to deal with the challenges of sustainable agricultural production, in three provinces of Dak Lak, Gia Lai and Lam Dong.
At a seminar connecting agricultural enterprises of Vietnam and the US on May 13 in Washington D.C organized by the Ministry of Agriculture and Rural Development (MARD) on the sidelines of the ASEAN-US Special Summit, a special Memorandum of Understanding was signed between Partnership for Sustainable Agriculture (PSAV) in Vietnam, the National Agriculture Extension, and CARE, paving the way forward for the rollout of the "Farming for Change - She Feeds the World" project in Vietnam (SFtW Vietnam).
The project aims to ensure small-scale farmers in the Central Highlands of Vietnam, particularly women and ethnic minorities, have more secure and resilient livelihoods for food, nutrition, and water security.
Minister Le Minh Hoan and leaders of the Ministry of Agriculture and Rural Development witnessed the signing ceremony of the MoU.
The Central Highlands in Vietnam are a major agricultural hub, producing key food crops. However, the agricultural system in the region faces serious environmental, economic, and societal issues, including unsustainable agricultural practices and weak market linkage.
The overuse of pesticides, fertilizers, and water resources are lowering the productivity of the land. This is further exacerbated when farmers sell their products to local collectors who have limited bargaining power, earning them lower incomes. This particularly impacts women and people from ethnic minorities.
The SFtW Vietnam seeks to address these issues by enhancing farmers' capacity to adopt more sustainable agricultural practices, improving agricultural yields and productivity, and increasing women farmers' access to and control over productive resources. This, in turn, will contribute to the transformation of discriminatory social and gender norms and facilitating greater access to markets.
By aiming to create changes across the three dimensions: economic, social and environmental, the project will build capacity for farmers to improve their cultivation practices, increase yield, diversify livelihood options to generate more sustainable income, and save for the future, said Sudipto Mozumdar, general manager of Indochina Foods Business Unit, PepsiCo Services Asia Limited.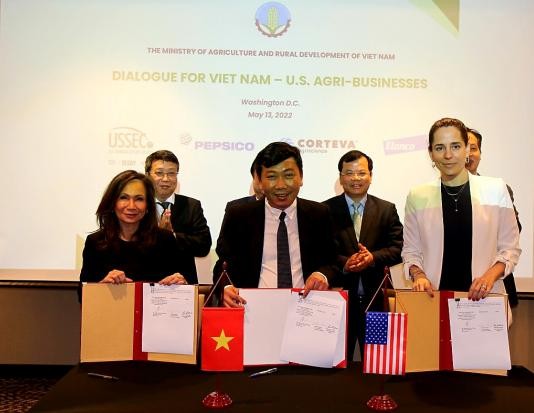 Director of the Department of International Cooperation (Ministry of Agriculture and Rural Development) Nguyen Do Anh Tuan, Pepsico and Care International sign a memorandum of understanding.
The project will promote more equitable access to knowledge, resources, and inclusive markets for vulnerable farmers on the social dimension.
She Feeds the World in Vietnam, to be implemented in three provinces in Central Highland, namely Lam Dong, Gia Lai and Dak Lak, and expected to positively impact nearly 160,000 people (of which 60% are women) in three years since 2022 will also tackle soil, water, and biodiversity issues to minimize impact on the natural ecosystem.
Commenting on the initiative, Le Kim Dung, country director of CARE International in Vietnam, said that SFtW Vietnam is built on CARE's global SFtW framework and CARE Vietnam's 30 years of programming. The project will contribute to advancing gender equality in the agriculture sector, particularly in the second phase of the National Targeted Program on New Rural Development.
In Tay Nguyen, SFtW Vietnam is strategically relevant to the government's approved Plan on Restructuring the Agriculture Sector (2021-2025). The plan focuses on developing sustainable agriculture as well as enhancing the quality, value-add, and competitiveness of local agricultural products.
Gloria Steele, chief operating officer of CARE USA added it is significant that CARE's global She Feeds the World partnership with PepsiCo is expanding in Vietnam and she appreciates MARD's involvement with the program.
Engaging government partners is key to sustainability and scale, Steele stressed.