Memories of President Ho Chi Minh preserved in heart of France
110 years after his arrival in France, the memories of Ho Chi Minh live on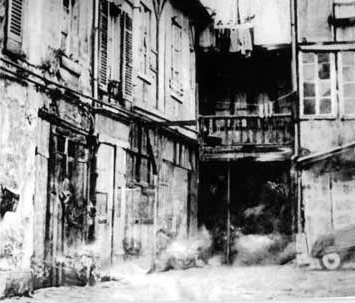 No. 9, Compoint Street. (Photo: VNA)
The journalist Jean-Pierre Archambault, editor-in-chief of Perspectives France-Vietnam magazine, after more thhas said that a century on, memories about Uncle Ho still remained undamaged in the heart of France.
A total of 110 years have passed since the day President Ho Chi Minh arrived in France to find a way. After more than a century, memories of him are still carefully kept, according to The statement was made Archambault in an exchange with Vietnam News Agency reporters in Paris.
Reviewing the milestones during President Ho Chi Minh's stay in France from 1918 to 1923, the journalist said that the 1920-1923 period was considered "decisive" in the development and training of his political perspective.
He said he was especially impressed by the fact that even though Uncle Ho's life in France was difficult (cramped housing, lack of food) he was always enthusiastic about participating in political activities.
He spoke of an event in 1919 when, together with a group of Vietnamese patriots, Ho Chi Minh sent a petition to the Versailles Conference, asking the French Government to recognize the Vietnamese people's freedom, sovereignty, and equal rights with Europeans.
In 1920, Uncle Ho participated in founding the French Communist Party at the Tours Congress. With excellent French, Ho Chi Minh denounced the colonial regime's wrongdoing, brutal repression, and autocracy, of which 20 million Vietnamese were victims.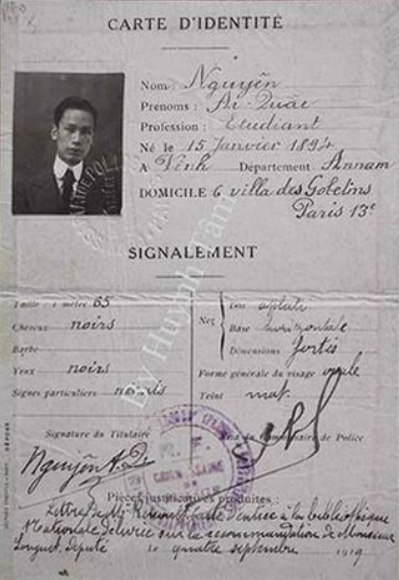 Nguyen Ai Quoc's identity paper in France. (Photo: VNA)
Archambault said that Uncle Ho wrote a lot, especially for L'Humanité, the Communist Party newspaper, and La Vie Ouvrière, the General Confederation of Labor newspaper. Many of his articles under his Nguyen Ai Quoc pseudonym were critiques against colonialism.
In 1921, together with many French activists, Ho founded the Union of French Colonial Nations, the first union in French history bringing together people from Asia, North Africa, Madagascar, and the Antilles. This union published Le Paria, in which Ho Chi Minh was at the same time the founder, chief executive, chief editor, and even illustrating artist. Le Paria was the voice of the colonial proletariat.
Perspectives France-Vietnam magazine has published many articles by historian Alain Ruscio about President Ho Chi Minh, and Archambault said he appreciated Alain Ruscio's new book "Ho Chi Minh - Articles and Fights," published by Le Temps des cerises in 2019. This work depicts Ho Chi Minh from a communist to Vietnam's leader through his writings, speeches, and other documents. Perspectives France-Vietnam magazine published a review of this book written by journalist Lina Sankari, who works at l'Humanité newspaper.
Archambault also mentioned Perspectives France-Vietnam magazine's June 2020 edition, which had a special article about President Ho Chi Minh's statue.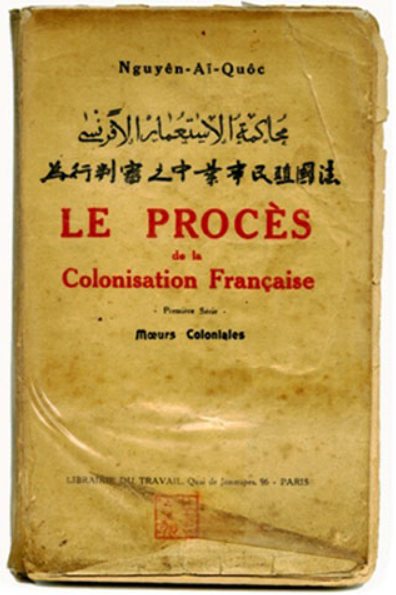 A book written by Ho Chi Minh in France. (Photo: VNA)
It starts by describing the situation in 1927 in a French colonial prison in Con Dao. Vietnamese political prisoners convicted for fighting against colonialism suffered the worst abuses there. These prisoners contributed to founding of Vietnam's Communist Party in 1930, uniting communist organizations in the country and in Indochina. The prisoners made a bust of Ho Chi Minh from plaster, which was later taken away by the prison management.
One of the prison guards, Paul Miniconi, lived in Con Dao with his family. Due to defending prisoners several times, he was imprisoned for punishment. In 1947, when he returned to his homeland, he brought the bust and kept it at his home on Corsica. In 2019, 83-year-old Paul-Antoine Miniconi, his son, decided to donate it to the Ho Chi Minh Museum in Hanoi. The statue was given to Ambassador Nguyen Thiep, who was also the son of a former Con Dao prisoner.
Archambault also shared his feelings when participating in the celebration of President Ho Chi Minh's birthday (May 19), which is held every year at Ho Chi Minh's monument in Montreau Park. He said the annual celebration was an emotional moment in the Franco-Vietnamese friendship.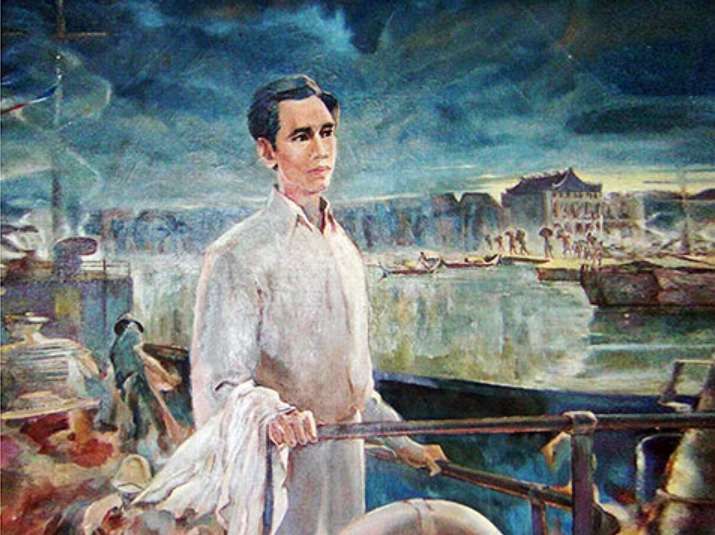 Nguyen Ai Quoc in Nha Rong Harbor, a painting by Bui Quang Ngoc. (Photo: Bao Tang Lich Su)
In 2005, on the 105th anniversary of Ho Chi Minh's birth, a statue to commemorate the great leader was built in Montreau Park on the outskirts of Paris by the government and people of Montreuil city. The city is proud to have contributed to the friendship between the Vietnamese and French during the years of fighting for Vietnam's independence and reunification, as well as in the process of building and developing the country.
This ceremony is also an opportunity to visit Ho Chi Minh Space in the Living History Museum, which houses documents and artifacts related to his period in France. The wooden door of Ho Chi Minh's Presidential Room is the door from the historic house No. 9, Compoint Street, the door that witnessed the difficult days of revolutionary youth Nguyen Tat Thanh in Paris. Small and old items in the modest room are simple and humble but familiar memories of President Ho Chi Minh. All have been kept by members of the French Communist Party and friends since 1986, when Paris planned to rebuild old houses, including the house at no. 9 Compoint Lane.
Archambault said that President Ho Chi Minh's spirit of freedom and peace had spread and connected the people of the two countries. The memorabilia and memories of him in France are still continuing to fulfill their historical mission, tightening the friendship and cooperation between the two peoples.