NGOs Aim For Substantive Projects to Support Vulnerable Groups in 2022
VietnamTimes interviewed NGOs to understand their 2021 achievements and 2022 resolution. Despite challenges posed by the pandemic, organizations remain positive and attempt to achieve more fruitful results in the new year.
The year 2021 witnessed Vietnam's most terrible pandemic outbreak, leaving poor people in worse situations. Despite facing difficulties themselves, NGOs in Vietnam strive to ensure funding and support for vulnerable children and adults over the past year and eyeing broader and more substantive projects for 2022.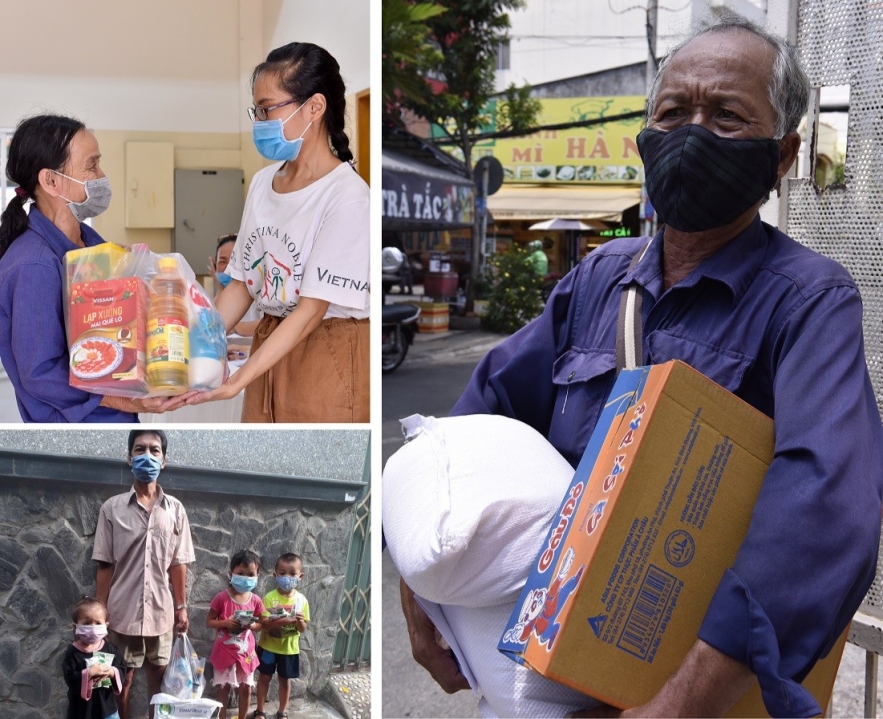 Needy people receive CNCF's aid. (Photo: CNCF)
Managing to provide timely support
In an interview with VietnamTimes, Tran Thi Ngoc Thuy, Director of Operations in Vietnam, Christina Noble Children's Foundation (CNCF) said though struggle with Covid-19 lockdown, the foundation managed to carry out its regular activities, such as the Social Protection Centre for Handicapped Children, Tay Ninh Residential Centre for Visually Impaired Children, Light shelters in district 10, Ho Chi Minh City. It maintained scholarship and medical support for vulnerable children.
CNCF held an online fundraising event named Children's Walk For Hope on May 23 to call for community support for disadvantaged children. The event attracted more than 1640 participants from 24 countries, who joined different physical activities, from walking, swimming to dancing.
From June to September, the foundation provided more than 1700 emergency aid packages including food, clean water, books, medicine, financial and psychological support to children and families severely affected by the pandemic in Ho Chi Minh City, Dong Nai, Long An, and Ben Tre.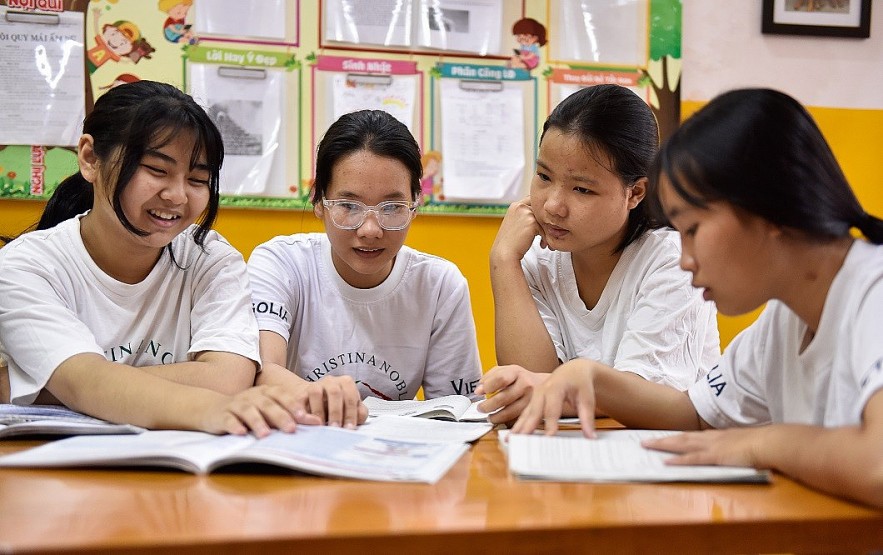 Light shelter for females in District 10, Ho Chi Minh City. (Photo: CNCF)
CNCF's activities have gained positive comments from aid recipients.
"When the pandemic broke out, my neighborhood was lockdown due to some positive cases. My husband and I could not earn any money. We have difficulties in buying milk for our youngest child. Thanks to the fortune, I was introduced to CNCF. I ventured to call the foundation, hoping to have milk for our kid. Thanks to their timely reply, my children have food for the following weeks. I appreciate that a lot," said a woman who receive CNCF's support.
A skill training and career orientation project was held in Ca Mau last December to equip young people in the province with essential knowledge and skills to join the workforce.
"We hope to receive further attention and support from Christina Noble Children's Foundation to together contribute to the cause of children protection, care, and education. Along with that, we hope to strengthen the young generation's confidence and faith, encourage and nurture their dreams, ambition, and future," said Tran Quoc Bao, head of Ca Mau's Center for Social Protection.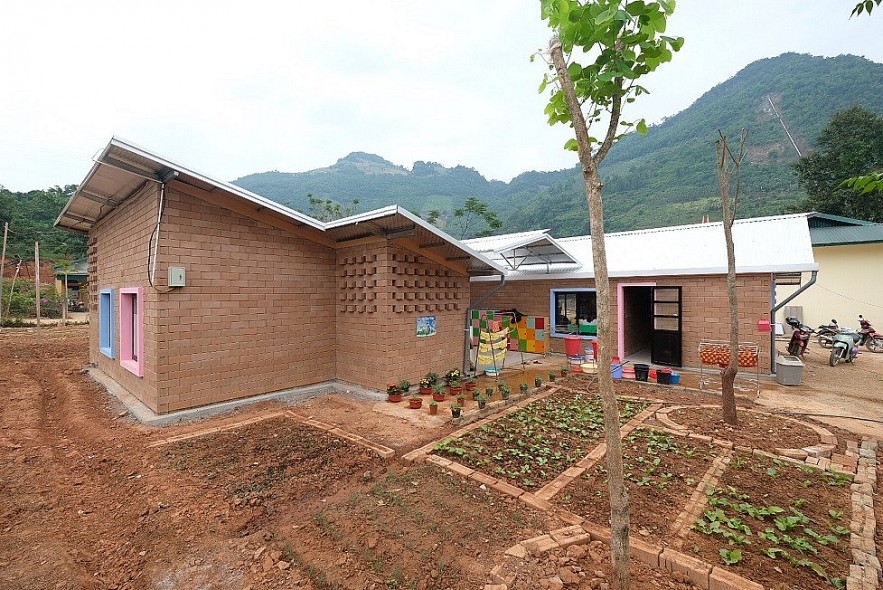 A kindergarten built by VNHELP in Tin Toc, Son La. (Photo: VNHELP)
Le Cao Dung, a representative of VNHELP, said the organization's most outstanding project in 2021 was building schools in remote areas in Thanh Hoa and provinces in the northwest mountainous region. The schools are designed by a team of experienced and reputable architects led by Hoang Thuc Hao, a leading name in the field.
Each school has its own design, which is in harmony with the surroundings, the cultural identity of each region, especially the culture of ethnic minorities in the Northwest. The construction process uses unburnt bricks, pressed in place with hill soil using petrifaction technology. The process guarantees convenience, materials availability, quality, and low cost.
Local people benefit from almost the entire cost of the projects. VNHELP purchases materials in the village, trains locals in brick pressing, building, and painting skills, then hires them to work on the project.
Beneficiaries and local people participate in the project from the first to the last stage. Therefore, they deeply understand and closely supervise the process and receive beyond expectation results.
Thanks to its method and effort, VNHELP earns high recognition from local authorities and leaves impressions on the projects' sponsors.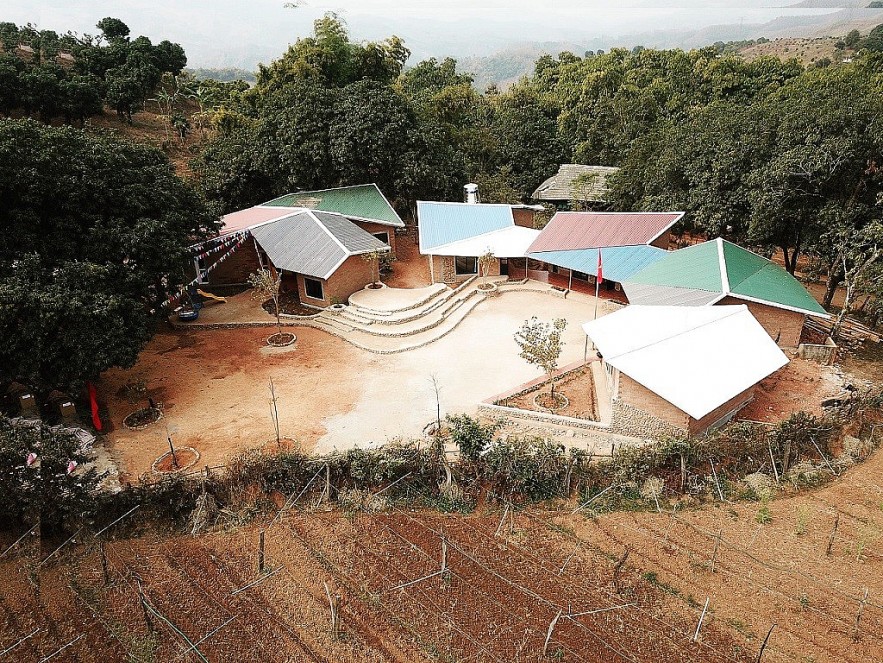 A kindergarten and primary school complex built by VNHELP in Na Khoang, Son La. (Photo: VNHELP)
When asked about the organization's most memorable moment when working on the school building project, Dung smiled: "We have many good memories, but most recent one in Thanh Tan commune, Thach Thanh district, Thanh Hoa province, when VNHELP helped rebuilt three out of five classrooms in a school."
"At that time, we only have enough budget to reconstruct three classrooms. Yet when these three were completed, the parents of the remaining two classes also want their children to study in new and modern spaces. VNHELP could not have imagined that the new rooms would receive such sentiment. After handing over the project, VNHELP quickly prepares for the second phase."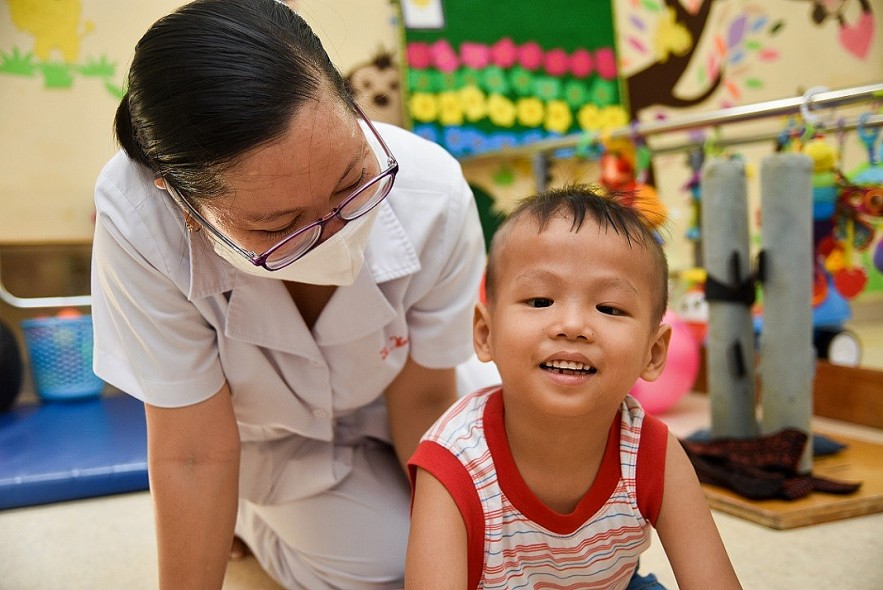 Social Protection Centre for Handicapped Children. (Photo: CNCF)
Strive for more meaningful projects in the coming year
Though Covid-19 is predicted to keep raging in 2022, NGOs do not back down. Instead, they have plans for a more thriving year, with more practical and substantive projects.
Tran Thi Ngoc Thuy said CNCF aimed to continue providing aid through education, healthcare, and community development projects, hoping to bring warmth to needy children and families in Vietnam and Mongolia. The foundation attempts to expand sustainable partnerships in Vietnam to enhance its ability to access and provide essential services to the community.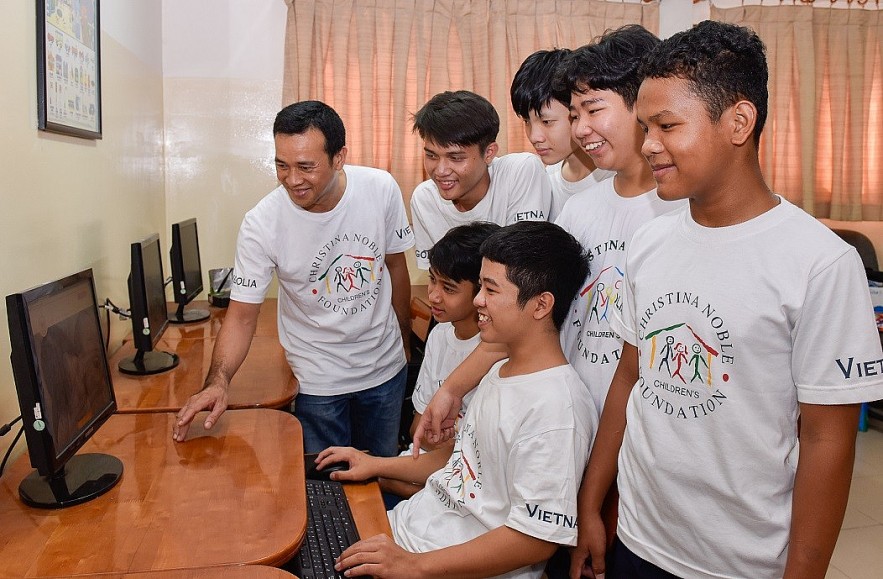 Light shelter for males in District 10, Ho Chi Minh City. (Photo: CNCF)
"In 2022, CNCF will focus on two main categories. One is to maintain our support activities and aid, especially for children affected by Covid-19 and those whose parents are affected by the pandemic. The other is skill development. We want to assist students with career guidance and life skills," said Thuy.
The Children's Walk For Hope will also be held in 2022, with which the foundation hopes to raise public awareness about child abuse and exploitation. The more participants the event gains, the more children and teenagers in Vietnam can access timely and proper care and support.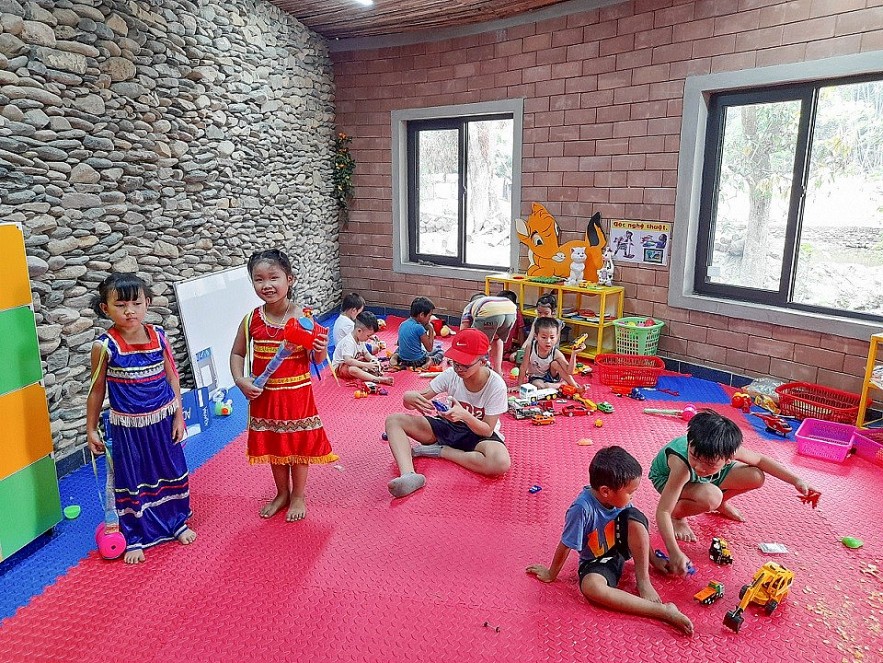 Children playing in a kindergarten built by VNHELP in Sap Vat, Son La. (Photo: VNHELP)
Meanwhile, VNHELP is working on its plan to build bridges in remote provinces.
"These bridges will serve the needs of the people, such as social activities, economic development, and for the children in remote villages to cross streams to go to school. A bridge will lead to many changes, which is VNHELP's target in 2022," said Le Cao Dung.
According to Le Cao Dung, VNHELP aims to solve the practical needs of people in under-developed localities, while respecting their cultural identities and making the most of available local resources by using the greenest solutions. When bringing its project to a village, VNHELP tries to provide comprehensive and sustainable support.
"We have received cooperation offers from many partners, both in Vietnam and other countries. We are working to make the most of those opportunities to bring more benefits to the less fortunate children," Dung said.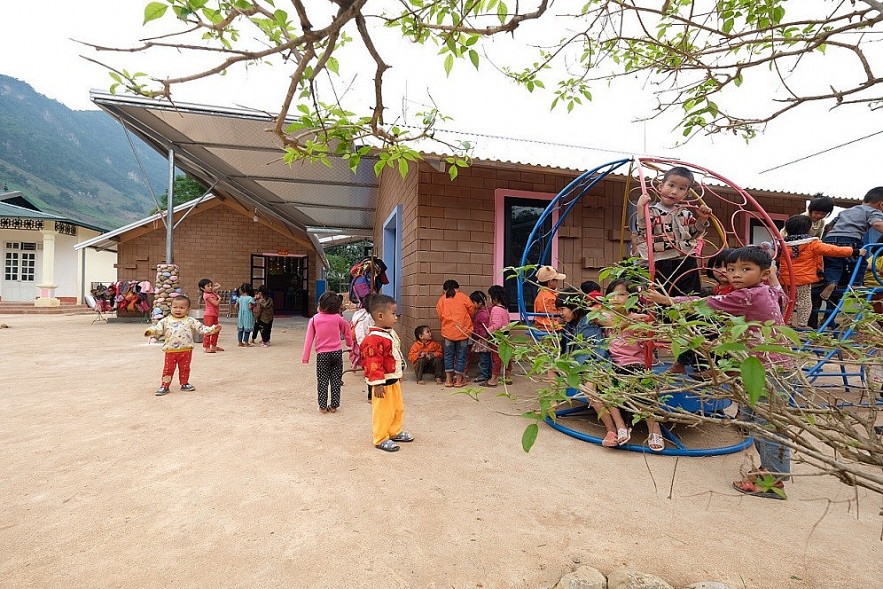 A kindergarten built by VNHELP in Tin Toc, Son La. (Photo: VNHELP)
The Christina Noble Children's Foundation is dedicated to serving the physical, medical, educational, and emotional needs of vulnerable children.
Since arriving in Vietnam (1989) and Mongolia (1997), Christina Noble and her foundation have established over 160 projects providing education, healthcare, and community development humanitarian services to vulnerable and destitute children and their families and poor rural communities. To date, these projects have assisted almost 900,000 children and collectively have impacted the lives of over 1,000,000 children and adults.
VNHELP stands for "Vietnam Health, Education and Literature Projects," a nonprofit organization dedicated to providing humanitarian and development assistance to Vietnam's poor. The organization focuses on community building by tackling the key health and education needs of children and the disadvantaged.
VNHELP was formally incorporated as a nonprofit organization in 1991, but its origins really trace back to two years before that, in 1989. Over thirty years have gone by since VNHELP's inception, and it is now one of the largest Vietnamese American-founded nonprofit organizations providing humanitarian and development assistance to Vietnam.