Overseas Vietnamese Family in UK Keeps Precious Memories of Uncle Ho
These days, as the whole country jubilantly celebrates Uncle Ho's birthday, a Vietnamese expatriate living in the UK with a special connection to the nation's beloved leader shared their family's story.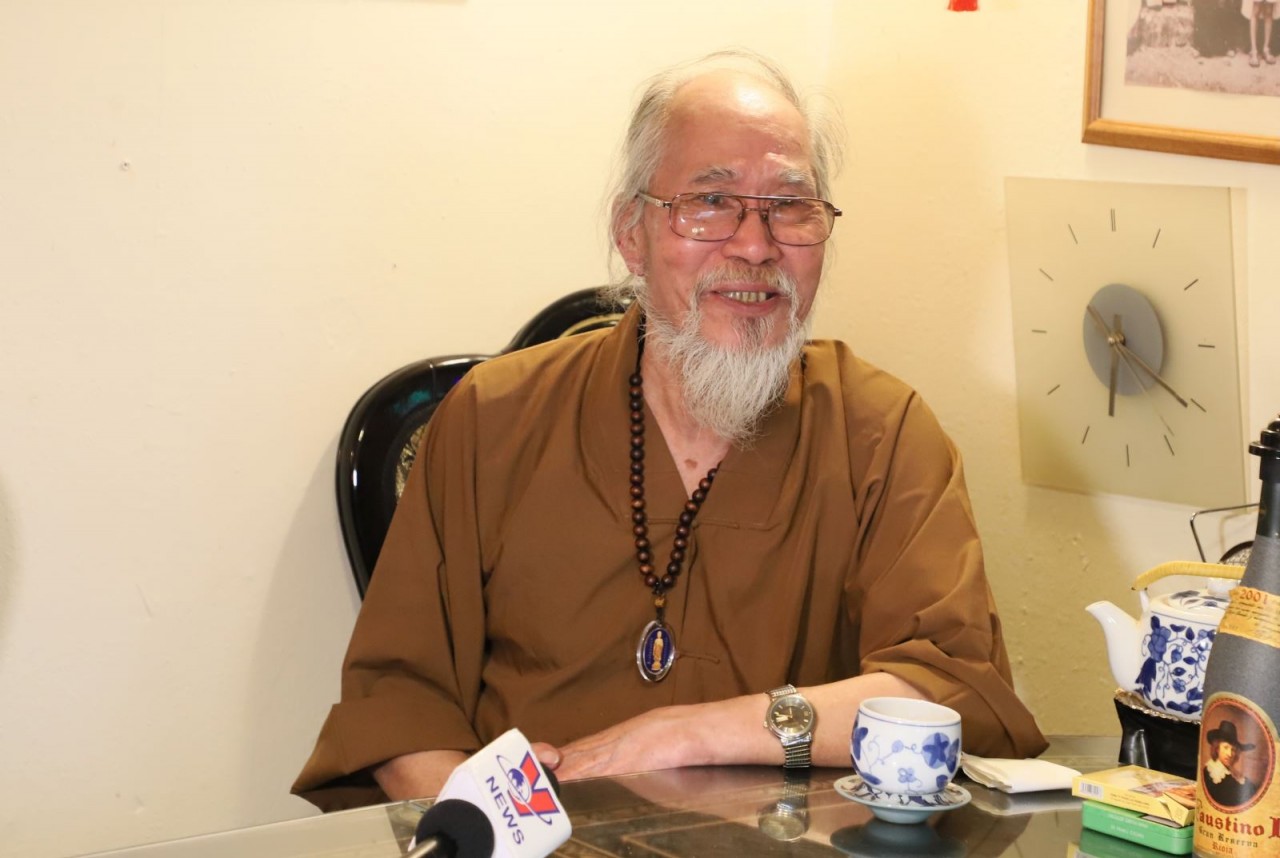 Poet Thanh Phan lives in the district of Bromley in South East London. Photo: VNA
Thanh Phan, a Vietnamese expatriate living in the UK, has shared his memories of President Ho Chi Minh who dedicated his whole life to the fight for the Vietnamese nation and people, on the occasion of the late leader's 133rd birth anniversary (May 19, 1890), VNA reported.
The poet, now in his 80's, said that May 19 is a special day for his family because it is associated with the memory of his dear father who followed President Ho Chi Minh from the early days of the resistance war against French colonists.
Poet Thanh Phan shared that, as a coincidence, his father died on May 20, exactly one day after Uncle Ho's birthday, so May is always a big commemorative day for the family.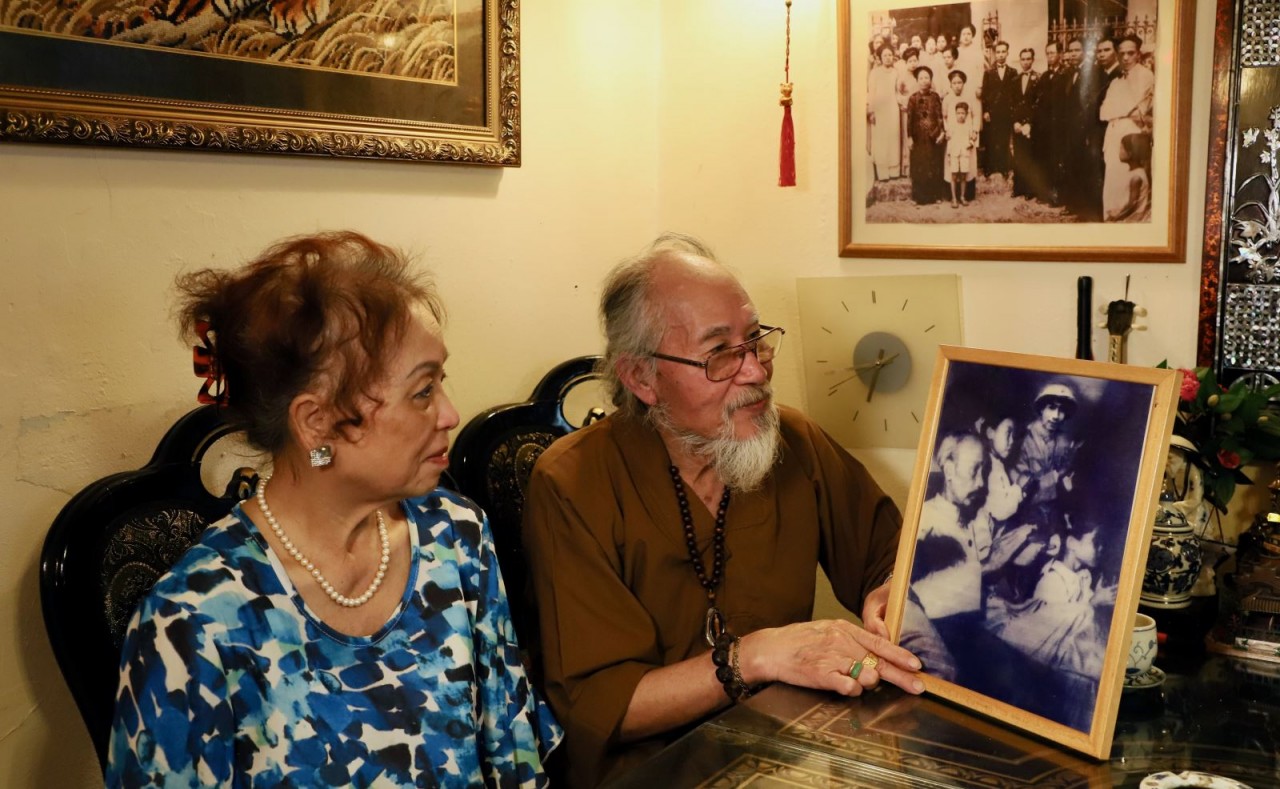 Poet Thanh Phan recalls the memory of the photo his father was honored to take with President Ho at the war zone. Photo: VNA
In September 1945, in response to the leader's appeal, his father, Phan Nam Anh (later renamed Phan Hoa Sinh), a renowned silk merchant in Hanoi, and many other capitalists donated money and gold to the government during the Gold Week from September 17-24, 1945.
This event was an important turning point, changing the life of businessman Phan Hoa Sinh when he decided to respond to President Ho Chi Minh's call to follow the resistance war with the aspiration to defend and liberate the nation.
During the nine-year resistance war from 1946 to 1954, Sinh was honored to live and work with the leader and many of his comrades like Pham Van Dong, Vo Nguyen Giap, and Truong Chinh in the Viet Bac base.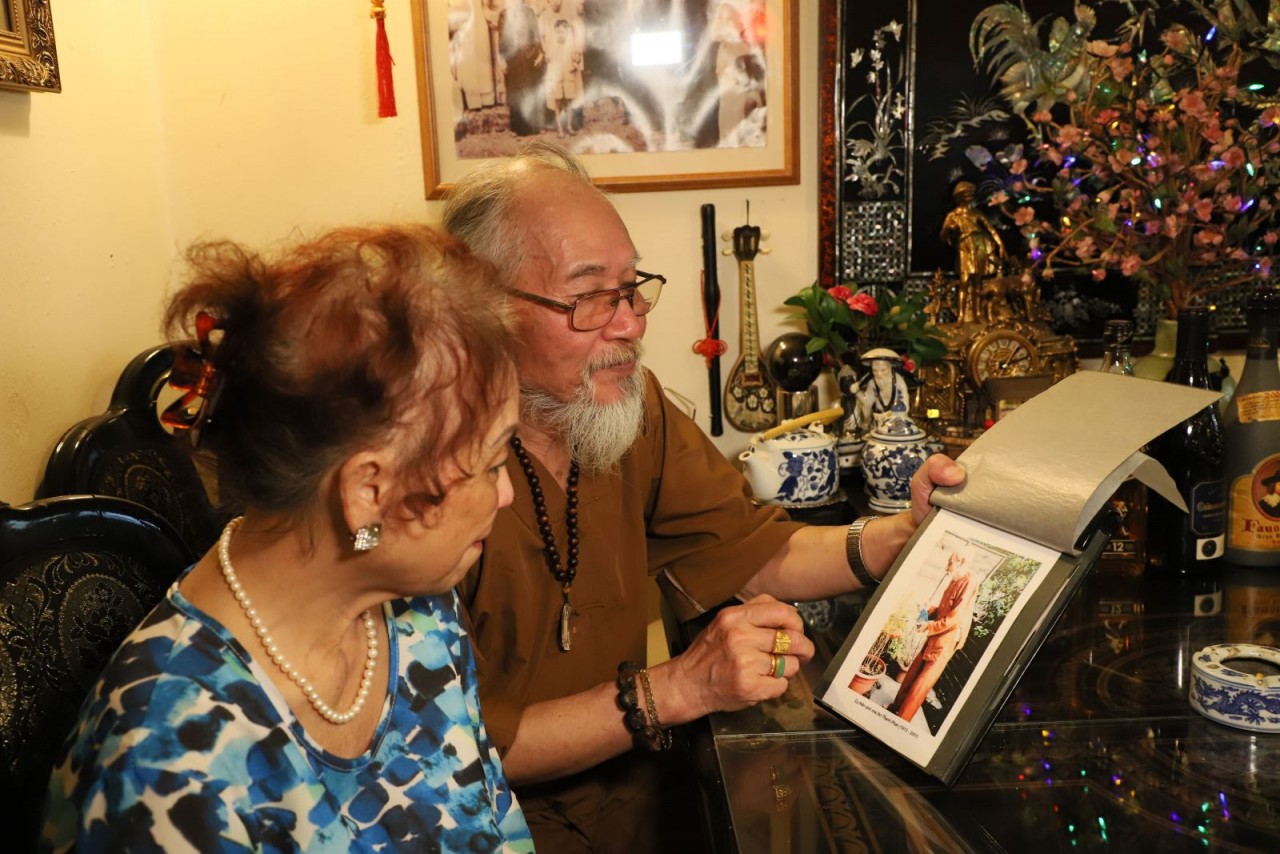 Poet Thanh Phan and his wife with a photo of his father, Phan Nam Anh (later renamed Phan Hoa Sinh). Photo: VNA
According to poet Thanh Phan, his father learned a lot from the President, especially in his working style, and simple and humble lifestyle. The poet said that the humility and simple way of life that his father learned from Uncle Ho was taught to his grandsons. After coming to England for eight years, he brought his parents to stay with him because he was worried about their old age and weak health. The poet's three children, born and raised in England, but were educated and influenced by their grandfather, all have a simple, modest style even after becoming successful.
His father's patriotism then inspired Thanh Phan who has written many poems about Vietnam, especially Hanoi.
Living in the UK for nearly half a century, the poet still agonizes over his roots, especially his hometown, Hanoi. He has published many poetry books about Hanoi, including the collection of poems "Night of milk flowers" published by the Ethnic Culture Publishing House, Ministry of Culture and Information in 2004 on the occasion of the 50th anniversary of the Liberation of the Capital. The three poems in this collection, "Remembering Hanoi's Spring", "Hanoi - Night of Milk Flower" and "Old Memories - Nostalgia", were set to music by composers Tran Hoan and Thuan Yen.
For decades, until before the Covid-19 pandemic, Thanh Phan often returned to Vietnam, participating in many cultural and artistic programs and activities in his hometown.