Pristine beauty of Bai Xep Beach - one of 16 "hidden gems" in Asia
Bai Xep Beach, with its pristine beauty of the sandy beach, blue sea and majestic rocky mountains, is one of the most fascinating destinations and favorite place for tourists to get away from the summer heat.
Xep Beach (Bai Xep) is situated on a beautiful beach just 10 km from Quy Nhon. This is the perfect place to escape the busy city life of Vietnam. This secluded and car-free fishing village offers you a real chance to experience an authentic Vietnamese beach without crowded tourism.
What is so great about Bai Xep, or also called Xep Beach, is a great atmosphere. It is the perfect mix between a beautiful beach, an authentic fishing village with very friendly villagers, and just few tourists. The locals and tourists blend in great together. In the morning you see the fisherman prepare their gear to go on the sea, during the daytime you can relax and visit an island and in the evening you can enjoy a BBQ on the beach together with the locals.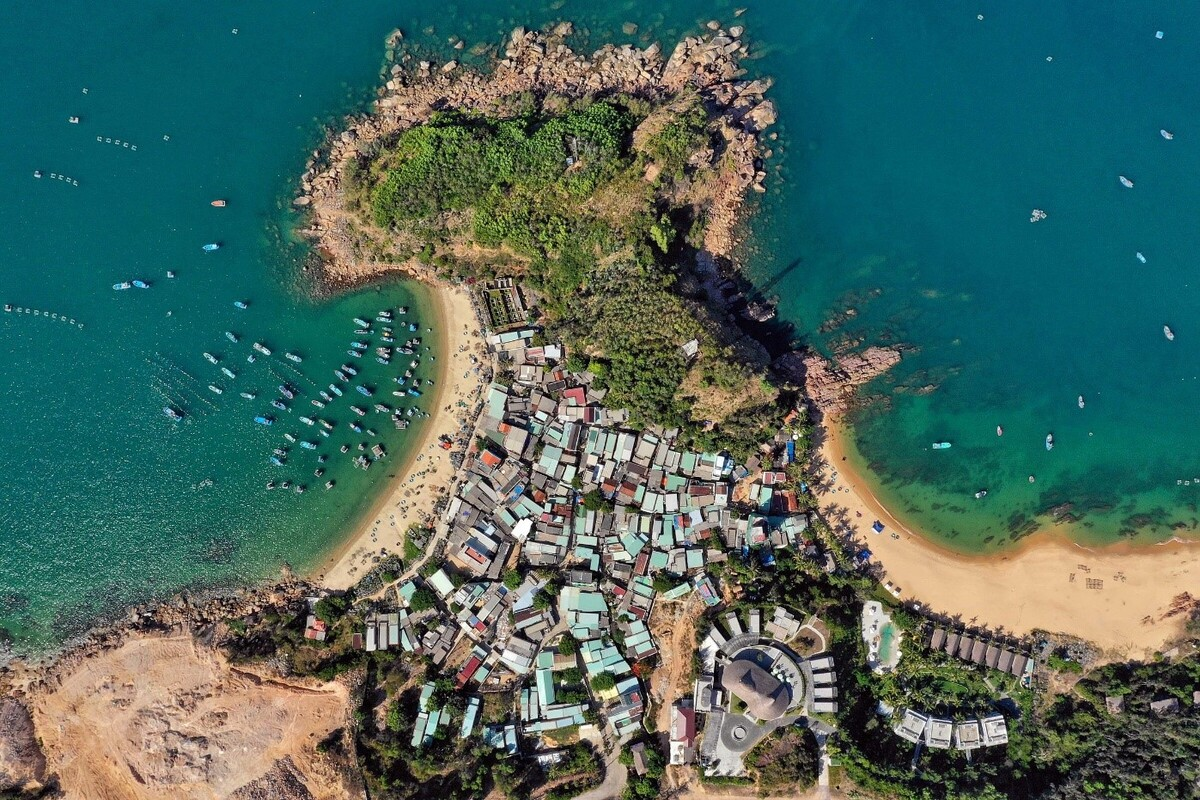 From the center of Quy Nhon city along Highway 1D about 13km, tourists can see the beautiful and pristine sight of Xep Beach (Bai Xep). This beach is voted is one of the 16 "hidden gems" of Asia by Business Insider. Photo: Huu Khoa.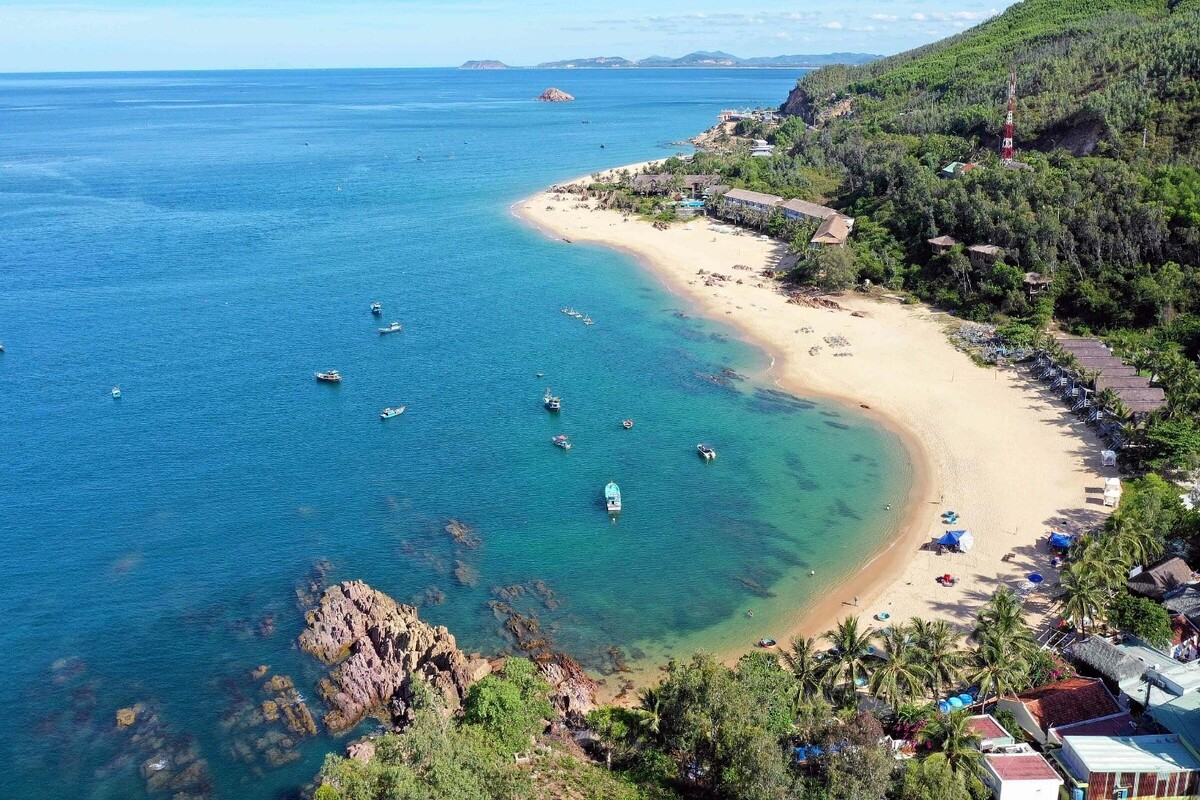 Bai Xep beach has long been loved by a lot of people, from natural and adventurous lovers who love exploring to high-class tourists, especially in the hot summer. Photo: Huu Khoa.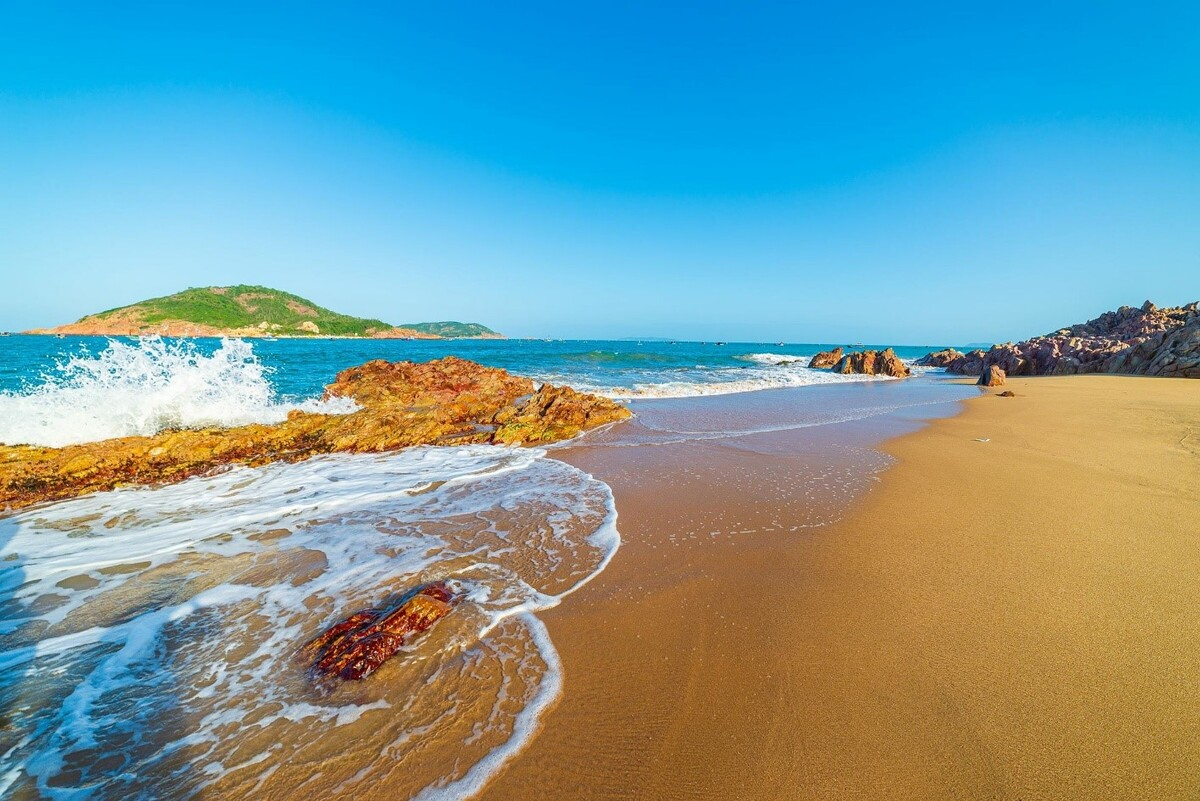 With blue and crystal clear water, swimming in Bai Xep beach is considered one of the best experience for tourists. Photo: Shutterstock.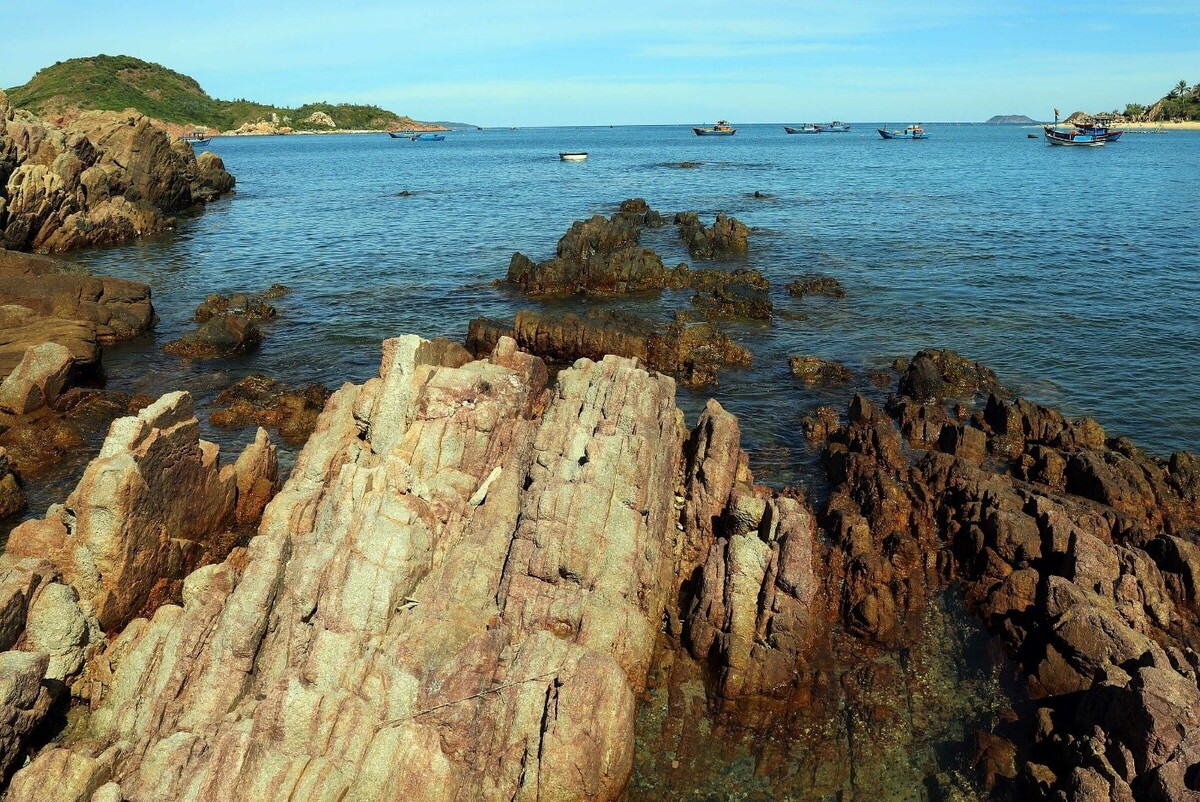 Being known as "Jewels in the rock", Bai Xep has a natural rock formation that floats above the water, which attracts a lot of tourists and photographers. Photo: Huu Khoa
Tourists who visit Bai Xep not only have a chance to experience swimming in the crystal clear water, walking on the golden sand beach, and taking pictures of the majestic rocky mountains, but also experience local life here. Local people in Bai Xep live mainly by fishing and are very friendly and generous. Photo; Shutterstock.
What to do in Bai Xep Beach
Relax and swim: You come to this beach mainly to do nothing. It is very quiet here and feels peaceful, which means that you can recover from all the traveling and the busy activities that you have done so far in Vietnam. Relax on one of the chairs, read a book and cool off by swimming in the sea every now and then.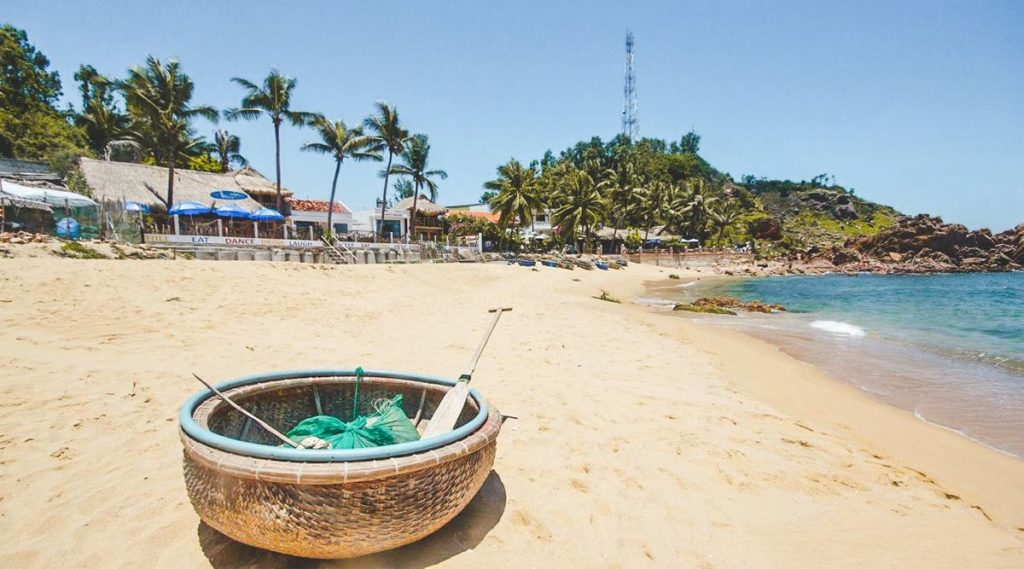 Photo: Local Vietnam
Explore village: Immerse yourself in the local culture of the village. The fishing village is a cute little village and still feels very authentic. It takes you just 3 minutes to walk through the entire village, but it is certainly nice to take a look. You are greeted with a smile and there are no cars in the village, so it is very quiet. On the other side of the village than where the accommodations are located, you will find a place where they repair boats and prepare boats for fishing.
Boat trip to islands: Just 20 minutes from Bai Xep is the island of Hon Ngang (Nhang Island). A boat trip costs around VND 80,000 (US$ 3) for a return trip. They keep waiting until you are done on the island and want to go back. A small walk takes you to a lookout point and there is a small beach that you almost always have all by yourself. A number of rocks form natural swimming pools where you can bathe. You can also snorkel to coral and fish here. You can bring your own snorkeling gear or rent it at Big Tree.
There are also a number of other islands around Quy Nhon that you can visit with a boat trip, but not directly from Bai Xep.
Fishing: You can rent bamboo fishing rods and try to catch fish yourself like a local.
Hiking: In addition to walking on the beach or wandering through the village, you can also make short hikes through the surrounding hills. During the rainy season, you can discover one of the many waterfalls. Some are just a 30-minute walk away. Ask your accommodation about the hiking possibilities.
Accommodation on Xep Beach
Life's A Beach: The first established and best-known accommodation on this beach is Life's A Beach. It is located directly on the beach with bamboo houses and a beach bar. There is plenty to do in the evenings with activities such as karaoke, BBQ, games, DJs and movie nights, but it is certainly not a party hostel. There are private rooms and dorms for backpackers. Recently they also opened a second location in the village, called Life's a Beach Apartments, for something more luxurious. There is a restaurant with Vietnamese and Western food.
Big Tree hostel & Haven: Right next to Life's A Beach and also on the beach is Big Tree hostel. It has two names, Big Tree Hostel is for the dorms and Haven is for the private rooms. This accommodation looks slightly more comfortable and modern than the hostel next door. There is a deck, with seating tables and trees that provide shade.
Resorts
Avani Quy Nhon resort & spa is located along the most beautiful stretch of beach on Xep Beach and is very suitable for couples and families who want to relax. The resort is very luxurious and the rooms have balconies facing the sea. There is an open-air restaurant on top of a cliff.
The Casa Marina Resort is on the other side of the hill where the fishing village is located. This 4-star resort has a gym, swimming pool and luxurious rooms.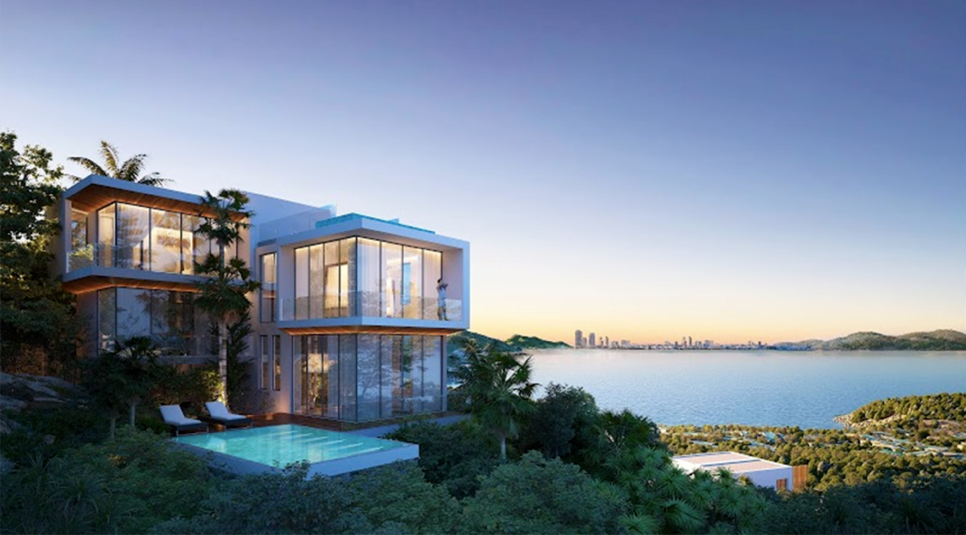 Photo: BCG Land
Restaurants
Life's beach and Big Tree both have a restaurant. These two mainly serve Western customers, so both the prices and the food are also more Western, but very tasty.
Bai Xep also has a number of small fish restaurants of the villagers, where they sell very fresh fish, shellfish and seafood. During the day, for lunch, you can sit in one of the restaurants. In the evening they put tables and chairs on the beach, so you can eat on the beach with sunset. The local villagers also often come to the beach in the evening to rest with a beer from the working day. In addition to fresh fish, they sell banh beo, fried rice, seafood noodles and often they also have options if you don't eat fish.