Top 10 Best Restaurants 2021 In The World
Let's scroll down to find out more information on top 10 best restaurants 2021 according to the list sponsored by S.Pellegrino & Acqua Panna, which was announced on October 5, 2021 in Antwerp, Flanders.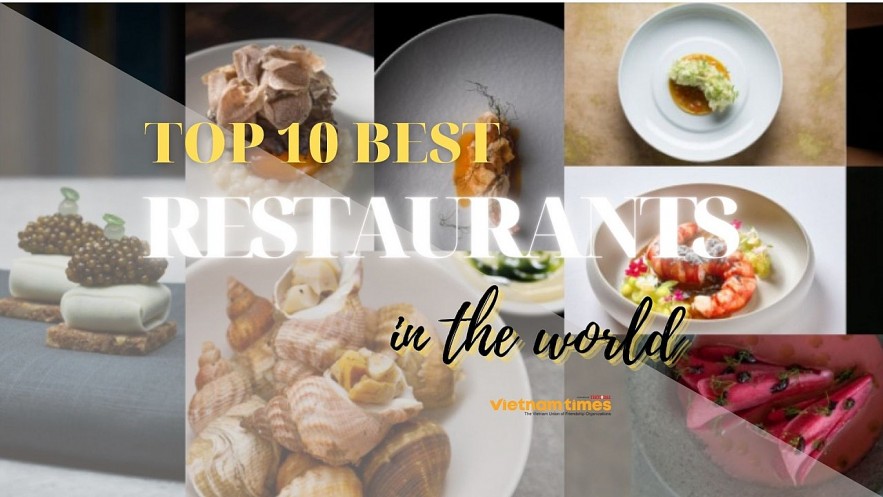 Top 10 Best Restaurants In The World. Photo: vietnamtimes.
The prestigious awards had previously announced that all former number one restaurants were disqualified from the list this year. But there was a loophole. This is actually Noma's first win in its new location, and for its tasting menu. Judged by more than 1000 industry experts, including chefs, food critics, publishers and restaurateurs, the annual World's 50 Best releases rankings separately for the top 50 and a supplementary 51 to 100. Here are top 10 best restaurants 2021 in the world, according to the list sponsored by S.Pellegrino & Acqua Panna, which was announced on October 5, 2021 in Antwerp, Flanders.
The list of top 10 best restaurants in the world
1. Noma (Copenhagen, Denmark)
2. Geranium (Copenhagen, Denmark)
3. Asador Etxebarri (Axpe, Spain)
4. Central (Lima, Peru) Best restaurant in South America
5. Disfrutar (Barcelona, Spain)
6. Frantzén (Stockholm, Sweden)
7 Maido (Lima, Peru)
8. Odette (Singapore) Best restaurant in Asia
9. Pujol (Mexico City, Mexico) Best restaurant in North America
10. The Chairman (Hong Kong) Highest climber award
No.1 Noma, Copenhagen, Denmark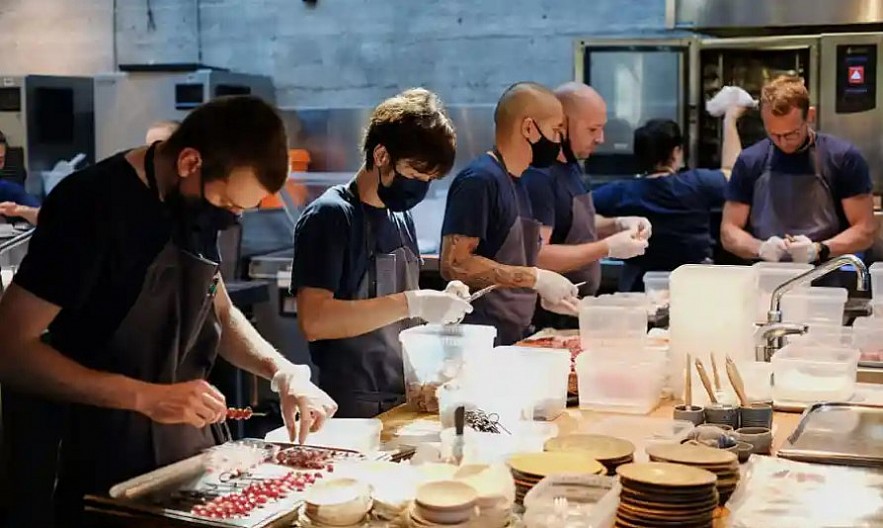 Staff at Noma prepare food in the kitchen. Photograph: Thibault Savary/AFP/Getty
The new Noma from the chef René Redzepi, famed for his foraging and fermenting techniques, was named best restaurant at a ceremony in Antwerp, Belgium, on Tuesday night. The old one topped the list in 2010, 2011, 2012 and 2014 and came second in 2019.
No trip to Noma is ever the same, with René Redzepi and team constantly foraging for unexpected ingredients and turning them into beautiful plates. Highlights from previous seasons include a groundbreaking vegetarian celeriac shawarma, a duck dish of leg, brain and heart served with claw, feather and beak, and sweet crab meat served on a flatbread cut into the shape of a crab. It is the new iteration of Noma, opened in 2018, that takes home the trophy for The World's Best Restaurant 2021, sponsored by S.Pellegrino & Acqua Panna.
William Drew, the director of content for the World's 50 Best Restaurants, said Noma had "arguably been the most influential restaurant of its generation, setting new standards in terms of research and ingredient sourcing, dish development and presentation".
Its current 16-course "autumn universe" menu created by Rasmus Kofoed features artichoke leaves and pickled walnut, squid, melted smoked lard, essence of yeast, potatoes and quail with thyme seeds, berries and pickled pine. Native ingredients such as foraged herbs, cloudberries and local shellfish were combined with exotic additions such as wild reindeer blood, ants and cricket paste, creating culinary headlines worldwide and sparking a wave of successful restaurant openings that included Geranium, which opened in 2007.
Photo: theworlds50best
As The Guardian reported, Noma has been the flagship of "New Nordic" cuisine since 2004, when Redzepi and the restaurant's co-founder, Claus Meyer, joined 10 other Nordic chefs in publishing a 10-point manifesto aimed at developing the region's "authentic cuisine".
The manifesto emphasised "purity, simplicity and freshness", urged a predominance of seasonal and hyperlocal foods, and encouraged restaurants to develop traditional Nordic fish and meat recipes by reviving and adapting older techniques such as marinating, smoking and salting.
No.2 Geranium, Copenhagen, Denmark
Rasmus Kofoed is the first chef in Denmark to earn three Michelin stars, which were granted to Geranium in 2016. Kofoed is also the only chef to have ever won the gold, silver and bronze medals at the esteemed global cooking competition the Bocuse d'Or, and his meticulous approach to seasonal Danish cuisine has seen Geranium climb its way up The World's 50 Best Restaurants list from No.49 in 2012 to No.2 in 2021.
The restaurant is situated on the 8th floor in Fælledparken (Common Gardens) in the center of Copenhagen, from where one can follow the seasons' journey through the tree crowns, catch glimpses of the city's green copper roofs and just see the windmills of Oeresund.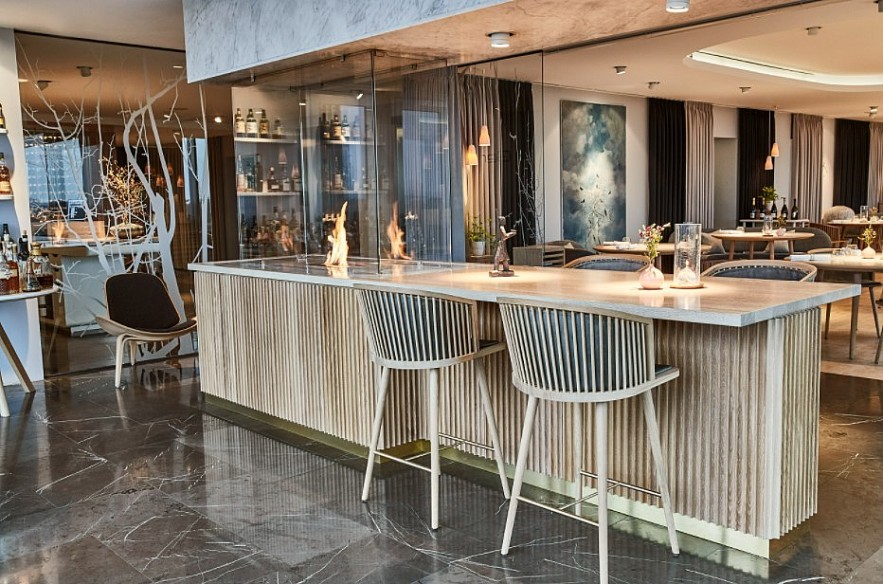 Photo: geranium.
The location emphasizes Geranium's vision of gastronomic clarity and diversity. We explore the area of tension between the urbane and the natural.
There are arguably no better chefs in the world than Kofoed at applying beauty to food. He has an intuitive ability to put together truly stunning dishes that make the most of colour, empty space and accurate volume of ingredients, creating synergy between flavour, aestheticism and a sense of flow that runs throughout the menu.
Many restaurants align their menu to the changing seasons, but Geranium takes it to the next level. The latest Autumn Universe selection is a case in point, beginning with rich pickings such as Jerusalem artichoke leaves and pickled walnut, and following through into a series of fish and seafood courses, which speak to Chef Rasmus Kofoed's love for sea-foraging.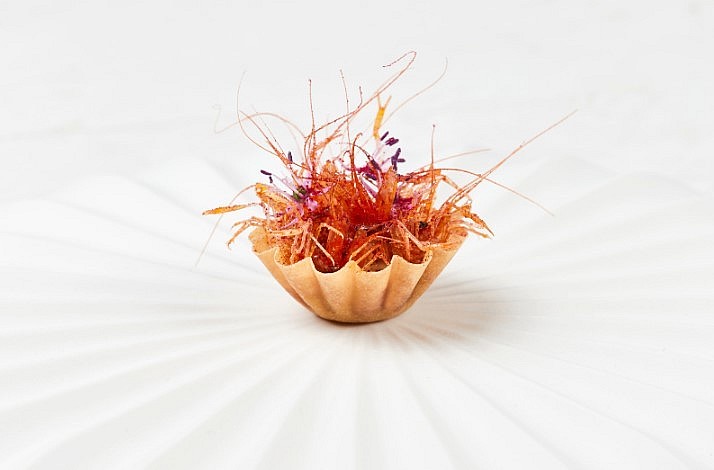 Photo: theworlds50best.
No.3 Asador Etxebarri, Atxondo, Spain
In the lush foothills of the Spanish Basque Country, Asador Etxebarri has been housed in the same rustic stone building since the 1990s. With sprawling views of mountains and grazing cattle from its terrace (where the welcome snacks are served), the restaurant can claim to be at one with history and nature. Victor Arguinzoniz is recognised with the Estrella Damm Chefs' Choice Award 2021.
Basque chef Victor Arguinzoniz is famous for being able to grill virtually anything and for coaxing out incredible flavours from seemingly simple ingredients. To get more control over the cooking process, he designed Asador Etxebarri's grills himself – the kitchen features six fully adjustable grills that can be raised and lowered on a pulley system, and he also invented several utensils, such as mesh pans. The restaurant has its own 750-degree ovens in which Arguinzoniz and his team prepare fresh coals daily from carefully chosen woods, such as holm oak for fish and vine trunks for meat.
The restaurant respects the intrinsic natural flavours of local produce and delicately urges each ingredient to show its potential: house-made chorizo, salted anchovies, buffalo cheese, the freshest prawns from Palamos, tender beef chops. Even the desserts – such as reduced milk ice cream with raspberries – are kissed with at least a suggestion of smoke.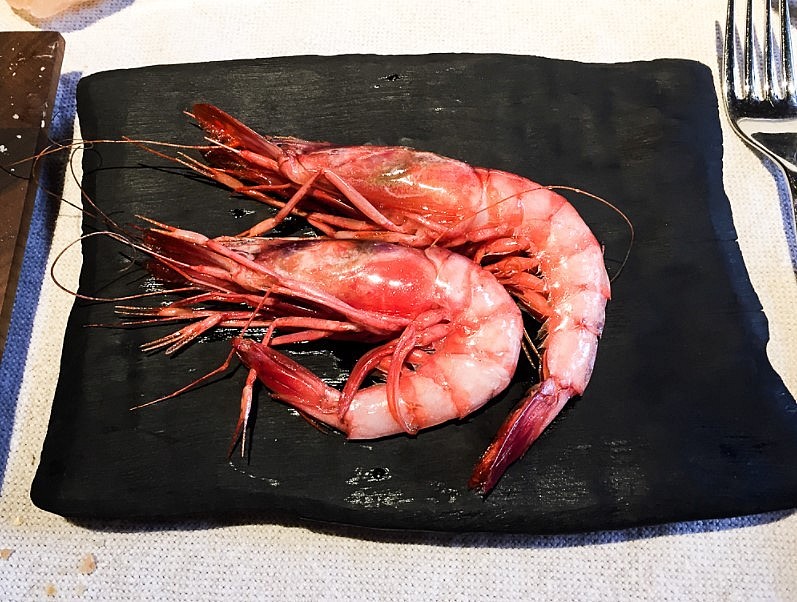 Huelva shrimp, obviously feeling very snugly. Photo: travelcookeat.
No.4 Central, Lima, Peru
Chefs Virgilio Martínez and Pía León's flagship restaurant, Central, is an ode to Peru in all forms. The dishes celebrate the unique landscapes, history and traditions of their homeland by using an abundance of locally sourced produce.
After years of exploration, guided by Mater Iniciativa – the arm that researches Peruvian ingredients, spearheaded by the powerhouse pair and Martínez' sister Malena – Central's plates are groaning with incredible biodiversity. The tasting menu features the finest food that land and sea have to offer: scallops, squid and clams come fresh from the coast and the Amazon, while the Sacred Valley offers up pork belly and goat's neck.
Sweethearts of 50 Best, the husband-and-wife team were married just four days after Central's first appearance on The World's 50 Best Restaurants list in 2013. Eight years later, Martínez and León have had their fair share of success – with the opening of Mil in the Andes and Kjolle in Lima – and show no signs of slowing down.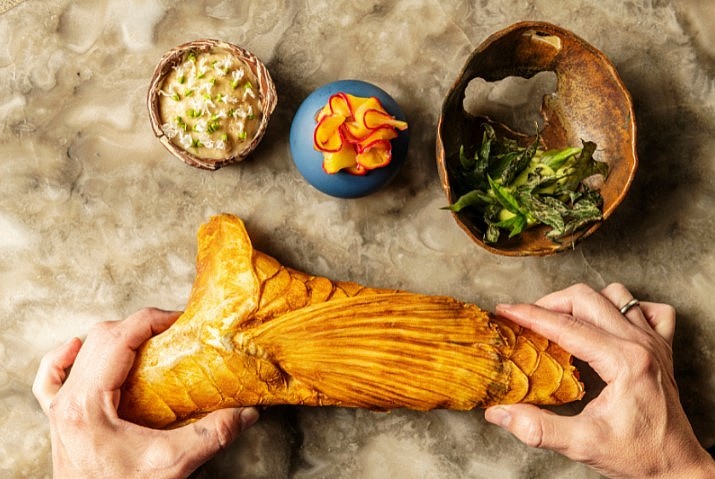 Photo: theworlds50best.
While the menu represents Peruvian ecosystems at their best, the team at Central focus strongly on sustainability. Recycling, composting and closing the loop on waste ingredients all come second nature. Guests are given an insight into this diverse culinary world just by walking to the front door – taking them through a vegetable garden with over 100 plant species.
No.5 Disfrutar, Barcelona, Spain
Disfrutar – whose name translates as 'enjoy' – is one of the most delicious, surprising and boundary-pushing gastronomic experiences in the world. It debuted at No.18 on The World's 50 Best Restaurants in 2018, picking up the Highest New Entry Award, and has since climbed to No.5 – a testament to the consistently mind-blowing nature of its gastronomic offer, which has been described as 'a thrilling rapid-fire, roller-coaster ride of a dining experience'.
In 2019, Disfrutar was ranked number 9 on the list of The World's 50 Best Restaurants. And The Best Chef Awards ranked the restaurant in number 5, being the Best New Entry to the list. In addition, Disfrutar was recognized with the Gourmet Award as the Best Restaurant in Barcelona.
In 2020, Disfrutar has risen one position in the ranking of The Best Chef Awards, reaching number 4 and being the best Spanish restaurant on the list.
Chefs Oriol Castro, Mateu Casañas and Eduard Xatruch all started working at the legendary El Bulli (now a member of the Best of the Best group of restaurants) within a year of each other, between 1996 and 1998. After the restaurant closed in 2011, they joined forces to open Compartir in Cadaqués in Catalonia, Spain, followed by Disfrutar – their most ambitious project – in 2014.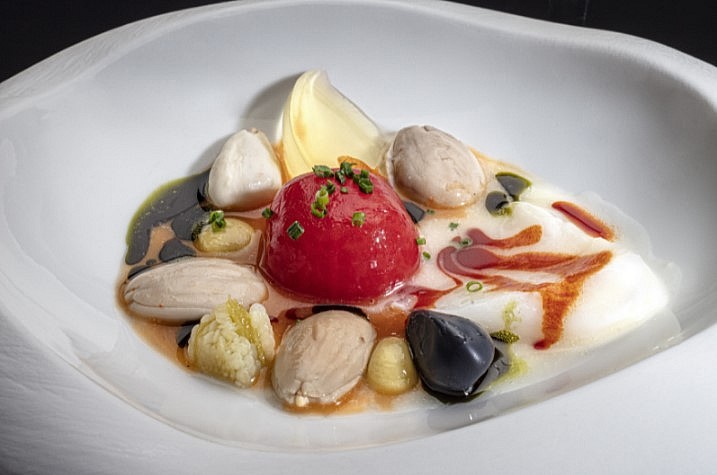 Photo: theworlds50best.
Contemporary techniques, daring combinations and the drive to surprise diners are among the features that Castro, Casañas and Xatruch embrace at Disfrutar as they did at El Bulli. Dishes such as panchino (a fluffy bun) stuffed with caviar and sour cream, or multi-spherical pesto with tender pistachios and eel, are designed to 'please, surprise and excite'. In 2021, the team unveiled a new type of table in their creativity kitchen: during the dining experience it comes to life, showing secret compartments, drawers and delicious bites hidden in its bowels.
Located in the Eixample district of Barcelona, Disfrutar's main dining room is light-filled and white, but the restaurant also features other spaces, including an outdoor terrace and a private lounge in the creativity kitchen. The design – featuring plenty of ceramics – was chosen to convey the trio's respect for the history and heritage of the Mediterranean.
No.6 Frantzén, Stockholm, Sweden
Frantzén is back with a bang. From humble origins as a bijou dining room in Stockholm's old town, Frantzén shut up shop in 2016 to relocate to larger premises. Set across three storeys of a spruced-up 19th-century townhouse in the Norrmalm district, the restaurant re-opened a year later to justified rapture.
Björn Frantzén started out as a chef in the Swedish army before working at Chez Nico in London, Arpège in Paris and Stockholm's Edsbacka Krog. He launched Frantzén Lindeberg in 2008.
Frantzén's food is a unique hybrid of Nordic cuisine that marries classic and modern techniques inspired by local and international tradition with Asian notes. Dishes include the likes of langoustine tail fried with puffed rice and a clarified butter and ginger dip, Japanese egg custard with pork broth, chives and umami seaweed-dusted crisp skin and the iconic Fattiga riddare, a fried toast of sorts with truffle, onions, cheese and 100-year-old balsamic vinegar.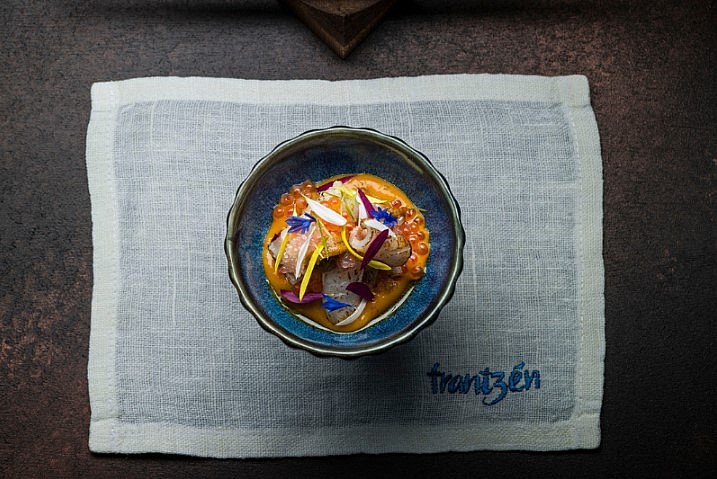 Photo: theworlds50best.
To understand why restaurant Frantzén has become so great, we need to look at its short, but fascinating history. It all started in 2008 in a different venue; specifically on Lilla Nygatan 21 in Gamla Stan – Stockholm's old town. Back then, the name was Frantzén/Lindeberg, because it was co-founded with pastry chef Daniel Lindeberg. The two guys, who had known each other for ten years since working together at Edsbacka Krog in 1998, were both skilled craftsmen in their own right. Björn ruled the savory kitchen and Daniel was in charge of the sweets. Ambitions were high, and already in 2009, they got their first Michelin star, followed by the second in 2010. In 2012, Frantzén/Lindeberg was ranked the 20th best restaurant in the world by the World's 50 Best organization. The next year, in 2013, it was number 12. That wasn't enough for the chef duo, however, especially not for Björn. He wanted to have the first restaurant in Scandinavia with three Michelin stars. He wanted to be number one.
No.7 Maido, Lima, Peru
The fusion of Latin American and Eastern cuisines leads to an exciting and unusual menu. The 12-course 'Nikkei Experience' degustation is predominantly fish-focussed: dishes such as Paracas scallops with green butter beans and miso feature alongside crab dishi and tapiocas. The beef cheek is also not to be missed, served with tsukemono and a cloud of jora corn. Round off the marathon meal with the surprising and delicate medley of lucuma ice cream, topped with soy sauce and macambo foam.
The dishes at Mitsuharu Tsumura's Maido are anything but simple. Embodying this principle has taken Tsumura on a journey, much like the members of the Japanese diaspora (also named Nikkei).
Tsumura began his love affair with gastronomy at a young age and it was his father who encouraged him to turn his passion into a profession. After graduating in culinary arts in the US, he travelled to Osaka to learn about Japanese heritage and tradition and his time in kitchens around Japan led him to specialise in sushi and Izakaya – Japanese-style tapas. In 2009, Maido was born, combining the culture and flavours of both his backgrounds.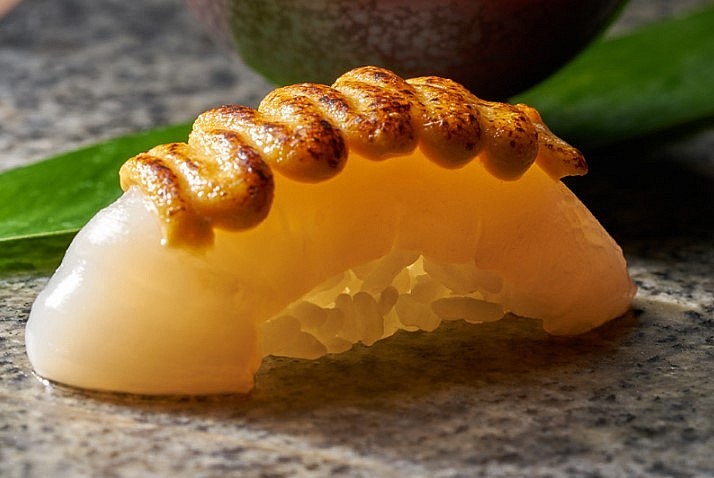 Photo: theworlds50best.
The Maido dining room is jaw-droppingly artistic. Thick ropes cascade from the ceiling and hang low over the tables. On arrival, guests are greeted by a joyful 'maido', meaning welcome in Japanese.
The fusion of Latin American and Eastern cuisines leads to an exciting and unusual menu. The 12-course 'Nikkei Experience' degustation is predominantly fish-focussed: dishes such as Paracas scallops with green butter beans and miso feature alongside crab dishi and tapiocas. The beef cheek is also not to be missed, served with tsukemono and a cloud of jora corn.
No.8 Odette, Singapore
Singapore's fine-dining French restaurant Odette, helmed by chef Julien Royer at the National Gallery Singapore, leapt 10 spots to No. 8 in this year's World's 50 Best Restaurants List unveiled in Antwerp, Belgium, on Tuesday (Sept 5). This makes it the first restaurant here to crack the top 10 of the prestigious list.
In an Instagram post, as Strait Times reported, chef Royer, 39, who is in Antwerp for the ceremony, said: "We could not be happier challenging ourselves at every turn and to continue to be able to do what we love; today is a wonderful reminder of the intangible value this industry brings."
Photo: theworlds50best.
This is unashamedly a fine-dining restaurant, complete with white tablecloths and luxurious velvet banquettes, but it's also very much a contemporary version. The colour palette is light, the décor elegant – much like Royer's ultra-refined take on modern French food using ingredients carefully sourced from a global list of artisanal producers.
Maukyo uni with prawn tartare, mussel cloud and Kristal caviar sets the unashamedly luxurious tone. While French gastronomy remains at the core of Julien Royer's cooking, his decade or more in Asia has rubbed off in both ingredients and influences: kampot pepper pigeon with confit leg, liver parfait and black garlic providing a delicious example.
General Manager Steven Mason, formerly of The Ledbury in London, and star sommelier Vincent Tan join Royer to make a formidable force: relaxed and personable, but highly skilled and decidedly ambitious.
No.9 Pujol, Mexico City, Mexico
Chef Enrique Olvera founded Pujol back in 2000 with the vision to showcase everything about Mexican gastronomy, from its unique techniques and inimitable spices to the country's rich history. More than twenty years on, he has achieved his dream: Pujol comes in consistently towards the top of Latin America's and The World's 50 Best Restaurants rankings. Jesús Durón has now taken the reins as Pujol's chef de cuisine, continuing this quest for memorable flavours and culinary excellence.
Pujol's offering boasts a varied seven-course tasting menu that packs an incredible punch. While the selection changes seasonally, the signature Mole Madre, Mole Nuevo – two concentric rings of the traditional Mexican preparation, one of which is aged for 2,500 days – is a stable feature, alongside a steamy dish of baby corn with chicatana ant mayonnaise. The chef's favourites feature on an omakase menu and include the likes of tostada with kimchi and a Kampachi taco served with avocado and seaweed.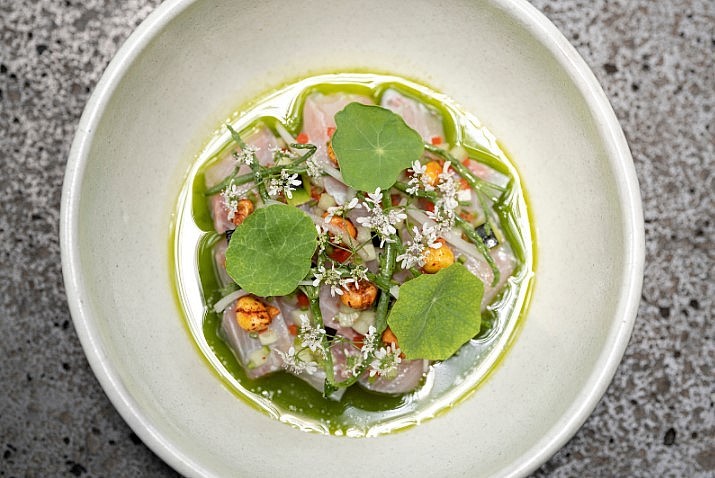 Photo: theworlds50best.
After relocating in 2017, the restaurant's new home can be found in a leafy, suburban neighbourhood of Mexico City. Its sleek interior is lit by gorgeous natural light that floods through the windows. Guests can sit both inside the dining room and at the outdoor tables on the partly covered, terrazzo-floor patio.
No.10 The Chairman, Hong Kong
While Chinese cookery is often wedded to longstanding recipes from the past, The Chairman follows an original ingredient-driven – and concept-inspired – path. Traditional skills shape carefully sourced seasonal ingredients, but ultimately yield wholly new contemporary Cantonese dishes. The explosive result has earned The Chairman the No.1 spot in Asia's 50 Best Restaurants 2021, winning the joint honours of The Best Restaurant in Asia, sponsored by S.Pellegrino & Acqua Panna – a first for a Hong Kong restaurant – and The Best Restaurant in China.
The perennial favourite is Chef Kwok Keung Tung's steamed flowery crab, a prized delicacy from the South China Sea renowned for its sweet taste. In The Chairman's recipe, it is steamed with 15-year-old Chinese wine, chicken fat and clam juice, and served alongside fragrant chicken oil and flat rice noodles, as theworlds50best reported.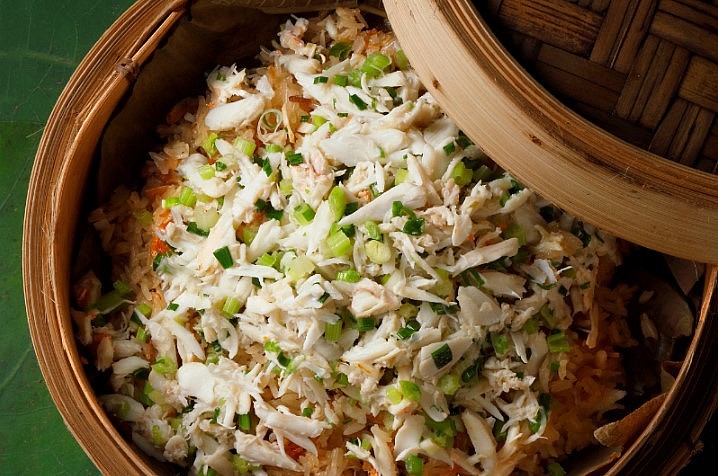 Photo: theworlds50best.
In 2019, Tung and Yip developed a fresh range of seasonal dishes inspired by forgotten luxury ingredients from southern China. After making pilgrimages to remote villages, the team procured unsung products like 20-year-pickled lemon, sugar-roasted chrysanthemum and elusive fresh mini water crabs.
While an à la carte option is on offer, it's best to put your faith in the superb choices of head chef Kwok Keung Tung and opt for the tasting menu. Thought, precision and time are given to each dish, such as the razor clams steamed with mixed herbs and lemons aged for over 10 years. The Chairman earns the Highest Climber Award 2021, sponsored by Alaska Seafood.