Top 4 Cafés For A Romantic Couples Date in Hanoi
Valentine's Day may be over but your can celebrate your love all year long! If you are planning for a date with your soulmate to cherish your love and appreciation for each other, nothing is more perfect than a romantic dinner at one of these most romantic cafes in Hanoi.
The Hanoian winter is cold and wet. Thankfully, there are warm and cozy cafes across the capital for you and your lover to enjoy.
6 Degrees
Photo: Foody
Address: Nghi Tam, Yen Phu, Tay Ho
Price:
Food: US$6.83 – US$28.01 per dish
Drink: US$2.64 – US$4.41
6 Degree is a perfect choice if you want to spend your sweet date at West Lake. This famous rooftop café is located on the 8th and 9th floor of a building on Nghi Tam street, with a mesmerizing view of the lake below.
You can choose to enjoy the warm, private indoor space or sit outside on the balcony, and watch the beautiful lake view romantically with your partner. The place also serves a variety of delicious food and drinks, including European-style meals, beverages of a full set of cakes and sweets.
Enjoying a European dinner in the romantic space of 6 Degrees will be the perfect experience for you and your loved one.
Gieo Café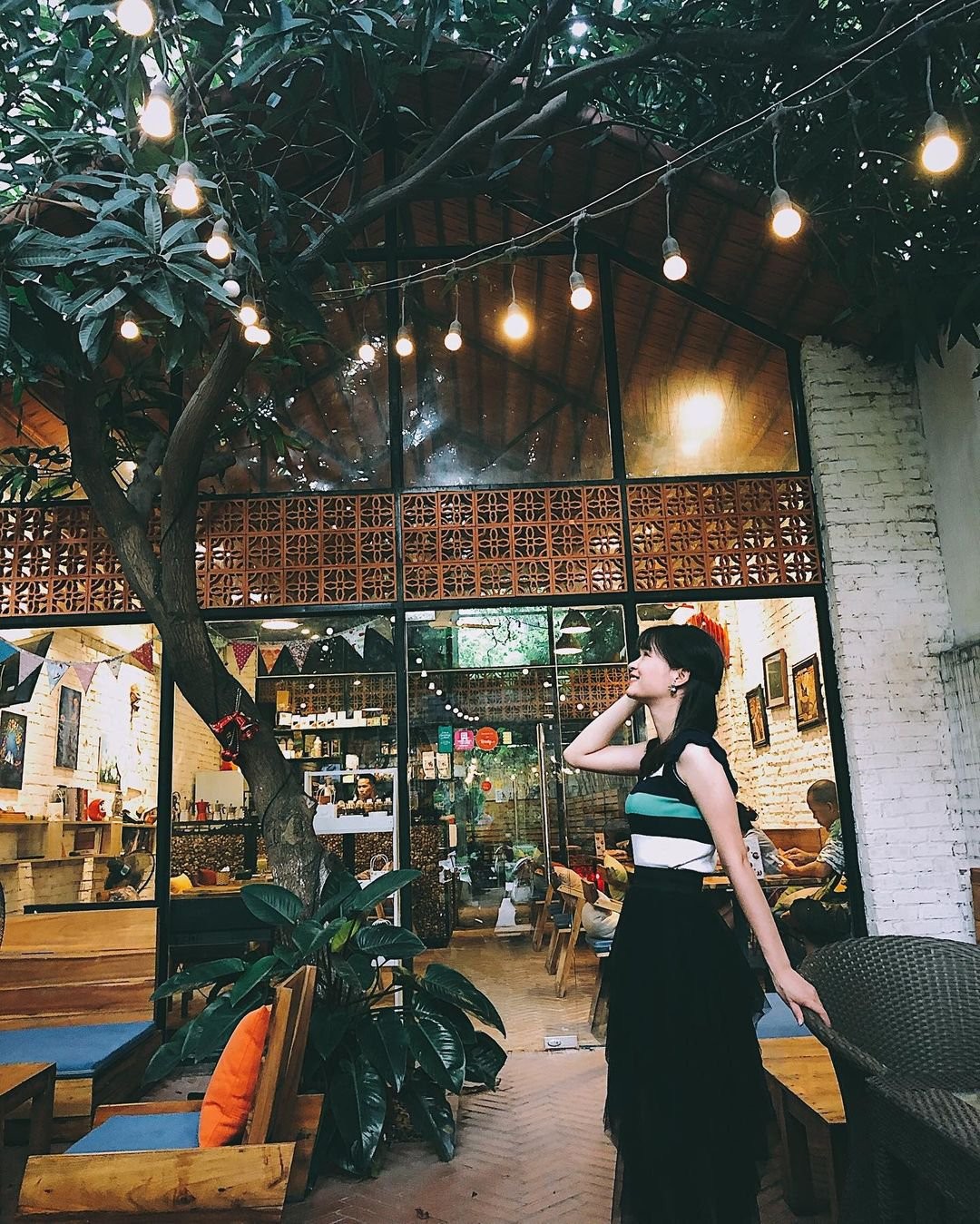 Photo: Lam.0810.
Address: Tran Quang Dieu, Quang Trung, Dong Da
Price: US$0.88 – US$1.76
Gieo Café is a perfect destination for couples who want to spend their dating time in a private space. The café is decorated with a rustic, simple style, and visitors are impressed by the classic-looking gate. The space inside is painted with a warm brown tone, a lot of green trees, and the corners are creatively decorated.
The special character of Gieo Café is the drinks are served in porcelain cups, straws made by inox that are easy to clean and reuse, in order to protect the environment.
You can visit Gieo Café not only in the evening but also in the morning, when the sun shines through the windows and create a dreamy feeling as visitors enjoy a hot cup of coffee under the tall trees.
Xofa Café and Bistro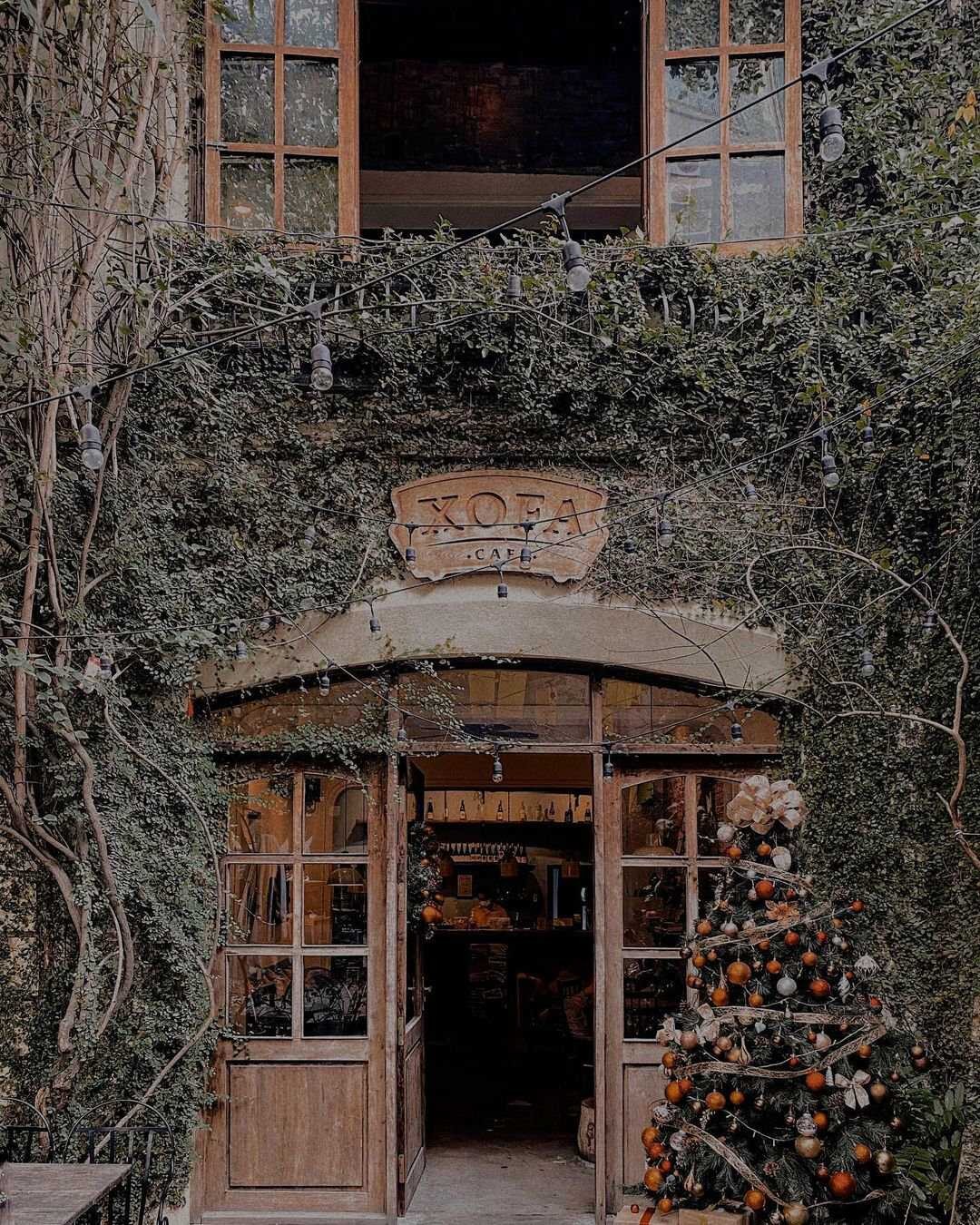 Photo: Coffeeholiicc.
Address: Tong Duy Tan, Hang Bong, Hoan Kiem
Price:
Food: US$1.76 – US$7.93
Drinks: US$2.20 – US$3.52
Xofa Café and Bistro is located in the center city and is easy to find. The café has a large space, a lot of green trees, with two buildings and a cool yard that create a lovely, romantic scene. The exposed flower-brick staircase is also a favorite photo corner of many guests.
The space inside the café is carefully designed and decorated in European style, bringing a warm and peaceful feeling. Guests can enjoy the soft sofas with fluffy pillows for relaxation, which will make them feel like they are at home.
The menu here has a variety of drinks from café, teas, juices to smoothies, and is received many positive comments from visitors. The only minus point is that it is a little bit inconvenient for car parking, and there is a surcharge at night.
Cine Café
Photo: cafephim.vn
Address: 4 bases:
- Xa Dan, Dong Da
- Yen Lang, Dong Da
- Lang Pagoda, Dong Da
- An Hoa, Ha Dong
Price: US$15.36 – US$42.67
A creative way to express your love is to enjoy your private time with your loved one at the café cinemas. Cine Café is one of the best places you can choose from. It is also a familiar name among young people living in Hanoi.
Aside from the regular tables, you can book a private movie room. The café will design your own space with candles, red roses, balloons, etc.
Coming here, you will have a chance to enjoy the best movies, have a romantic dinner, and watch your favorite movies with your loved ones.