Vietnam - Denmark Cooperation in Production, Certification and Management of Organic Products
Denmark and Vietnam strengthen cooperation in production, certification and management of organic products
Production, certification and management of organic products in Vietnam, for the recent years, have been high on the agenda of both the government and the industry while the country has been making efforts to transform its agriculture and food sector towards green and sustainability. Pressures from the market, local and international, and consumers for organic products add to the high demand of the matter.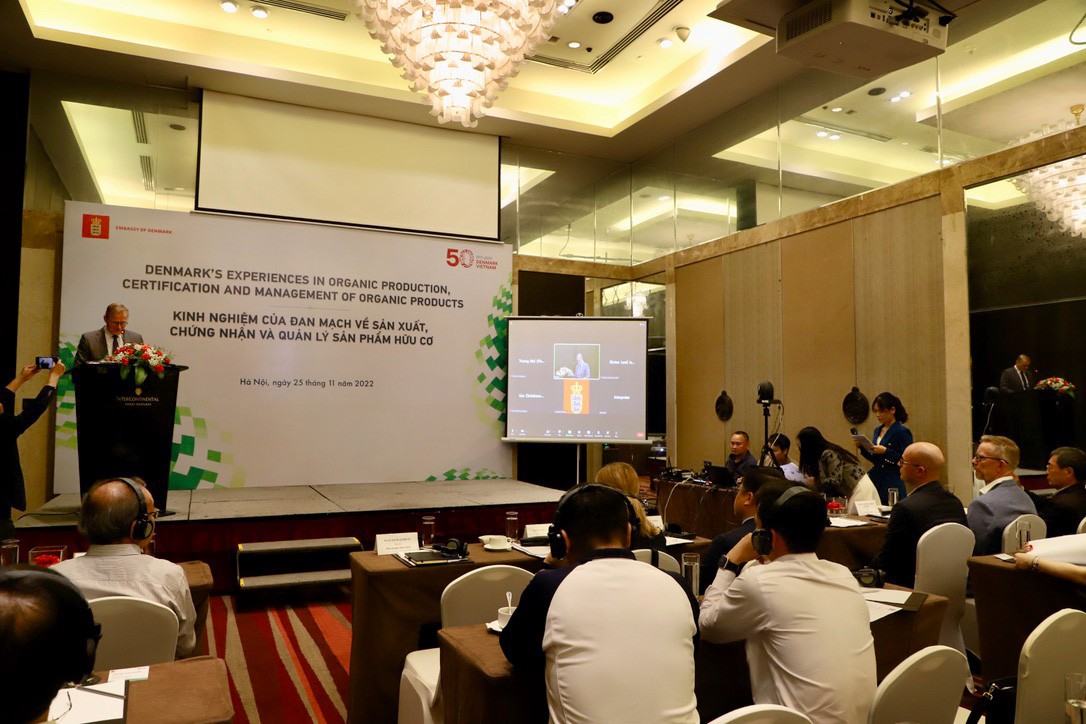 At the hybrid seminar. Source: Danish embassy in Vietnam
Danish and Vietnamese sector decision-makers and managers, experts, researchers and entrepreneurs gathered in a seminar held on November 25 in Hanoi to exchange experiences and knowledge on production, certification and management of organic products.
The seminar takes place in both live and online formats on the zoom platform with bridgeheads both in Denmark and Hanoi.
Around the world, Denmark has earned a reputation as the leading nation for organic food production and know-how. In 1987, Denmark was the first country in the world to get its own organic law. In 1989, Denmark got its national organic label. By doing so, Denmark provided the conditions that have turned an organic mindset into a thriving business area, which is both trusted and well-known for its high standards of traceability, quality and sustainability.
Nicolai Prytz, Danish Ambassador to Vietnam said at the event: "One of the reasons for the Danish organic success is that it has always been not only a political priority but also long and trust-based cooperation between and commitment by all actors across the value chain. The seminar is a good opportunity for Danish and Vietnamese sector policy-makers and managers, experts, researchers, and not least entrepreneurs to continue and strengthen the ongoing exchange of experiences and knowledge transfer in organic production and management."
Speaking at the event, Nguyen Quoc Toan, director-general of the General Department for Agricultural Products Processing and Market Development, under the Ministry of Agriculture and Rural Development, said organic production played an important role in the green growth of the agricultural sector.
Vietnam has implemented organic agriculture throughout the past time. The Danish cooperation in agricultural and food production is of great significance to the development of Vietnam's agricultural sector.
According to Toan, organic agriculture becomes an unavoidable trend not only to ensure health but also to protect the environment in the context that climate change is seriously affecting agricultural production.
Toan said that Vietnam has many advantages in developing organic agriculture when the system of legal documents and guiding documents is completed and fully supplemented with more than 90% of localities across the country pay attention to and direct, guide and encourage organic production. The number of production models and linkages in production and consumption according to organic farming processes in localities is increasing. In particular, the awareness and interest of society and consumers towards organic agricultural products is increasing day by day.
However, Toan also pointed out a number of difficulties enterprises were encountering during the process of moving towards organic production such as building trust of consumers in organic products, limited conditions for large-scale production, and the lack of synergy to further promote organic production on a larger scale.
Moreover, there are no specific guidelines on the list of inputs used in organic agricultural production. The domestic organic product consumption market is underdeveloped, there is an unfair competition between certified products and self-proclaimed organic products.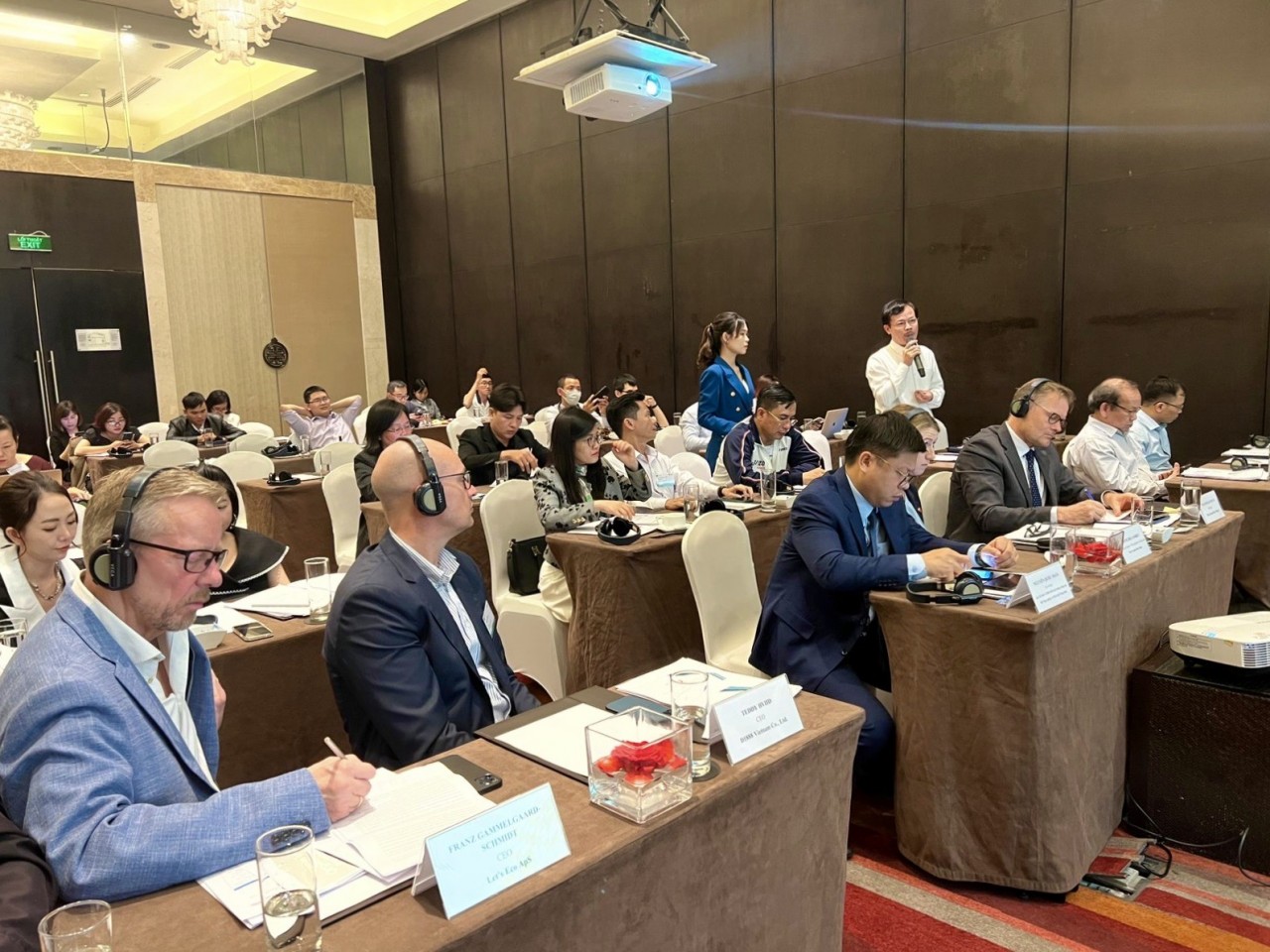 The seminar is part of a long-term cooperation between Denmark and Vietnam to support Vietnam's efforts to transform the agriculture and food sector towards green and sustainability. Source: Danish embassy in Vietnam
Teddy Hviid, partner of Let's Eco ApS cum CEO of D1888 Vietnam Co., Ltd, a keynote-speaker at the seminar, also added: "Our company, Let's Eco Aps has 100% of our products certified as organic following the Danish organic standards and guidelines, which in some cases are even stricter than EU rules. We, therefore, have many experiences and good practice in terms of production and management of organic products to share with Vietnamese participants at the seminar. We hope that through our exchange of knowledge and networking today, we can encourage Vietnamese partners, businesses and consumers to support and promote production and use of organic food, for our own health and sustainable living environment".
Apart from Teddy Hviid, key-note speakers at the seminar included representatives from Vietnamese and Danish agricultural and food authorities, Vietnamese Agro Processing and Market Development Authority, Vietnamese Institute of Nutrition, Danish Food Nation, Danish Agriculture and Food Council.
Outputs from the seminar will partly contribute to development and formulation of legal standards and regulations on production and management of organic products in Vietnam.
Currently, there are about 17,000 organic agriculture producers, 555 processors and 60 exporters in Vietnam.
Vietnam's organic products are present in 180 countries with annual revenue of USD 335 million.