Vietnamese embassy staff in Israel report sleepless nights in 'rocket storm'
Members of the embassy went through an emotional rollercoaster as rockets blasted across Tel Aviv's skies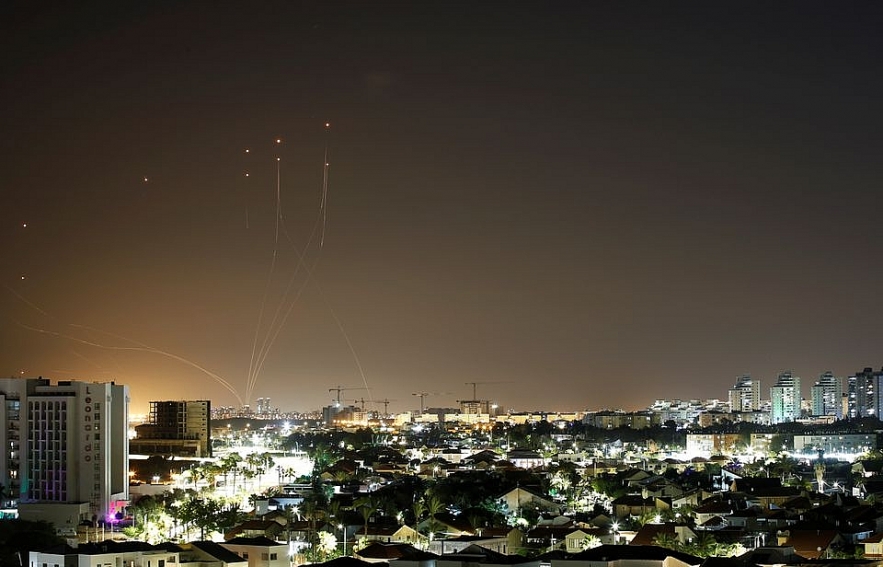 Rockets are seen launched from the Gaza Strip towards the Israel, May 11, 2021.
During a moment of quiet, the Ambassador of Vietnam in Israel Do Minh Hung made use of the rare peace to share his experience of the Israel-Palestine conflict, with Vietnamese reporters.
Enormous attacks of retaliatory rockets for retaliation have directly affected the security, safety, work and daily life of workers in the embassy.
Severe incidents
Ambassador Do Minh Hung said the tension started to elevate since last weekend, after there was a severe conflict between Palestine protestors and Israeli policemen, which caused tens of wounded in Jerusalem.
The conflict started the afternoon of Monday May 10 as hundreds of rockets were launched against Israel. The attack reached its peak in on Tuesday as well as Wednesday night, with hundreds of rockets were fired at Tel Aviv.
In the following days, the conflict between the two sides continued to elevate, with more than 1,700 rockets and bullets targeted at Israel, especially to Tel Aviv, home to many foreign embassies.
Israel retaliated with hundreds of air raids targeted to Gaza. It appears to be the toughest situation and the most difficult conflict in the region since 2014.
There have been other signifcant conflicts between the Jews and the Arab in many mutual cities of the two communities such as in Lod, Bat Yam, Jaffa, Accor and Haifa.
Social rioting has become more widespread and severe, with the two communities attacking, burn stores and transport vehicles, causing many casualties and physical damage on both sides.
Lod, a small city 40 km from Tel Aviv, had to declare a state of emergency.
Living in a state of emergency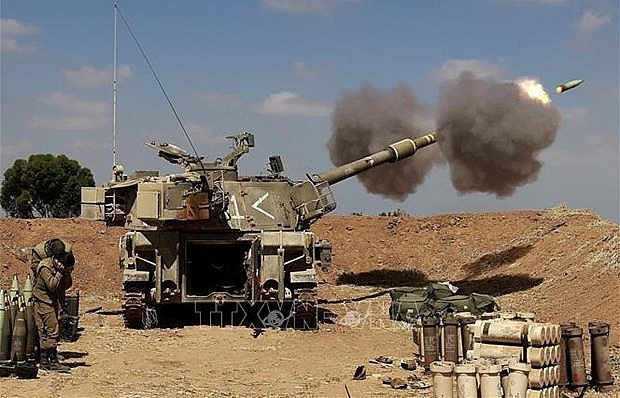 Israeli troops fire towards the Gaza Strip from their post in Sderot City.
For members of the Vietnam Embassy in Israel, the area is constantly unstable. Members of the embassy must always be cautious in order to prepare response plans for emergency states.
Response plans are continually updated to suit an ever-changing situation, with embassy staff needing to prepare for several scenarious. They must, for instance, know how to handle a firefight while driving on highway, or what to do if they hear a security alarm
Most of the members in the embassy are young workers who live with their family in Tel Aviv and are on their first term work trip abroad.
Before taking their mission in Tel Aviv, the embassy staff had to graduate from a training course, learning updated information about the relationship between the two countries, the typical situation in Israel, as well as the relationship between Israel and neighboring countries.
One of the first activities of all members in the embassy when they first set their foot in Israel is installing a "Red Alert" application on their phones, which informs them of all rocket attacks as soon and precisely as possible.
The embassy has created a chat group on mobile phones to keep in touch, discuss work, and update the situation for colleagues on a constant basis. Beside periodic progress meetings, there are quick unscheduled meetings during emergency situations.
"Initiative plans prepare us to be ready to all states of emergency," said Ambassador Do Minh Hung.
Two midnight alarms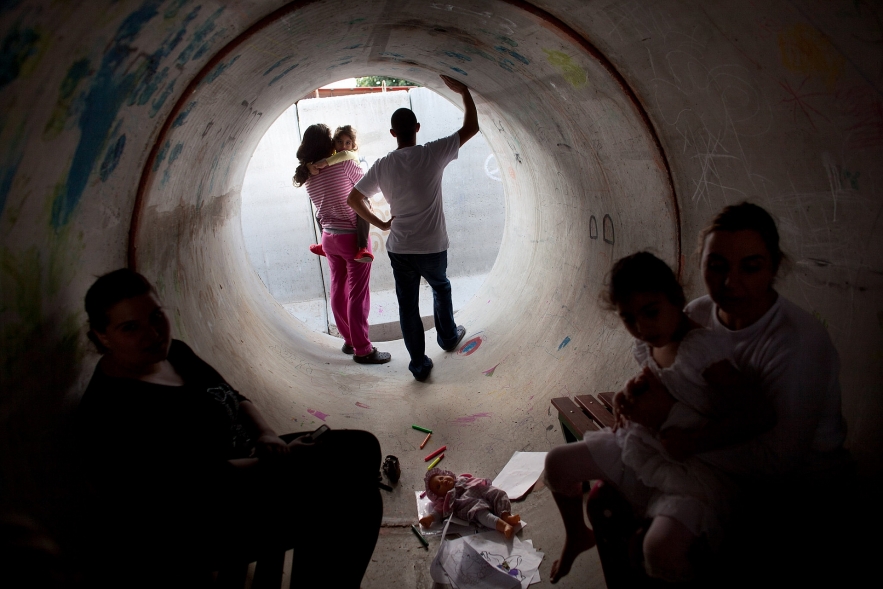 In Southern Israel, people shelter from bombs
At 9 p.m. on May 11, the alarm spread around the city after the first rocket fire to Tel Aviv. Ambassador Do Minh Hung and his colleagues in the embassy immediately moved to their bomb shelters.
In Israel, almost all buildings have bomb shelters. Merkhav Mugan, also known as a "miklat" and popularly known as a mamad, is a reinforced security room required in all new buildings by Israeli law. A Merkhav Mugan is deemed preferable to a bomb shelter for when the warning time is too short for residents to reach a shelter, which can be located some distance away. They also offer protection against high impact projectiles and chemical weapons.
Secondary Secretary for Political affairs Nguyen Hoang Tuan said that when he and his wife were teaching Vietnamese to their children, they had to hurry to bomb shelter with all neighbors of the building.
"There were a lot of booms. The sirens continued to wail, faintly and loudly from outside our protected walls. They were followed within moments by the boom of rockets either landing or being knocked out in the sky by the Iron Dome shield," Tuan said.
Although trained for emergency situations, Tuan was still nervous when the incident suddenly broke out. He had keep calm down to solve the situation and encourage his family, especially his frightened child.
In this worrying atmosphere, however, his neighbors seemed more calm as they have been familiar with such conditions. "Welcome to Israel!" a neighbor joked with Tuan.
Third Secretary Tran Thi Thao and her family also has an unforgettable night, as if in an action movie. This is the first work journey of Thao with her family with her 70-year-old mother and her small children.
When the first attack was over, an alarm rang the second time at 3 a.m. on May 12. Everybody had to wake up immediately and rushed to the bomb shelter, most of whom had been sleeping when the siren went off.
Being calm, resilient and optimistic
A bomb shelter in Israel
When the emergency broke out, the phone of Ambassador Do Minh Hung buzzed with texts, as with local friends and family checking: "Are you ok? We are ok Sirens in Tel Aviv but they are fine, in building bomb shelter," read one such message.
The greater the emergency, the more calm is needed from the ambassador.
"As the head of embassy, I believe in the preparation of our colleagues, but I still worry for their families. I always care about the situation of all members until they all respond that they are safe," said the ambassador.
These days, everyone's phones rings often due to notifications from "Red Alarm" application.
On May 12, the ambassador chaired a quick meeting with all members of the embassy to evaluate and prepare new response plans for emergency states. "Our first priorities are the safety and security for all members and their families," Hung said.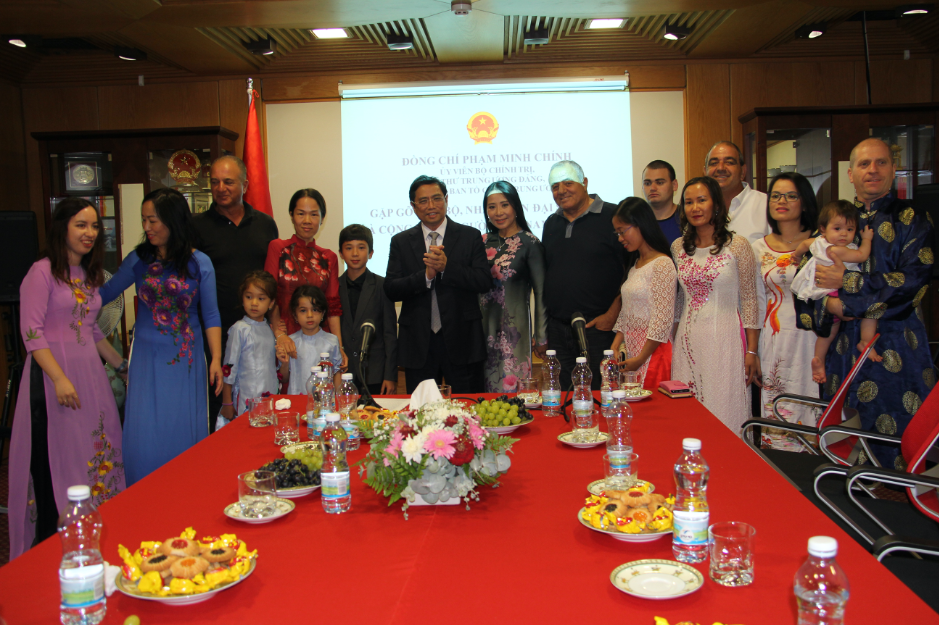 Vietnam Embassy in Israel
Ambassador Do Minh Hung said that although the tense situation was more complicated, members of the embassy were still resilient and optimistic, without being emotionally messy. Moreover, everyone completes their daily missions.
There have been steady and caring messages from Minister of Foreign Affairs and leaders of the ministry.
Thao is nervous about a severe war or the worst situation. These days, before going to bed her children always ask her "Mommy, will there be any alarm tonight?"