Vietnamese in Japan makes ventilators for Covid-19 patients
From the experience of making MV20 ventilators, an overseas Vietnamese in Japan is cherishing a project to design a 4.0 mask with an air filter, which is safe for users and the surrounding environment.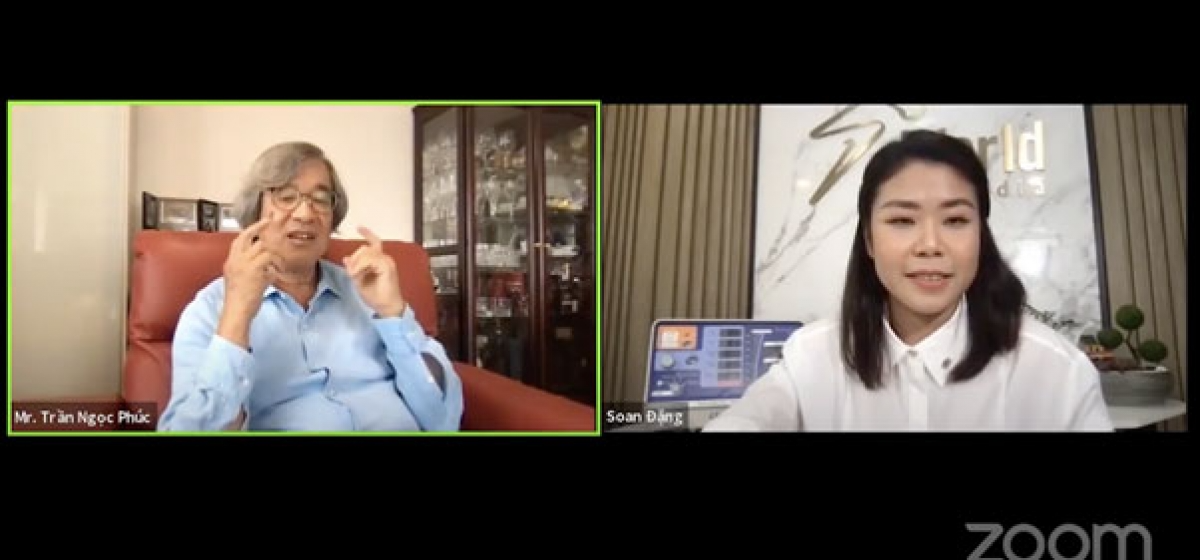 Tran Ngoc Phuc shared in the talk show "Stronger together" organized by S-World company. Photo: VOV
Tran Ngoc Phuc, overseas Vietnamese in Japan, chairman of Metran Japan Corporation and the "father" of Hummingbird ventilators that saved millions of premature babies in over 20 countries, revealed untold stories about the ventilator initiative to support the treatment of Covid-19 patients, which is currently being used in 8 countries around the world.
Making ventilators through the worst of the pandemic
Despite being far from his homeland for nearly a lifetime, Tran Ngoc Phuc is still persistent with product research projects dedicated to Vietnamese people, including a versatile ventilator suitable for treating Covid patients Eliciae MV20 (MV20) researched and manufactured by him and his team.
"When the pandemic situation became complicated, the number of patients increased rapidly, the pressure to produce the ventilator in a short time prompted me and the Metran team to be more careful in optimizing the production process. We focus on the design of the machine, the valve without moving parts that is easy to use, the integrated technologies and necessary functions, so that it is safe but still has to be fast," Phuc said.
As an inventor and leader of the Metran Group in Japan, he has obtained the consensus and financial support of organizations and businesses in Vietnam, specifically Van Thinh Phat Corporation and Van Lang University, to implement a project to produce 2,000 MV20 ventilators for the treatment of Covid-19 patients in Vietnam.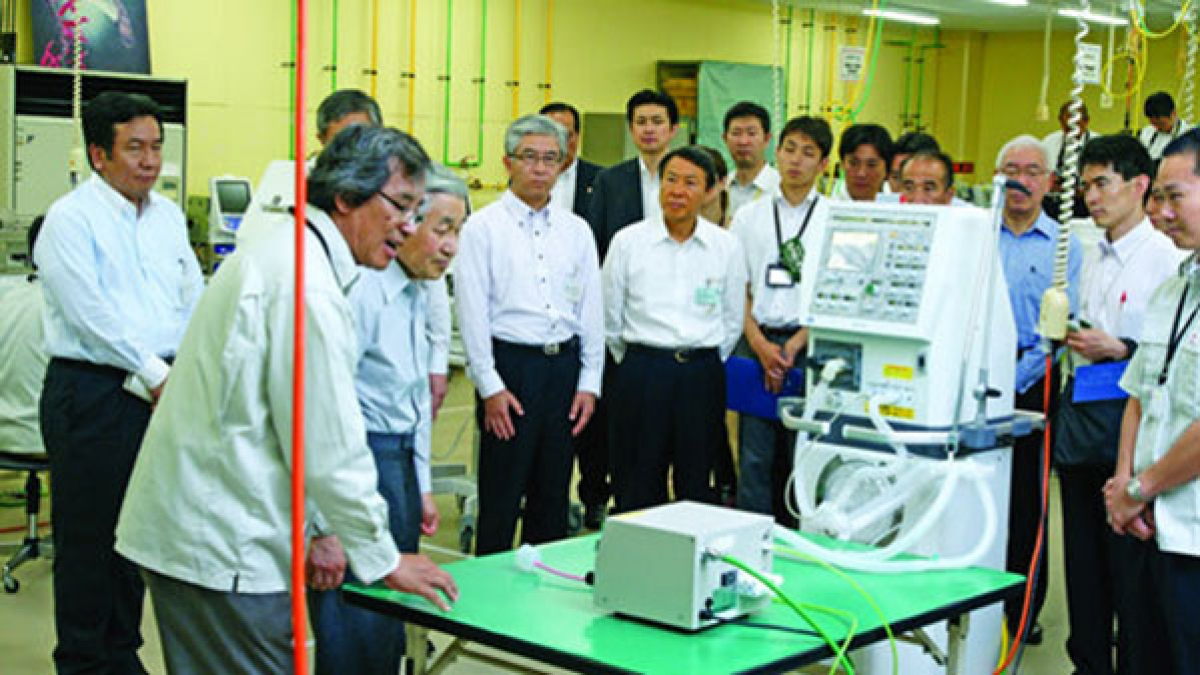 Tran Ngoc Phuc presented to Japan's Emperor Akihito about Metran's ventilator. Photo: VOV
Currently, 500 ventilators have been received by the Ministry of Health in April 2020, and 540 were handed over to Ho Chi Minh city and the Central, Central Highlands and Southern provinces in August last year. Professor Nguyen Thanh Long - Minister of Health assessed that MV20 "not only meets the needs of treating critically ill Covid-19 patients requiring invasive mechanical ventilation, but also applies to patients with respiratory failure and other respiratory diseases."
Phuc revealed that he is currently implementing a project to produce a ventilator specifically for Vietnamese people, researched and manufactured by Vietnamese people, including hardware and software. The ventilator manufacturing process is expected to be completed this year.
Solving the specifics of the healthcare industry in Vietnam
"When a patient is infected with Covid-19, it is difficult to know the lung condition or the underlying medical conditions that this person has. The important thing is to focus on treating the pneumonia to improve the condition then help the patient recover, remove the endotracheal tube and perform weaning (to help the patient get used to not having breathing support)" Phuc said.
According to Phuc, with this pathological feature, ventilators have high safety when they have a simple use, convenient for users, and can be mass-produced. Most importantly, the ability to prevent cross-contamination in the ward is a decisive factor.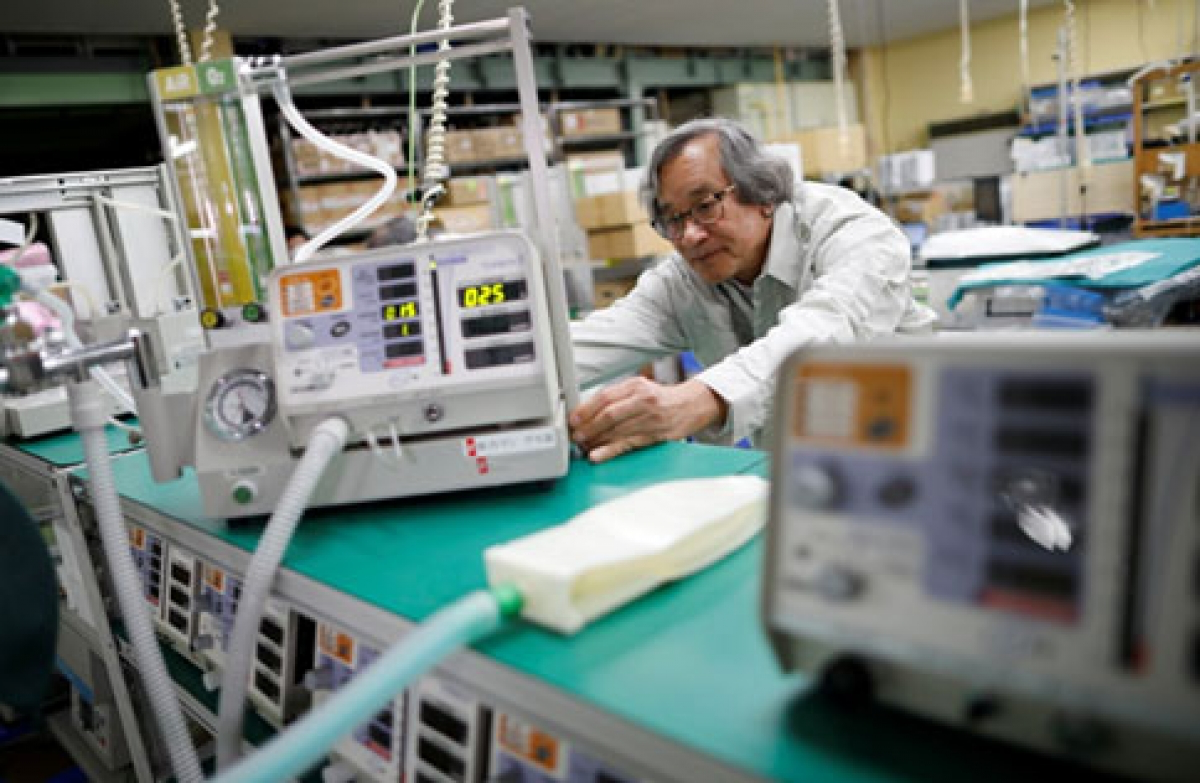 Tran Ngoc Phuc and the ventilator to treat Covid-19. Photo: Reuters
To ensure maximum safety for patients, medical doctors and the hospital environment, he designed the ventilator with the feature to isolate virus-infected airflows, preventing cross-infection in the ward.
Especially in Vietnam with the death rate of patients with respiratory diseases due to cross-contamination in Vietnam is many times higher than that of Japan and the US, this problem is often overlooked in the current Covid-19 treatment ventilator system.
MV20 is called a multi-purpose ventilator because during the pandemic, it can treat Covid-19 patients, and in normal times is a useful tool to treat respiratory diseases. This machine will be used in district hospitals for patients whose disease has not yet worsened to help reduce the overwhelming pressure on central hospitals, a characteristic of the current Vietnamese healthcare system.
His next invention? Air masks of the future
Not only creating applied products in Vietnam, Tran Ngoc Phuc's inventions are also solutions for communities around the world, not to mention the project "Air masks of the future." This project contains his and his colleagues' enthusiasm in creating a mask product that applies technology, comfortable in hot weather, does not cause suffocation, and is safe for gas exchange taking place in the lungs.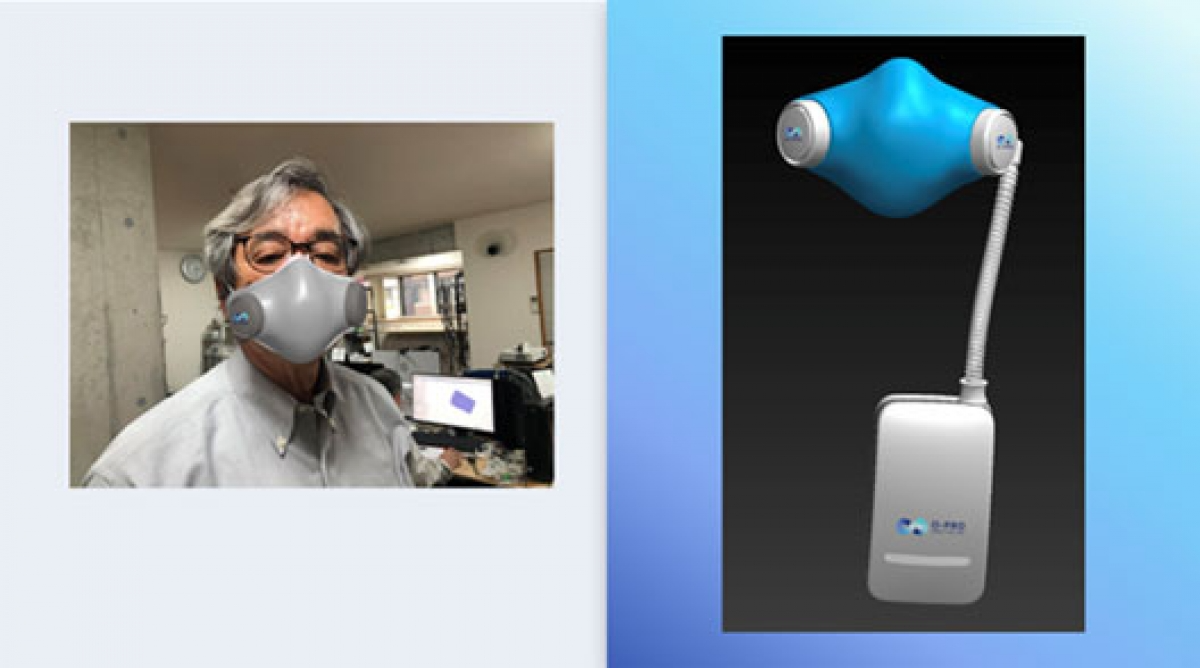 Project "Air masks of the future" by inventor Tran Ngoc Phuc. Photo: VOV
From the experience of making MV20 ventilators, Phuc designed this mask to add an air filter, which is safe for the user and the surrounding environment. This unit also integrates wireless connectivity with smartphones and will soon have more sensors to measure pressure or air pollution, or the temperature of the user. This mask is therefore safe even in hospitals, in environments with PM2.5 dust, and even in patients with chronic obstructive pulmonary disease (COPD).
With Tran Ngoc Phuc, at the age of 70 but as long as he has physical health, he still continues to live his passion for the profession, to bring useful inventions for the respiratory health of patients in Vietnam, Japan and anywhere in the world need help.