Da Nang And Sapa Among Best Destinations For A Summer Trip In Vietnam
The central beach city of Da Nang and Sapa in the northern highlands was forecast to be the most tourist destination for Vietnamese this summer, according to a recent survey.
According to the survey, up to 43% of the respondents selected the central coastal city of Da Nang for their summer vacation.
The northern mountainous resort of Sapa ranked second with 33% of the respondents selecting the destination, followed by Nha Trang with 30%, Da Lat with 29%, and Phu Quoc with 22%.
Most notably, Ho Chi Minh City was at the bottom of the list as it was selected by only 9% of the respondents.
The survey indicates that nearly two-thirds of the respondents said they plan to go on vacation for between four and four days this summer, while up to 59% intend to make between two and three domestic trips during the course of the year.
Just 12% of the respondents revealed that they will only travel in the country once for the entire year.
The survey also shows Vietnamese travelers give top priority to factors such as costs, weather conditions at tourist attractions, and sightseeing tours when planning a trip.
Furthermore, delicious food is also an important criterion, with 57% of the respondents choosing to take a food tour during their trip. This figure makes up the largest proportion of the surveyed travel experiences.
Milieu Insight also conducted a survey for travelers aged 20 to 65 in the Philippines, Indonesia, Thailand, and Malaysia about their travel plans this summer.
A prominent indicator is that 52% of Vietnamese tourists are willing to make use of air transport for domestic travel, ranking first among the countries with surveyed respondents.
Da Nang
Photo: Time Out
With broad beaches, fantastic street food, the fabled Hai Van Pass, and a growing collection of cafes, restaurants, and bars, it's no wonder the residents of Da Nang sport some of the broadest smiles in the country. The warm sands of My Khe Beach sweep south from the mountainous Son Tra Peninsula. Da Nang hosts some of Vietnam's top luxury resorts, but much of the beach still belongs to the people who make it their playground, gym, and source of livelihood.
The weather is ideal from April through September, with the ocean regulating and cooling the city during the hottest summer months. Winter, from the end of September through January, is still mild in temperature, but rain showers are an almost daily occurrence during this monsoon season, along with occasional fierce storms coming off the South China Sea. If you are planning your visit to Da Nang in winter, be sure to pack an umbrella.
Food, one of the most essential aspects of human life, is a vitally important way to get to know a culture. The ingredients, flavors, and methods of cooking reflect the ingenuity and inventiveness of the culture that developed the variety of dishes found in a region. Da Nang cuisine is renowned throughout Vietnam as being particularly delicious and full of flavor. Because Da Nang is also one of the most economical places to live in Vietnam, visitors enjoy great food at very reasonable prices.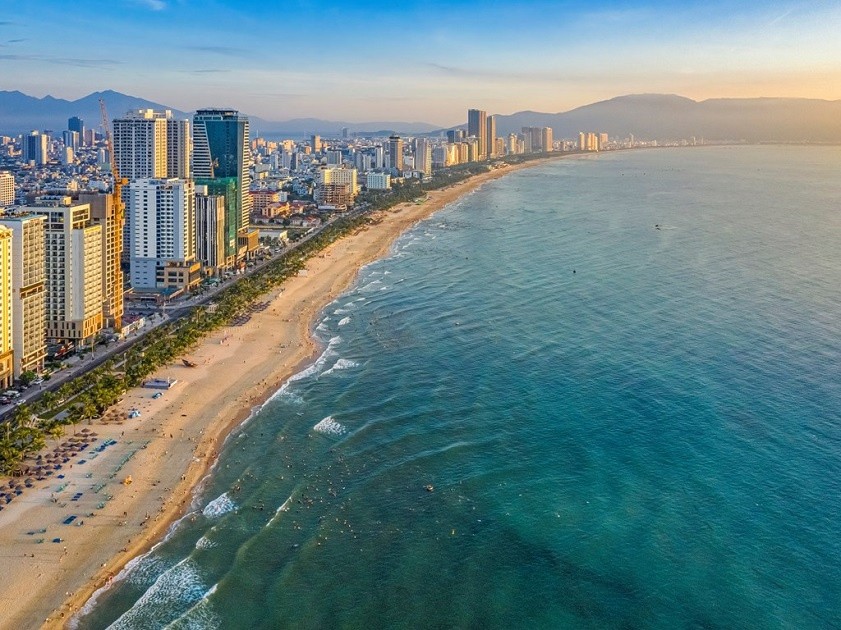 Photo: VGP News
Mi Quang is one of Da Nang's most iconic dishes, a delicious noodle soup consisting of flat, thick rice noodles seasoned with turmeric, fish sauce and broth, pork, shrimp, boiled eggs, peanuts, and greens served alongside a bowl of salad and bean sprouts. It is warm and comforting. It is a dish that has made Da Nang cuisine famous.
Mi Quang Ba Mua restaurant has capitalized on this versatile dish by offering a wide range of topping options. Choose your meat (try one of the more exotic meats like eel or frog!) and your toppings, or have the staff choose for you. Because of its popularity with travelers, Mi Quang Ba Mua offers an English menu, so you will know exactly what you are selecting. Find Mi Quang Ba Mua at 19 Tron Binh Trong Street, open from 7:00 am to 10:00 pm.
Sapa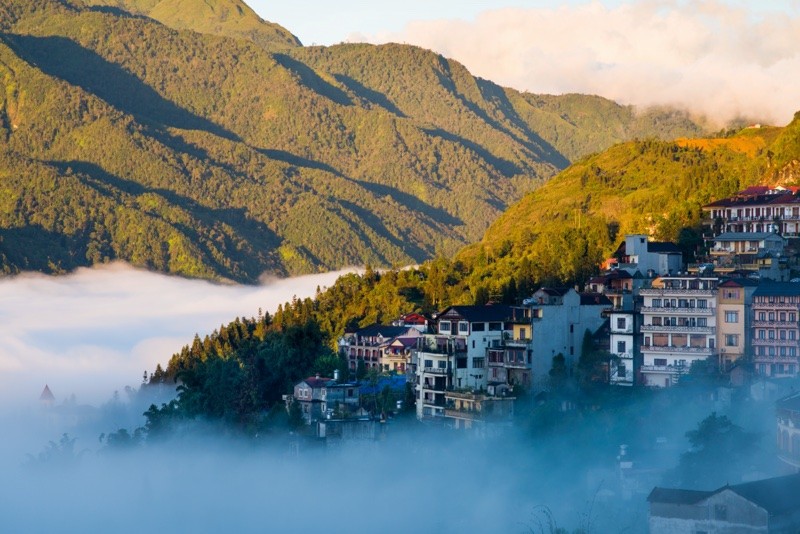 Photo: VietnamOnline
As a tourism center of northwest Vietnam, Sapa today is home to stunning scenery, intoxicating cultural makeup, and a diverse range of ethnic minorities. Comprising both natural beauty and culture into just one comprehensive package, Sapa is worth visiting for any natural seekers. It offers an incredible adventure of conquering the Roof of Indochina – Mount Fansipan. Explorations and trekkers will not find abnormal animals and things on the top of Fansipan but a splendid world of misty clouds, ranges of mountains, green paddle fields, and a small pagoda for worship.
Sapa lies amidst the mountainous region and is surrounded by beautiful green terraced rice fields. Take a glimpse of wandering under cool weather in the locality of Sapa town, it can be very comfortable and relaxing. This small town is definitely an absolute treat for every tourist to visit.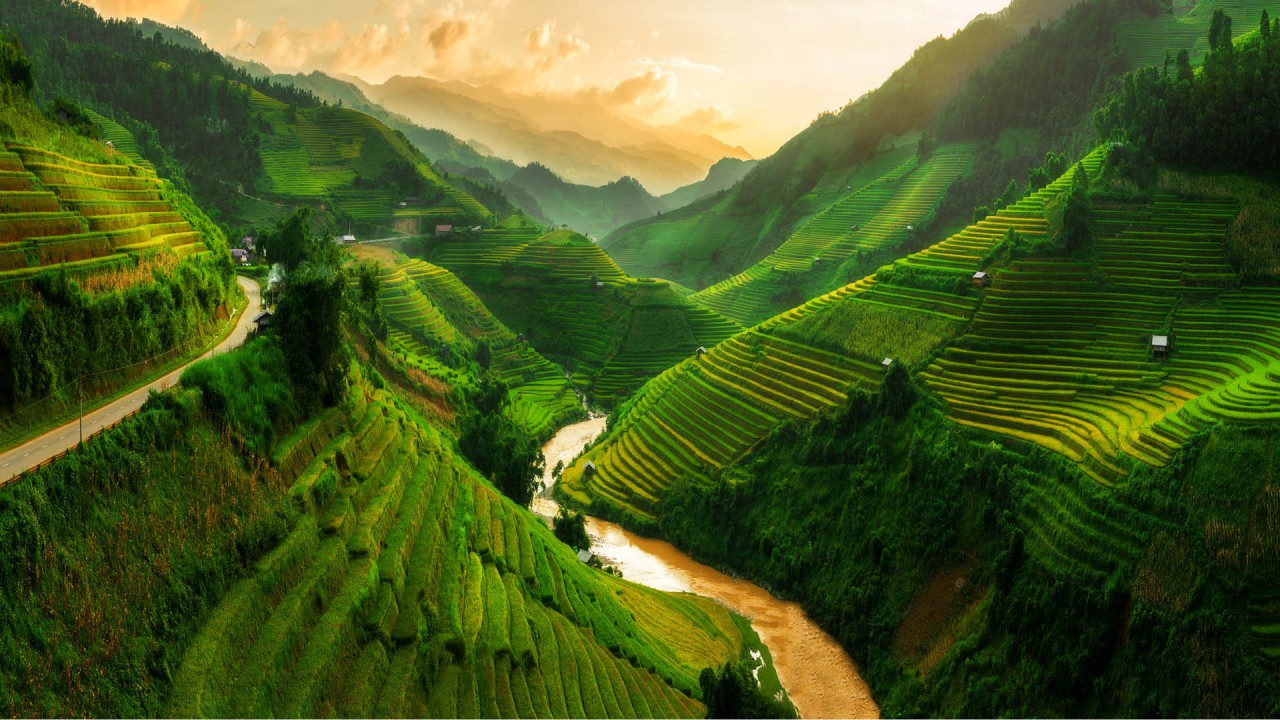 Photo: Travel+Leisure Asia
At an altitude of 1.560 meters above sea level, Sapa features a sub-temperate climate all around the year. The town has 4 distinctive seasons with an average temperature of 15.4°C.
The ideal occasion to discover this mountainous hub is spring lasting from March to May when the wildflowers bloom at full brightness. Spring is also the time hill tribes showcase their unique culture with a dozen festivals. Coming to Sapa during April, you also have a rare chance to experience 4 different seasons of Vietnam within one day.
From September to November, when the scorching hot summer has gone away, Sapa turns into a little paradise for photo-hunting and trailing. The best time to take great photos of the yellow rice terraces in Sapa is September. Occasionally, thick white snow is recorded in Sapa in winter (December to February), giving adventurous travelers a rare chance to admire snow-capped mountains. It's a one-of-a-lifetime experience in a tropical climax country like Vietnam.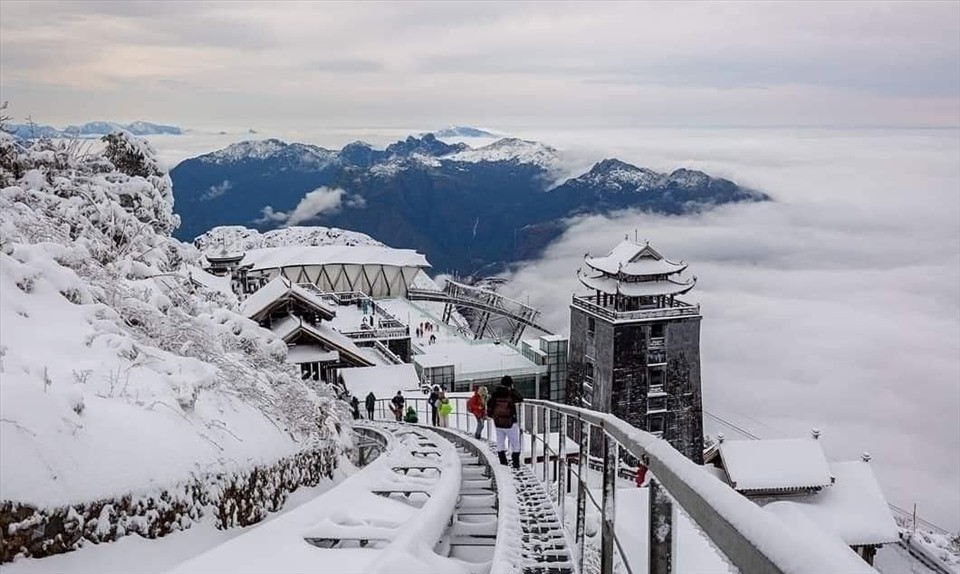 Photo: Bao Lao Dong