Leo Horoscope September 2021: Monthly Predictions for Love, Financial, Career and Health
Leo Horoscope September 2021: There will be many opportunities for enjoyment this month. The latter half of the month will be very much emotional. Leo personality wants to flaunt bliss to the whole world. Everyone will be bowled over by your magnetic personality.
Monthly Planetary Horoscope
Retrograde activity reaches its peak for the year at the end of the month; from the 27th onwards 60 per cent of the planets are retrograde. Though finances are not affected until the 27th, events slow down, both in the world and in your life. There is slower progress towards your goals. You can use this slow down to your advantage. Be patient about delays. Do less. Spend more time reviewing your life and your goals. See where improvements can be made. Get more facts. When the planets start moving forward again – next month and the month after – you'll be ready to put your plans into action.
You're still in a yearly financial peak until the 22nd so the month ahead is prosperous. Your focus is on finance – as it should be. Mars in the money house until the 15th is a good financial signal. Since he rules your beneficent 9th house he becomes like Jupiter – a planet of abundance in your personal Horoscope. He is a good guy. He expands the financial horizons. His presence shows that there are profits with foreign companies and foreign investments. Foreigners in general are important in your financial life. The Sun in the 2nd house shows that you are personally involved with finances, not delegating things to others. Also, it indicates that you spend on yourself and have the image of a prosperous person. Since Mercury will go retrograde on the 27th (and this retrograde will be a lot stronger in its effect than the previous two that we've had), try to make all important purchases, investments and financial decisions before that date. Lay low afterwards.
Love is still complicated. A marriage is not likely. (And those of you who are planning a wedding should look for a better month.) Nevertheless, there is a happy romantic opportunity for singles on the 5th and 6th. A happy job opportunity is likely on the 28th and 29th but get more facts concerning this. Ask questions. Resolve all doubts. Things might not be as they seem. Be more careful driving on the 22nd and 23rd and be more patient with bosses, elders and authority figures that period too.
Health is relatively good but still needs some attention. Enhance the health in the ways mentioned in the yearly report. The power this month – especially from the 22nd onwards – is in your 3rd house. So this is a good month to catch up on your reading, and on the emails, phone calls and letters you owe. It is a good time too for taking courses in subjects that interest you.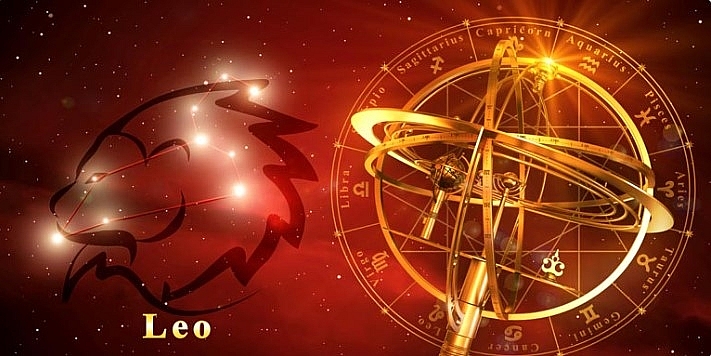 Leo Zodiac Sign.
Leo Monthly Horoscope
Leo Horoscope indicates that life will be peaceful if you listen to your spouse and close relations. You should not allow your self-esteem to come in the way of getting advice from your close relations. You like to be in the limelight and there will be many opportunities.
This month is expected to remain ordinary for Leo natives. If you talk about your professional life, then it will remain favourable. You will keep earning your livelihood decently but your aggressive attitude may pose threats for your future. Students associated with higher studies may come across some favourable results and so we'll those natives who wish to pursue their studies in a Foreign based college or university.
There will be a lack of satisfaction in your domestic life. With regards to your love life September 2021 will bring in some mixed results. The ending of the month will be specifically challenging. From an economic point of view, some amalgamated results are in store. You should learn how to strike the right balance between the inflow and outflow of your money. Your wellbeing may also be in trouble on account of various health problems. Stay alert and seek medical guidance upon the occurrence of a minor in consistency.
September will give you an excellent opportunity to take advantage of sunny days to travel a bit. Choose a good company for the trip as it may be your last opportunity to travel abroad this year, so you definitely shouldn't hesitate since it will provide you with much mental energy for the rest of the year.
The Leos will be able to handle the stress of the days of September very well, and therefore they will be able to support their whole family when they need it the most, and there will still be plenty of energy left for their own activities. Try to make things that you have been putting off for a long time happen. You will be a step ahead of the others.
With the onset of this month, you probably won't avoid conflict. It could seem that Leo intentionally seeks interactions where they are able to express their anger and discontent. September will force you to blame others for your own mistakes. Before you venture into an argument, think twice if it's worth it. Words have the ability to heal, but also to hurt. You could regret your arrogant remarks later.
Leo Monthly Love Horoscope
Leo compatibility is aided by your magnetic personality. You tend to be frank and this may hurt some people. Relationships will be marked by devotion and faithfulness. Marital relationships will be compassionate and you will keep your partner comfortable and happy. There will be complete harmony in marriage and you will have the support of your spouse in whatever you do including planning for a baby.
Single Lions will be enthusiastic in pursuing love relationships this month. You are able to attract partners by your magnetic personality. Instincts will guide you to the right love alliance. Your love life is expected to garner mixed results during the month of September. During the initial half of the month, love and romance will be all over the air but the second half brings in some problems. The month will begin on a good note as the attraction and intimacy between couples will increase.
Your bond will get strengthened. If you wish to take your relationship to another level and get married to your partner, then this is the right time for it. Jupiter will enter your sixth house because of which some problems can seep into your relationship. A clash of egos or ideologies may create a lover's spat.
As far as married natives are concerned, the month will begin on a very ordinary note because of the presence of Jupiter in your seventh house. However, the Sun and Mars aspecting your seventh house can also be considered harmful for your marital life.
There will be a lack of mutual understanding and compatibility between you and your life partner which can result in clashes and arguments. Along with this, the planet Mars will also move into your second house on the 6th of September because of which your life partner may suffer from some health problems.
During this month, your domestic life may remain full of ups and downs. The fourth house of your sign will be under the occupancy of Ketu which will bring problems to your family. The bond of unity and harmony between family members will increase. Mother's health may also remain in low spirits which is why you should take special care of her. Fortunately, Venus will transit in your third house on the 6th of September which will bring some amount of relaxation. Your younger siblings may pave the way for some kind of benefits in this time period.
However, you should not forget that the Sun and Mars are also transiting in your second house, which can once again give birth to clashes and misunderstanding between the members of your household. The environment of your family may remain stressful. Keep a tab on your words and speak carefully. Despite everything, the reputation and stature of your family will remain quite proficient.
Monthly horoscope predictions are quite positive for family affairs. There will be hardly any problems and the whole environment will be cordial and friendly. Family finances will be generous and this will add cheer to family happiness. Seniors will support your activities and they will get their due respect.
Leo Monthly Money Horoscope
From an economic point of view, this month will turn out to be quite ordinary for you. The lack of monetary resources will not trouble you. Jupiter's aspection on your eleventh house can be beneficial for your financial front. At the very beginning of the month, Mercury and Venus will be present in your second house, which will also be quite profitable for you.
The regular sources of your income will keep providing you and enable you to make ends meet. It is also quite possible for you to stumble upon an extra source of earning money. Job holders may turn out to be specifically lucky in this field. However, you are advised to remain careful during the second half of the month as the planetary positions are indicating a downfall in your current economic condition.
Along with this, your expenses are also most likely to increase. Devise a necessary budget so that you do not have to face a financial crunch in this period of time and you can lead a stress free life.
2021 September forecast for Leo zodiac suggest prosperous times for business people. Exporters and traders will make good profits from their business activities. People engaged in fine arts will have no problem in marketing their products. Stellar positions are propitious and it is the right time for starting new ventures by businessmen. Speculations and investments will be profitable. Financial agencies will support your business activities.
Leo Monthly Career Horoscope
With regards to your career, the month of September is expected to remain favourable provided you maintain your aggressive behaviour in check. The planet Rahu is residing in your tenth house and this transit of this grey planet will keep you quite active on your professional front. Your spontaneous nature will bring many profits and benefits for you.
However, the king of all the Navagrahas, the Sun and the red planet Mars are taking a nest in your ascendant or Lagna. This will have a direct impact on your professional life. Because of your aggressive attitude, many of your tasks may be on hold. For business professionals, the month of September will be a very favourable time.
Your seventh house is under the occupancy of Jupiter and the Sun along with Mars is aspecting this particular house. These planetary positions indicate a rise in your trade venture. You can even lay the foundation of a new business venture or expand your existing one.
2021 Leo horoscope for professionals predicts excellent prospects for growth in their careers. Planetary configurations are highly supportive and they make the environment at the workplace harmonious. With the support of colleagues and seniors, you will be able to accomplish your targets effortlessly. You can also look forward to financial rewards.
You will have time for engaging yourself in charitable activities for the betterment of society. You can improve your professional expertise with the help of your seniors.
Leo Monthly Health Horoscope
As far as health is concerned, this month requires you to be very careful as it is not favorable for you in terms of health. The Sun and Mars are situated in your zodiac sign. Also, Saturn is present in your sixth house. These planetary positions can give rise to health problems.
You can be physically and mentally weak due to the prevalence of some disease. If you feel unwell, do not ignore it and consult the doctor, otherwise it may result in an escalation. So there is a need to be very vigilant about your health all throughout September.
September 2021 Leo horoscope for health is blissful and you have the support of stars for this. There will not be any serious health problems, while small health disorders can be taken care of by routine medical assistance in the Mercury retrograde.
However, you cannot ignore your exercise and diet plans to keep yourself fit and healthy. Relaxation methods such as sports and meditation will reduce your stress levels and help you retain your mental well-being.
Best Days Overall: 4, 5, 12, 13, 21, 22, 23

Most Stressful Days Overall: 10, 11, 17, 18, 24, 25

Best Days for Love: 6, 7, 9, 14, 15, 17, 18, 19, 24, 25, 29, 30

Best Days for Money: 6, 7, 8, 9, 17, 18, 26, 27

Best Days for Career: 9, 19, 24, 25, 29, 30

Horoscope September special note for Leo

"Do not plan any social meetings at the end of the month. The huge amount of financial matters will make your spontaneity dormant. September will be marked by further laziness and romance. However, slowly start to deal with more mundane, everyday matters, especially those related to the family."