Overseas Vietnamese Face Uncertainty to Go Back Homeland for Tet
Vietnamese living abroad want to visit the country for Tet but are disappointed by the lack of clear quarantine and other policies
Regular international flights resume Jan. 1 to Cambodia, Japan, Singapore, Taiwan, and the U.S.
William Le, a Vietnamese living in California, the U.S., says he is glad to hear the news since it means he can return to HCMC to celebrate Lunar New Year, which is a month away.
"I miss my relatives and friends so much after two years of separation owing to Covid."
But he has been finding things are not straightforward: ticket prices are high at $2,000-4,000 one way and quarantine regulations for people coming from the U.S. are not clear.
Besides, he heard that in December his friends bought tickets to HCMC but ended up in Da Nang for quarantine.
"So I have decided to wait until there are cheaper tickets, clear announcement about quarantine and a vaccine passport."
He also hopes the Omicron variant will not make the situation worse, VNE reported.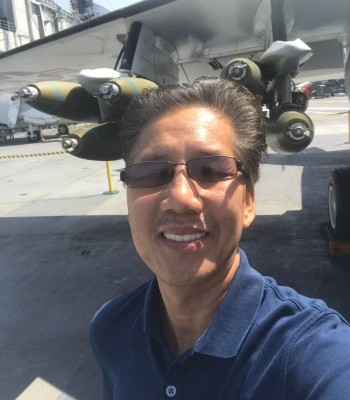 William Le in San Diego, the U.S., in October 2021. Photo courtesy of William Le/ via VNE
Authorities in HCMC have mandated that visitors from countries and territories where the Omicron variant of the coronavirus has been detected must quarantine for seven days. Hanoi issued a similar announcement early this week but scrapped it on Thursday.
The Civil Aviation Administration of Vietnam (CAAV) is unhappy with the quarantine requirement, saying the decision goes against the guidelines issued by the Ministry of Health and its own assurances to global partners.
Ta Thuy Lien in Singapore is happy with the restart of international flights and Vietnam's resumption of economic activities and awareness of public demand for traveling.
She plans to visit her parents in the northern Phu Tho Province for a few days by herself rather than with her husband and kids.
She says this is because of the lack of clarity in policies. She read about the resumption of international flights in the media, but there has been nothing from airlines about it or about quarantine.
Lien has only three to five days to spend Tet with her parents, so she hopes to quarantine at home.
"I need to have certain information about isolation regulation to decide to return to Vietnam or not."
Phan Phuong Thuy, who lives in Japan, says she looks forward to coming back to Vietnam during the Lunar New Year, but fears it is going to be difficult.
The average cost of a ticket and hotel quarantine is VND40-50 million.
With quarantine, she, her husband and their son will not have enough time to travel both to Phu Tho and Bac Giang to visit both sets of parents since Tet is not a holiday in Japan and she cannot get too many days off.
She is also worried her family might contract Covid while traveling since the Omicron variant is spreading quickly.
"Consequently, I decided to postponed our trip."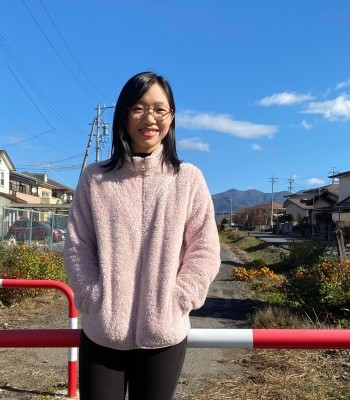 Phan Phuong Thuy is in Nagano, Japan, in November 2021. Photo courtesy of Phan Phuong Thuy/ via VNE
Pham Linh An in Taiwan says she and her husband badly want to visit Hanoi and the neighboring Thai Binh to celebrate Tet with their parents, but at the end of December she was not aware of any official announcements released by Vietnam authorities to airlines and travel agents about quarantine and other flight requirements. The news about international flights is in the media only.
Another factor is possible flight delays, sometimes even by two or three days as her friends found out, she says.
She is extremely concerned about the large number of new Covid cases in Vietnam and the fact her son has yet to be vaccinated.
Besides, she does not want to self-isolate for 21 days when she returns as Taiwanese regulations require for countries with high infections.
"I don't worry about Omicron but I need to delay my plan to visit Vietnam for those reasons."
Before Covid she and her family used to visit Vietnam every month.
Vietnam has been recording over 10,000 new Covid-19 cases every day, with new Omicron infections confirmed this week among foreign arrivals to Hanoi and Da Nang.
The capital Hanoi has emerged as the country's epicenter, prompting authorities to suspend on-site dining and crowded events in many downtown districts.
International flights are limited, entry procedures are strict for International students to come home. Photo: Zing News
Sim Chy, who lives in Cambodia, says he was pleased to hear about the resumption of flights to Vietnam.
But his biggest concern is whether or not he will have to quarantine if he visits his family in Soc Trang Province in the Mekong Delta.
Sim says he used to visit Vietnam around five times a year before Covid erupted.
Cambodia allows Vietnamese to travel freely if they are vaccinated against Covid and possess negative PCR and quick tests. A majority of people in Cambodia have got booster shots.
"I am waiting to see if Vietnam has the same regulations for people coming from Cambodia before I decide to return for Tet."
Another celebration on hold
For Cao Tan, a 21-year-old student in Finland, this New Year's Eve is no different than last year. The young scholar plans to have a video call with his parents and together they share the holiday through the phone screen. Cao Tan's journey back to Vietnam encountered many difficulties because of the complicated situation of the Covid-19 epidemic, plus the emergence of new strains in Europe.
"In the first few years, I chose to stay because I still have school, and I also want to save money. Now that the epidemic broke out and lasted until now, I still cannot return even though I have time. The international flights are limited, entry procedures are strict, not to mention I am also worried about the health of my loved ones." said Tan.
Cao Tan shared that this special time of the year still makes him feel homesick even though he had spent many Tet seasons away from his hometown.
Lucky for Tan, the Vietnamese student association in Finland often organizes year-end parties where they enjoy tradition Tet meals with Chung cake and other signature dishes to create a homely atmosphere.
"Hopefully this is the last year I have to celebrate the new year online. If everything goes well, our whole family will be able to celebrate Lunar New Year together.", confessed Cao Tan.
Another way some students choose to fight the sadness is to continue working or even to work extra shifts to keep them busy, according to Zing News.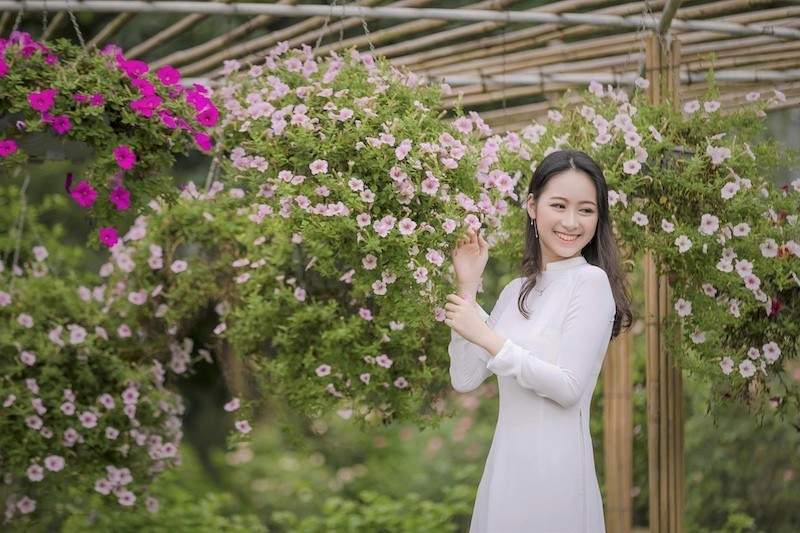 Ngoc Mai (20 years old) decided to stay for two years in a row for New Year Eve's in Australia. Photo: Zing News
Ngoc Mai (20 years old) who also studies in Australia decided to stay for two years in a row. She explained "The first time I couldn't fly back because there was no flight. The second time, although commercial flights between the two sides reopened, my parents were afraid that I would be stuck in Vietnam to study online, so they also advised waiting for things to be more stable before returning."
Celebrate Tet away from home
Overseas Vietnamese students plans out many activities to celebrate the holiday together while waiting for a chance to return to their hometowns.
To make remind them of the comforts of home, Minh Anh and friends organized many activities on New Year's Eve and the beginning of the new year, such as decorating and cooking to relieve loneliness. She called her mother daily, so they can encourage each other. She feels more optimistic to spend another Tet away from home than she did the last time.
"Fortunately, I live near the Chinese community so there is still celebration spirit around me. I also bought Chung cake to celebrate Tet in Australia just like I would back home. I think about those who have not been able to celebrate Tet since 2019, I feel that I am still much luckier." said Minh Anh.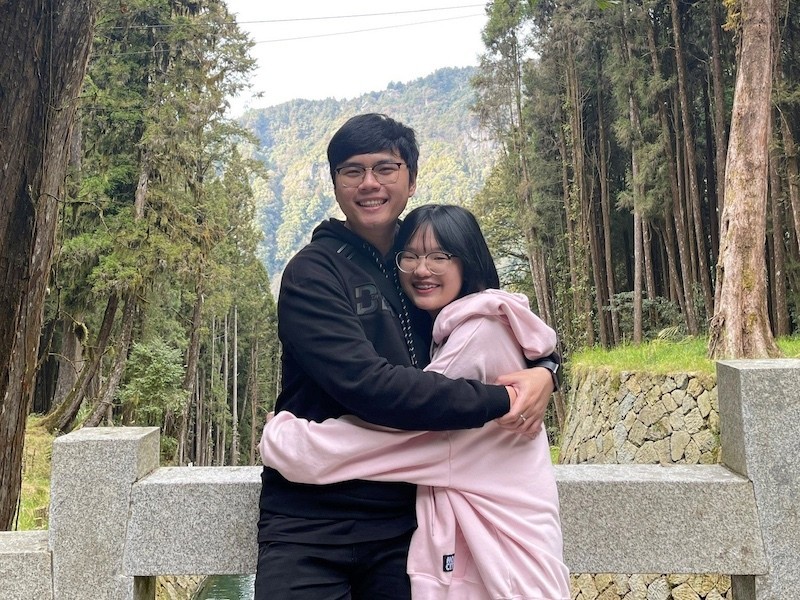 Uyen Linh found ways to include her family and friends in this year's Tet celebration in Taiwan. Photo: Zing News
As for Ngoc Mai, she used to care very little about decorating her house for Tet since she lives alone. This year, Mai plans to invite her friends to have a party on New Year's Eve, they will cook traditional Tet dishes, and watch the Tao Quan show and firework displays.
Uyen Linh found ways to include her family and friends in this year's Tet celebration in Taiwan. "I plans to participate in a pack of Tet cake, hold a year-end party with the Vietnamese student association and video call my family so we can count down to 2022 together." explained Uyen Linh.