Preserving Vietnamese Language in Melbourne
Vietnamese Ambassador to Australia Nguyen Tat Thanh recently visited a Vietnamese language class at Richmond West Primary School, Melbourne. He discussed, with representatives of the Victorian Ministry of Education, the school and developing Vietnamese language classes.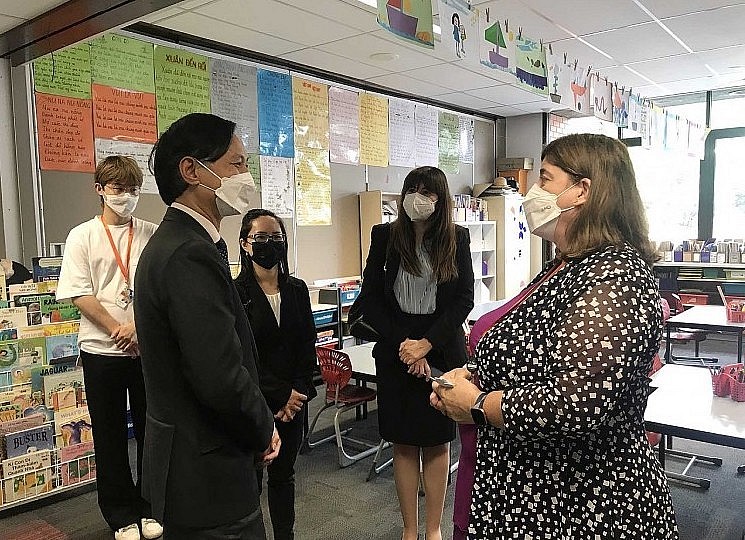 Ambassador Nguyen Tat Thanh discussed issues with representatives of the State Ministry of Education and the school's principal. Photo: WVR
According to a representative of the Victorian Department of Education, Vietnamese is the third language included in the program at schools, in areas with a large number of Vietnamese children.
Victoria also supports a number of schools that teach Vietnamese every Saturday, so that Vietnamese children can learn more and improve their skills.
The principal of Richmond West Primary School said that the school has been teaching Vietnamese since its founding in 1975.
It also organized cultural activities and festivals for students to have more experiences, and better understand Vietnamese language and culture.
The school recently celebrated the Lunar New Year with a variety of cultural activities.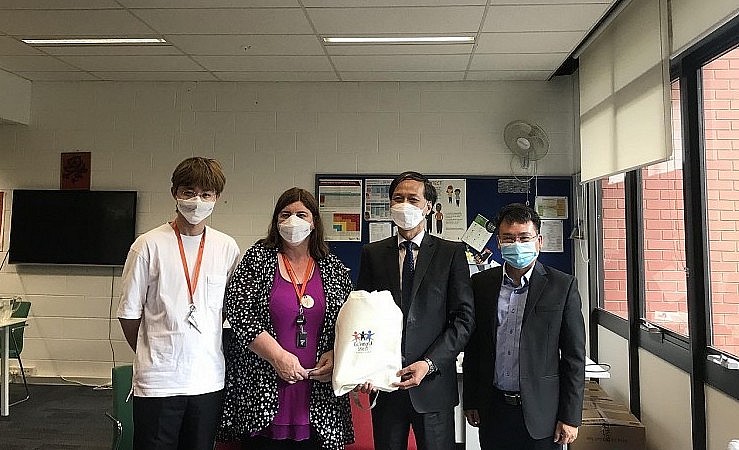 Ambassador Nguyen Tat Thanh received gifts and wishes from students. Photo: WVR
Ambassador Nguyen Tat Thanh expected the State Ministry of Education to continue to support and organize cultural activities, combined with Vietnamese language teaching.
The Embassy is ready to coordinate and support Vietnamese language content or curricula in line with the state's current bilingual teaching.
The Ambassador said preserving and developing the Vietnamese language in the Vietnamese community in Australia is a priority of the Embassy.
The long-standing Vietnamese learning model like at Richmond West Primary School needs to be replicated and combined with new Vietnamese teaching programs to maintain teaching for the younger generation.
Meeting students of the Vietnamese class, the Ambassador reminded them to continue to nurture their original language, especially when Vietnamese is a clear and lively language.
Efforts to Preserve Vietnamese Language Abroad

Vietnamese language is a precious cultural and historical heritage of Vietnam. Abroad, Vietnamese language is always honored and preserved by Vietnamese communities across five continents.