Two Vietnamese in Cambodia test positive for COVID-19, linked to Feb 20 Community Event
Two Vietnamese citizens were among positive COVID-19 cases in the third outbreak, dubbed the February 20 Community Incident in Cambodia.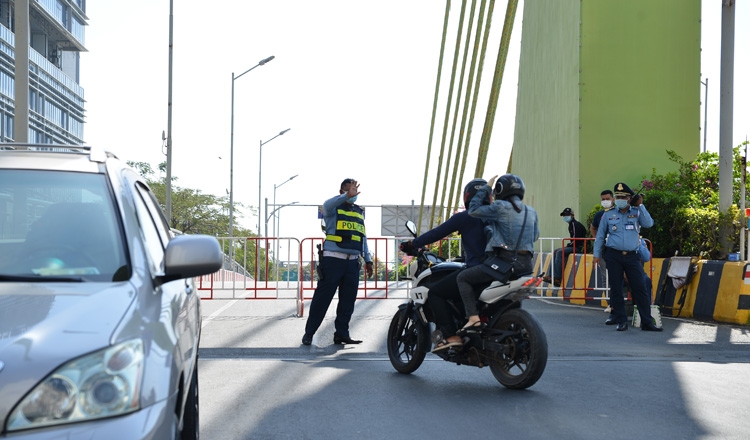 Cambodian police stopping motorists at a barricade set up at an entry point to Koh Pich where the February 20 cluster spread. KT/Pann Rachana
The Vietnamese Embassy in Cambodia confirmed that two Vietnamese female citizens tested positive for COVID-19 virus and were linked to the major February 20th Event. This is the third outbreak in Cambodia, stemming from a group of Chinese fleeing the quarantine area in Phnom Penh.
A 23-year-old patient and the other 31 years old, Vietnamese Ambassador to Cambodia Vu Quang Minh told Zing on February 23.
"The embassy is discussing with Cambodian authorities to officially verify information, contact the two citizens to get updated on their situations and conduct citizen protection measures when necessary", Ambassador Vu Quang Minh said.
Currently, two Vietnamese patients are treated for free by the government budget of Cambodia.
Ambassador Minh said that the Vietnamese Embassy and the two consulates have regularly supported the Vietnamese communities and Vietnamese Cambodian since the epidemic broke out in March 2020.
They have informed the community about prevention and control measures, and coordinated to support households and individuals with economic difficulties.
Previously, the Vietnamese diplomatic mission in Cambodia also monitored and assisted three Vietnamese COVID-19 patients in their treatment.
As of February 24, the February 20 Community Incident has resulted in 137 positive COVID-19 cases, with 38 added. The total number of positive cases in the country stands at 633, reported Khmer Times.
Besides the 23 locations – entertainment clubs, hotels, apartments, schools – believed to be related to the Feb. 20 Community Event, all public and private schools in Phnom Penh capital and Kandal province have to be temporarily shut down for two weeks.
Meanwhile, according to a press release published by Cambodia's Ministry of Foreign Affairs and International Cooperation, foreigners are now eligible to receive COVID-19 vaccinations from the government free of charge.
In the press release addressed to diplomatic missions in Phnom Penh and the Office of the United Nations Resident Coordinator, the ministry said "all foreign nationals who are currently residing and working in Cambodia can get vaccinated against COVID-19 at no charge in accordance with Cambodian COVID-19 Vaccination Plans".
More details on the process of vaccinating foreigners will be released in the future, it said./.