UNESCO Official: Vietnam – Model in Heritage Value Conservation, Promotion
Director of the UNESCO World Heritage Centre Lazare Eloundou Assomo has called Vietnam a model in heritage value conservation and promotion, suggesting Vietnam share its experience with other countries.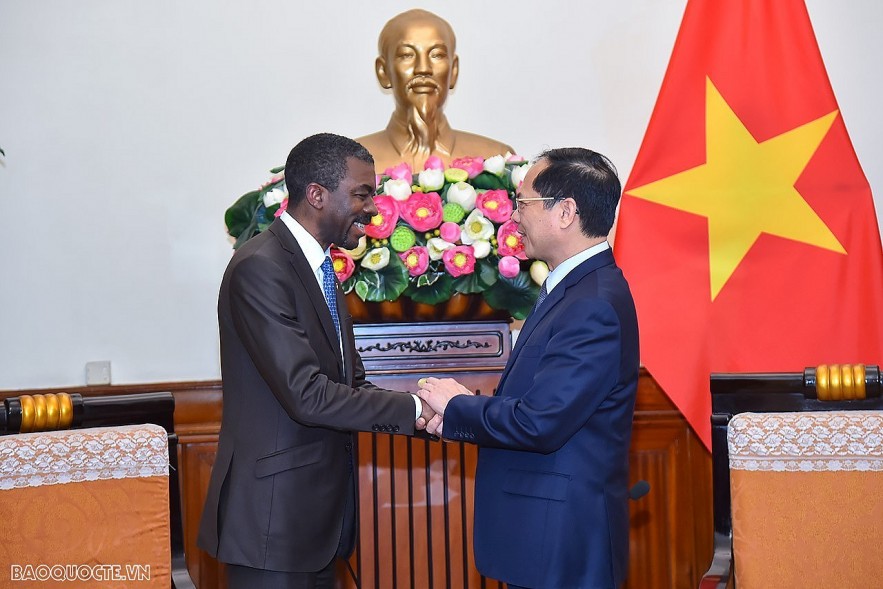 Minister of Foreign Affairs Bui Thanh Son (R) and Director of the UNESCO World Heritage Centre Lazare Eloundou Assomo. Photo: The World&Vietnam Report
At a meeting with Minister of Foreign Affairs Bui Thanh Son in Hanoi on March 27, Assomo expressed his good impression of Vietnam during his first visit to the Southeast Asian nation, where he toured six cities and provinces and three world heritage sites – Thang Long Imperial Citadel, Ha Long Bay and Trang An Landscape Complex. The guest expressed his good sentiments for Vietnamese land, people, and history.
He spoke highly of the international conference "Promoting the role of world cultural and natural heritage in sustainable development in Vietnam" jointly held by the Ministry of Foreign Affairs, the Vietnam National Commission for UNESCO, and the Hanoi People's Committee on March 24.
Assomo lauded the country's efforts in managing, conserving and promoting world heritage values and its approach to ensuring the balance and harmony between heritage preservation and development.
He affirmed that the World Heritage Centre always accompanies and provides the best support for Vietnam in the conservation and promotion of world heritages, and pledged to consider and support Vietnam's world heritage nomination dossiers in the near future.
The center will also provide consultations for Vietnam and assist the country in the management, conservation and promotion of its eight world heritage sites, and back its bid for a seat in the World Heritage Committee for 2023-2027, he affirmed.
For his part, Son stressed UNESCO's important role in maintaining and consolidating peace, sustainable development and prosperity of countries worldwide, and in preserving and promoting the heritage and cultural values of humankind in particular.
Vietnam has worked to contribute to major UNESCO mechanisms to which it is a member such as the Executive Board, the Intergovernmental Committee for the Safeguarding of Intangible Cultural Heritage and the Convention for the Protection and Promotion of the Diversity of Cultural Expressions, he said.
The minister noted that Vietnam always attaches importance to culture, considering it a spiritual foundation of the society, a target and a momentum of national development.
He appreciated the support of Assomo himself and the center for the recognition, conservation, and promotion of cultural and natural heritages of Vietnam, saying he believes that the world heritages in Vietnam have significantly contributed to raising the living standards of local residents as well as national socio-economic development./.
Assomo paid a visit to Vietnam from March 23-27 at the invitation of Deputy Minister of Foreign Affairs and Chairman of the Vietnam National Commission for UNESCO Ha Kim Ngoc.

While in Vietnam, Assomo paid courtesy calls to leaders of the Ministry of Foreign Affairs, the Ministry of Culture, Sports and Tourism, and localities, including Hanoi, Quang Ninh and Ninh Binh. He also had working sessions with some management boards of world heritage sites and co-chaired the international conference "Promoting the role of world cultural and natural heritage in sustainable development in Vietnam."