Viet-Italian Winemaking Couple: The Sweet Taste of Interracial Love
In the little northern Italian town called Domodossola, Stella Tam Vu and Edoardo Patrone, owners of the Edoardo Patrone vineyard, is continuing the local tradition of cultivating vines and making wines.
It has been more than five years since Stella Tam Vu (Hai Phong, Vietnam) first met her husband Edoardo (Domodossola, Italy) but Stella still remember the fateful date like it was yesterday.
Photo: Stella Tam Vu
In 2016, Stella Tam Vu was an international student living in Switzerland, working on her Hospitality Management degree. The young Vietnamese women loves to discover about Western culinary, especially wine.
Taking one step closer to winemaking, Stella Tam Vu befriended with a young Italian winemaker named Edoardo from Domodossola.
Learning that Domodossola is in northern Piedmont, close to the border between Italia and Switzerland, Stella took a weekend trip to visit Edoardo after being each other "pen-pals" for a while.
They met in Brig, a Swiss city located between the two countries and Edoardo left a big impression on Stella from the very beginning. She thought the Italian winemaker was sweet and clumsy, even when he spilled coffee on his shirt during their first meeting.
Stella decided to trust the Italian young man and come with him on a short visit to Domodossola.
During this trip, Edoardo even took Stella Tam Vu to visit the restaurant and talk to her parents, showing his sincerity and passion for her.
What impressed Stella most about Edoardo was his deep passion for traditional winemaking. The first time she went to Edoardo's winery, Stella couldn't believe her eyes. There was nothing but a roof, exclaimed Stella jokingly.
On that very roof, the two connected. Stella described her impressions of Edoardo when he talked about his dream. They sat on the roof of the winery, and she listened to the Italian winemaker passionately talking about the construction and development plan for the vineyard of his dream.
At that time, Stella Tam Vu felt extremely overwhelmed by the dream and admired the bravery of this young man.
The best of both worlds
Stella was still tending to school in Switzerland while she and Edoardo started dating, recalled Stella, so to make time for each other, Stella divided her week in two. She would go to school from Monday to Friday and then take the cross-border train to Domodossola for the weekend to be with her Italian boyfriend. On Sunday afternoon, Stella said her temporary goodbyes to her boyfriend and got on the train returning to Switzerland to prepare for school on Monday.
Every weekend the couple spent time in the vineyard, mowing the lawn, and pruning the branches. The schedule is hectic but their love was prospering day by day.
In August 2017, after 6 months of dating, Edoardo proposed to Stella Tam Vu with a romantic surprise. He decided to name a wine from the Edoardo Vineyard after his girlfriend, calling it Prünent Stella. It is a balanced, fresh, and fruity red wine, representing their beautiful love story with a fairytale-like ending.
After getting married, Stella Tam Vu and Edoardo continued to live apart and only met on weekends or holidays until December 2017, they reunited in Italy and started running Edoardo Patrone's vineyard as a couple.
"I never really thought that one day I would be able to hold pruning shears, mow the lawn, harvest grapes or pump wine, bottle, label wine. At first, things are not romantic. Working every day from morning to late at night, sometimes [we are] too tired, we look at each other and try to encourage each other," said Stella Tam Vu.
Photo: Stella Tam Vu
The young winemakers experience a shortage of staff at the beginning, so they handled everything at the winery. The Vietnamese wife said she learned valuable lessons from this difficult period. She even took courses on wine to share the hardship with her husband.
According to Stella, Edoardo is among a few people who want to recover the vineyards and continue the winemaking tradition of the area.
"The local young generation does not want to be farmers to continue the tradition of growing grapes. The elderly are faced with a difficult choice, on the one hand, to give up the vines, sell or rent land to grow corn or grow grass to raise cows, and on the other hand, continue working when they are not strong enough. Besides, climate change also makes grape care much more difficult than before," said Stella.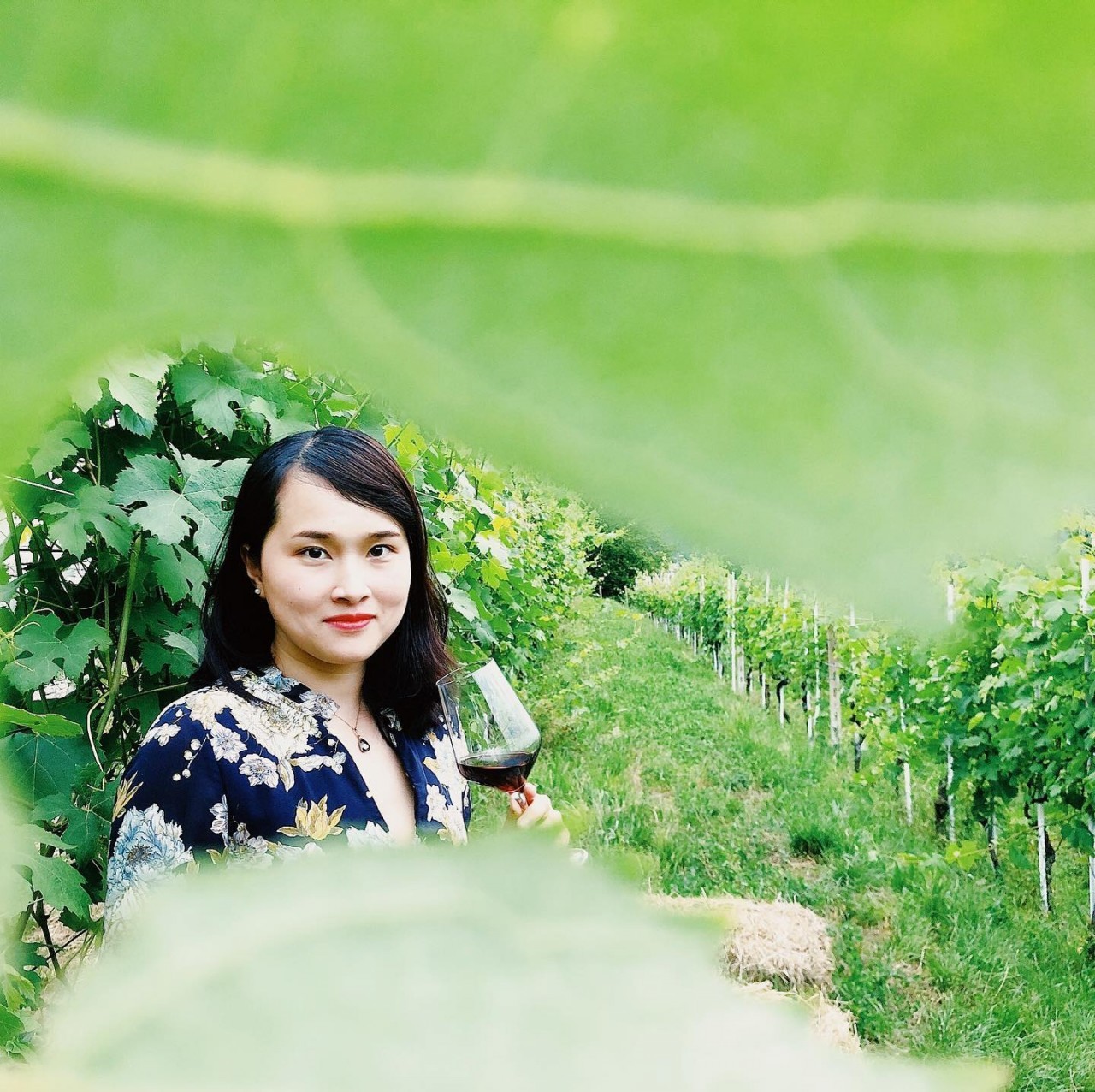 Photo: Stella Tam Vu
Edoardo Patrone's products are currently four red wines and two rosés, mainly from Merlot and Prünent grapes – the local name of the Nebbiolo biotype in Val d'Ossola.
With the idea of ​​following tradition but still pursuing their own path, in 2019, the young couple also started the production of an extra dry rosé sparkling wine with the Martinotti method called Basin - the first sparkling wine of the Val d'Ossola.
Since the vineyards are located at an altitude of at least 350m from sea level, on the slopes, the care and harvesting are completely manual. They also do not use chemicals, pesticides, or herbicides, only natural fertilizers.
Business is booming. Tam Vu said that from 10 vineyards leased by grandparents around the area in 2017, the couple is currently renting long-term or renting to buy a total of 27 vineyards around the Ossola valley area. By 2022, their factory has produced more than 30,000 bottles of wine, exported to the US and Australia.
Photoz: Stella Tam Vu
Stella and Edoardo's success story attracted the attention of Italian media. The young female wine entrepreneur was featured on the local news in March 2023 as a representative of Vietnamese women in the international wine industry.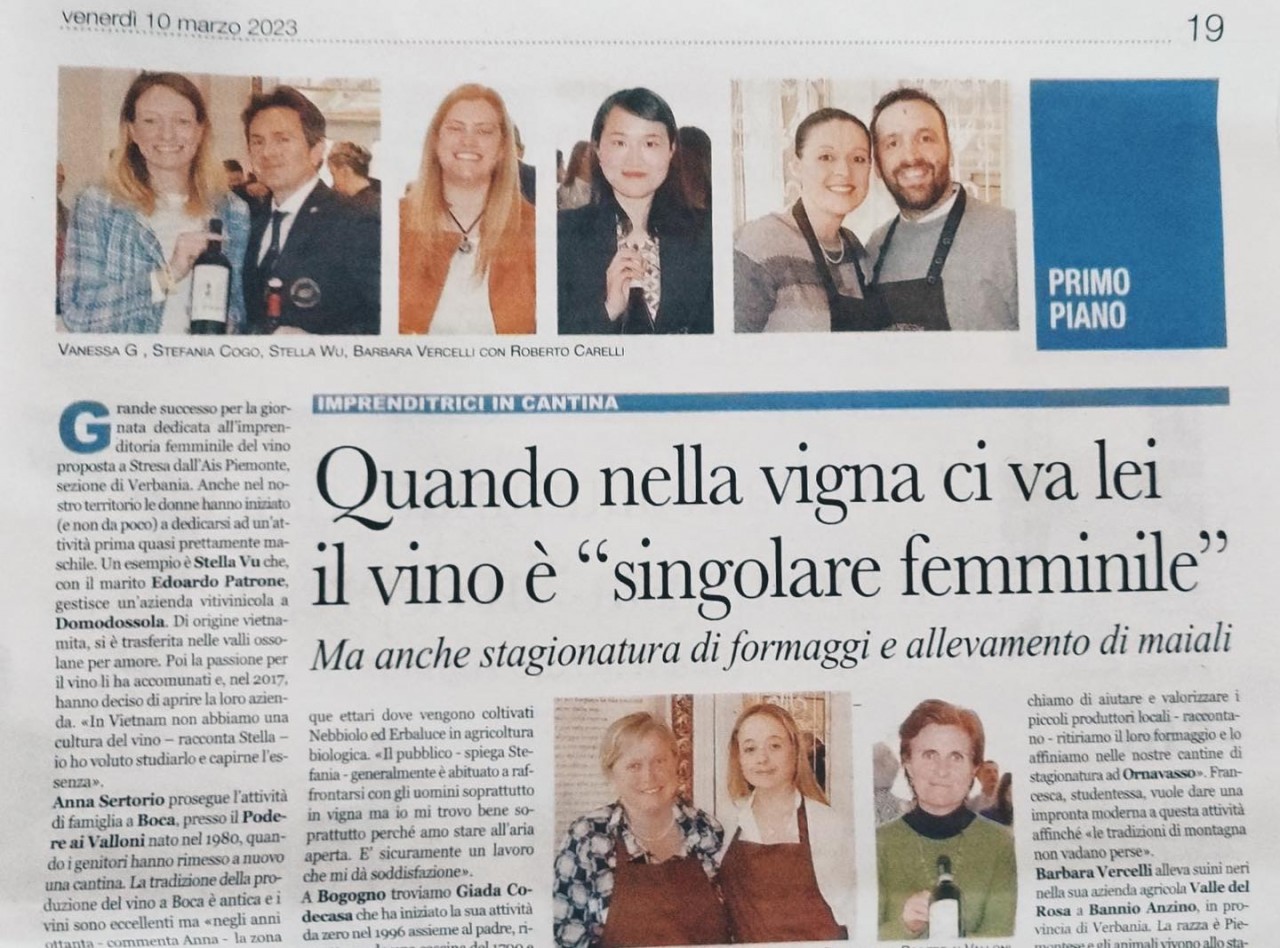 Stella and Edoardo's success story attracted the attention of Italian media (Photo: Azienda Agricola Edoardo Patrone).