Vietnam - first country to send much needed financial, medical support to help Laos fight COVID
A ceremony was held at Wattay International Airport in Vientiane, Lao PDR on May 4 morning to grant gifts from the Party, State, and people of Vietnam to support the Party, State, and people of Laos to fight the Covid-19 pandemic.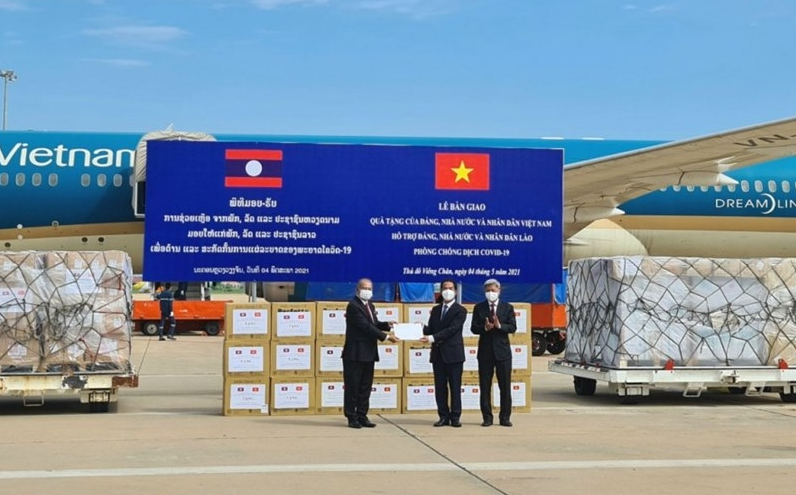 Photo: TG&VN
The Vietnamese delegation attending the ceremony included Vietnam Ambassador to Laos Nguyen Ba Hung, Deputy Foreign Minister To Anh Dung, Deputy Health Minister Nguyen Truong Son, and representatives from Central Party Commission for External Relations, Presidential Palace, Government Office, Ministry of Foreign Affairs, Ministry of Health and Ministry of Planning and Investment
The Laos delegations included Mr. Kikeo Khaykhamphithoun, Member of the Politburo, Deputy Prime Minister, Chairman of Laos' Central Committee for COVID-19 Prevention, Minister of Health Bounfeng Phoummalaysith, and representatives from several ministries, related departments, and units.
Speaking at the ceremony, Deputy Foreign Minister To Anh Dung expressed Vietnam's deep sympathy towards difficulties and challenges that Laos was facing, emphasizing Vietnam always stood side by side with Laos in the fight against the Covid-19 pandemic.
As Deputy Minister To Anh Dung affirmed, Vietnam believed that under the wise and drastic direction of Laos' Party and State, along with the determination of the Laotian authories and people to fight the pandemic, Laos would soon be able to control the pandemic, quickly restore the socio-economic situation and continue to stably develop.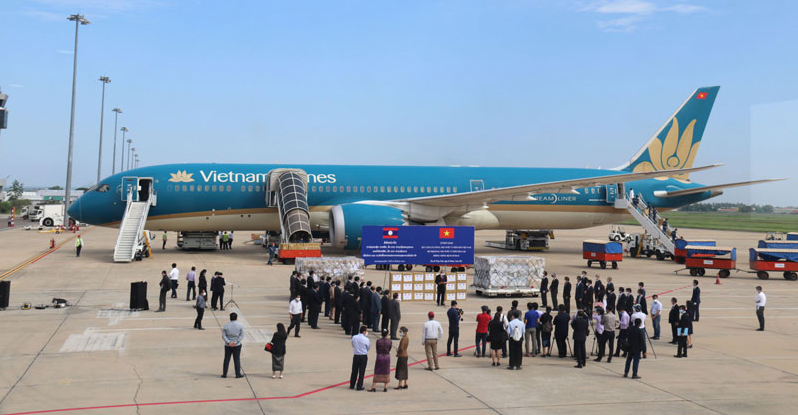 Photo: Nhan Dan
After witnessing the complicated COVID-19 development in Laos, the Party, the State, and the people of Vietnam sent the Party, State, and people of Laos USD 500,000. Additonally, Vietnam set up an emergency flight to transport medical supplies and equipment including two million medical masks, 200 breathing machines, and 10,000 kg of chloramine B disinfectant to help Laos cope with the Covid-19 pandemic.
On the special flight from Hanoi, 35 medical experts also came to help Laos control the pandemic, set up a rapid testing system and a field hospital. On this occasion, the Central Committee for External Relations, the Vietnam - Laos Cooperation Committee, and the Government Office also donated 50,000, 500,000, and 20,000 medical masks, respectively to their Laos counterparts.
Speaking after receiving the aid, Laos Deputy Prime Minister Kikeo Khaykhamphithoun congratulated Vietnam's great achievements in the prevention and control of the Covid-19 pandemic, expressed deep thanks for the attention and valuable help from Vietnam Party, State, and People to Laos Party, State, and people.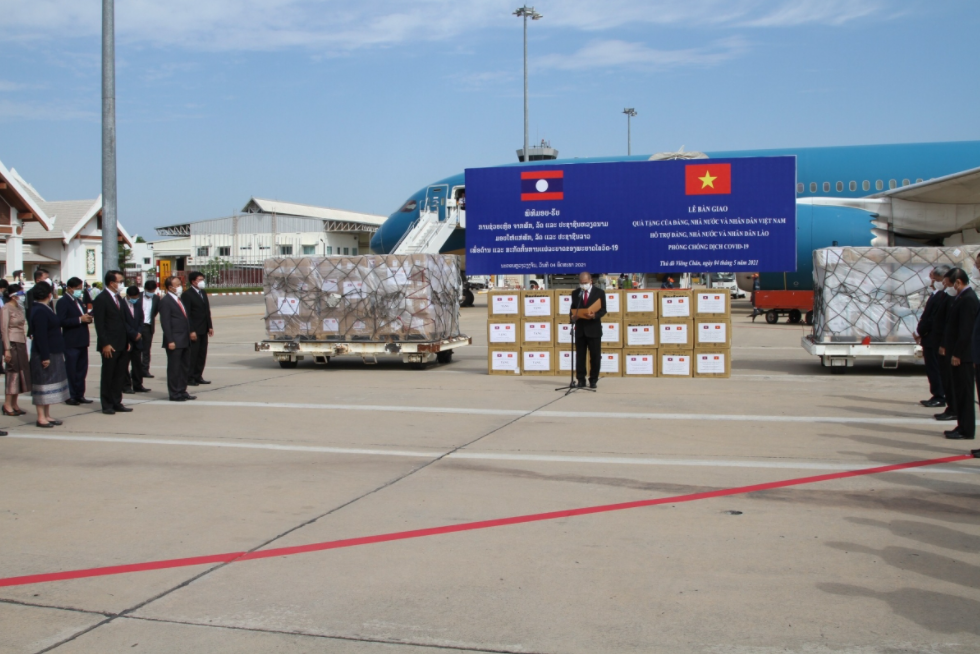 Photo: VOV
Deputy Prime Minister Kikeo Khaykhamphithoun affirmed that this was a meaningful and timely contribution to the efforts to cope with the disease in Laos, contributing to strengthening the team of doctors, as well as encouraging the spirit of patients that were being treated in Laos.
He also emphasized that Vietnam was the first country to provide financial support, sending human and material resources to assist Laos in coping with the outbreak., which strongly demonstrated the spirit of great friendship, special solidarity, and comprehensive cooperation between Laos and Vietnam.
The COVID-19 pandemic continues to complicatedly develop in Laos. The pandemic has spread to 15 out of 18 provinces/cities, including 8 out of 10 provinces that share a border with Vietnam.
In April 2020, right in the first Covid-19 outbreak in Laos, the Government of Vietnam provided Laos with 1,000 protective medical suits, 160,000 medical masks, 130,200 antibacterial masks, and 1 RT-PCR test results analyzer and its spare parts, 7,150 test kits with a total value of about USD 300,000 USD. In addition, over the past year, ministries, localities, domestic enterprises as well as overseas Vietnamese and Vietnamese enterprises in Laos have provided support in many forms to help Laos cope with the Covid-19 pandemic.