Vietnam – Italy friendship shines amid coronavirus crisis
The two countries are commemorating the 47th anniversary of the establishment of diplomatic relations this year. What could better demonstrate the strength of the relationship than willingness to help each other despite the distance.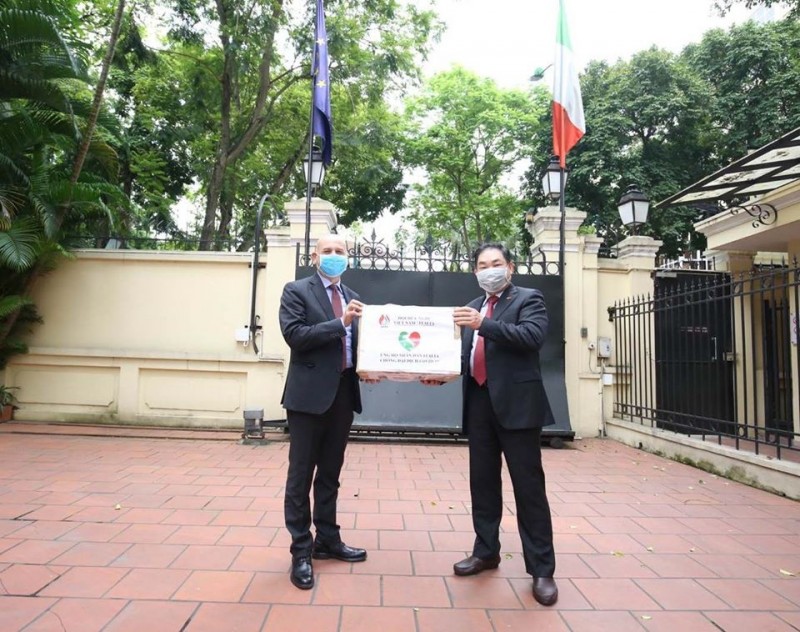 Bilateral ties noted with timely-support. Photo: VNT
In reaction to the coronavirus outbreak in Italy, the Vietnam - Italy Friendship Association has called on Vietnamese people who have studied and worked in Italy, people who love Mediterranean country, its people and culture, join in donating, supporting the Italian people, contributing the COVID-19 combat of the Italian government and people.
On March 31, representatives of the Vietnam - Italy Friendship Association visited the Italian Embassy in Hanoi to present COVID-19 aid package, including 41,000 face masks.
On behalf of the Embassy, ​​Italian Ambassador to Vietnam Antonio Alessandro has sent his sincere thanks to the people of Vietnam and the Vietnam - Italy Friendship Association for the timely-support as the country is now facing a significant shortage of medical materials. Although Vietnam is also struggling to prevent virus, the Vietnamese people still give Italy essential supplies to help curb the spread of the disease, he added.
The Ambassador expressed his belief that the COVID-19 pandemic will soon end in Vietnam and Italy as well as around the world. The cooperation between the two countries continues to develop steadily and bring benefits to the two countries and people, contributing to the building of peace and friendship in the world.
According to Reuters, after days of steep rises in cases, data this week has suggested the pace of growth in the number of total cases in Italy is slowing, with new infections coming in at 4,053 on Tuesday. Deaths have remained largely steady at over 800 a day.
Italy was the first Western country to introduce the restrictions and has tightened them week by week, banning all but core activities.
The nation of 60 million people has recorded nearly a third of all fatalities caused by the disease around the world.
Italy marked a minute of silence and flew flags at half mast Mar 31 to mourn the 11,591 people who have died from the coronavirus pandemic that has drastically altered life in the Mediterranean country.
The day of mourning marks a month in which Italy saw more deaths from a single disaster than at any time since World War II./.