Vietnam – Japan Cooperate with Growing Film Industries
According to Associate Professor-Dr. Bui Hoai Son, the success of Japanese film industry is rooted from advanced technology and the respect of the audience's emotions.
On May 12, the seminar "Japanese film industry – success stories and co-production prospects with Vietnam" was held within the framework of the 1st Da Nang Asian Film Festival 2023 (DANAFF I).
Associate Professor-Dr. Bui Hoai Son, Standing Member of the National Assembly's Committee on Culture and Education, said that the seminar is a very meaningful event, especially in the context that the two countries are celebrating 50 years of establishment of diplomatic relations (1973-2023) and the Vietnam National Assembly has just promulgated the amended Law on Cinema defining film as an important cultural industry.
According to Ass.Prof-Dr. Bui Hoai Son, film has become an important international communication tool, bringing diverse aesthetic and cultural values ​​to audiences around the world. Japanese film industry is a bright spot with many impressive works that have been welcomed and recognized globally.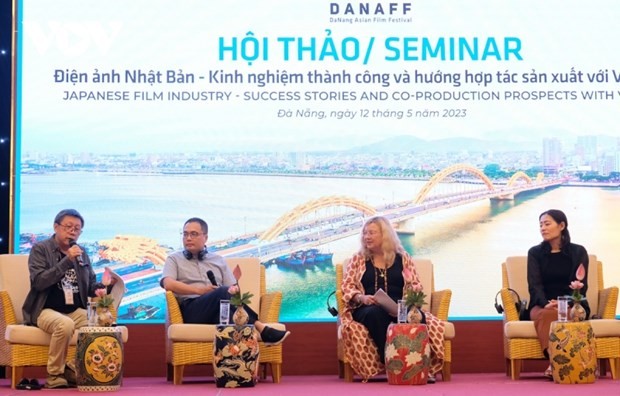 Delegates participated in the discussion at the seminar. (Photo: VNA)
Japanese film industry is successful with its special elements such as deep and sophisticated plots, beautiful effects, groundbreaking ideas and unique cultural highlights.
Movies such as "Kimi no na wa" or "Shoplifters" have been loved all over the world, bringing pride to Japanese people and contributing to the cultural promotion of the country.
With the development of technology, Japanese cinema has made great progress in applying advanced techniques and technologies. Many movies are produced using 3D, IMAX or HDR super-sharp images, bringing an immersive and realistic experience to the audience.
According to Son, the success of Japanese film industry is rooted from advanced technology and the respect of the audience's emotions.
Many Japanese movies are created not to make a profit, but to carry a beautiful cultural, social and spiritual message, making the audience understand the human value of life.
In fact, Japanese film industry has contributed to the promotion of Japanese culture as well as the beauty of its people and country to the world. Famous films, movies and entertainment products have conveyed to audiences the beautiful pictures and inspirational stories about Japan.
"Thanks to this seminar, we will have a lot of useful information about Japan's experience in film industry, thereby find ways to apply it to the Vietnamese market. It carries special meaning especially in the time of strong progress and developments in Vietnamese film industry these days. The seminar is expected to bring new and creative ideas and enhance the cinematic arts and culture of both countries," said Bui Hoai Son.
At the seminar, delegates exchanged successful experiences in Japanese film industry and discussed about cooperation in film production between both sides, especially potentials and trends of Japan – Vietnam animation cooperation.
Deputy Director of Department of Culture and Sports of Da Nang Nguyen Thi Hoi An shared that the city considers culture an spiritual foundation, both as a goal and a driving force for economic development. The cultural industry in general and the film industry to be specific is one of the city's main focuses.
Da Nang city is committed to having appropriate mechanisms and policies to support, attract investment and cooperate with domestic and foreign businesses and investors in the field of cinema to promote the development of the film industry in the future.
Yakabe Yoshinori, Consul General of Japan in Da Nang expressed his hope that both sides will find and utilize opportunities to cooperate in film production. He expected Vietnam and Japan to continue to strengthen cooperation in the field of cinema soon.
Singapore film critic Philip Cheah highly appreciated Vietnam's geographical location and favorable natural conditions to promote connection of film production with other countries. In the future, cooperation between the two countries Vietnam and Japan is said to be enhanced.
According to director Dang Tat Binh, Vietnamese and Japanese filmmakers shared a common understanding of the mindset of making films, creating opportunities for future cooperation.
In addition, the professional expertise, discipline, and thorough preparation for the work of the experts in the Japanese film crew are valuable for Vietnamese filmmakers.
Participants of the seminar also pointed out that at present, many Japanese actors in Japan and in Vietnam want to participate in filming in Vietnam, which is also one of the favorable conditions for future film production cooperation.
With the amended Law on Cinema, the current film-making procedures will be simpler and more transparent. Making movies in Vietnam has lower costs, thereby increase the profits of movies. Vietnam is therefore considered an attracting destination for foreign film crews.
In addition, Vietnamese filmmakers need to actively seek cooperation partners and Japanese filmmakers who love Vietnam to jointly produce projects, promoting the development of the two sides' film industry.
Vietnamese Film Premiere in Cannes 2023

Vietnamese film "Inside the Yellow Cocoon Shell" by first-time feature director Pham Thien An will have its global premiere next month in the 76th Cannes ...