Vietnamese Choreographer Strives to Introduce Folk Culture through Contemporary Dance
Mainly working in foreign countries, choreographer Nguyen Ngoc Anh has put many attempts to use Vietnamese folk materials in contemporary dance to introduce the culture of his root.
Choreographer Nguyen Ngoc Anh is well-known among art audiences, critics, and professionals for his high-quality contemporary dance works.
Working in Hong Kong (China), the artist works hard to introduce to the public performances that harmonize Western ballet dance techniques and Vietnamese folk elements.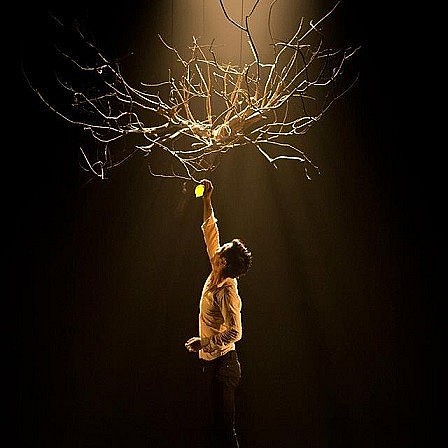 Ngoc Anh in a performance.
A thirst for integration
Nguyen Ngoc Anh took up ballet major at the Vietnam Dance High School (now the Vietnam Dance College) in Hanoi when he was 11 years old.
After graduating in June 1998, he received a scholarship from the Hong Kong Academy for performing arts and a scholarship from the Conservatoire de Lyon (France). Ngoc Anh chose the Hong Kong Academy and attended a ballet course for two years, then spent another two years pursuing a modern dance course.
In 2003, the dancer headed to London to audition for a famous performance company, WayneMcGregor/RandomDance. He was one of three dancers that received the offer, beating 800 candidates.
With his experience and expertise, Ngoc Anh gradually won appreciation from the public and critics. In 2008, he was awarded the British National Dance Awards' Best Actor Award for Contemporary Dance, nominated and voted for by critics and journalists.
A passion for folk culture
When joined the Place Prize 2006 - Europe's largest choreography competition, Nguyen Ngoc Anh was named in the top 20 best candidates. His performance, Cham's soul, left deep imprints on the audience and judges for the idea of bringing Champa statues into the stage.
His passion for creativity with materials from his homeland continued to lead him to a dance inspired by Dong Ho folk paintings, which he brings to Vietnam on his current tour.
Nguyen Ngoc Anh said, with unique cultural values, Dong Ho paintings have been recognized as a National Intangible Cultural Heritage and become a source of inspiration for many unique and impressive products in many fields such as fashion, painting, and music. However, Dong Ho paintings are rarely used in modern dance. This brings him the idea of combining the inspiration from Dong Ho painting with the flexible moves of ballet.
The dance was performed by the Vietnam National Opera and Ballet Theater at the Hanoi Opera House last February. Dancers with their skillful moves tried to recreate the paintings on stage, to New For Seasons - a new music arrangement by Max Richter.
"I was inspired by Dong Ho folk paintings and I tried to put it in a ballet performance, giving it a new breath, a contemporary spirit. I do not strictly follow a traditional theatrical plot, but use folk elements as a material," said the artist.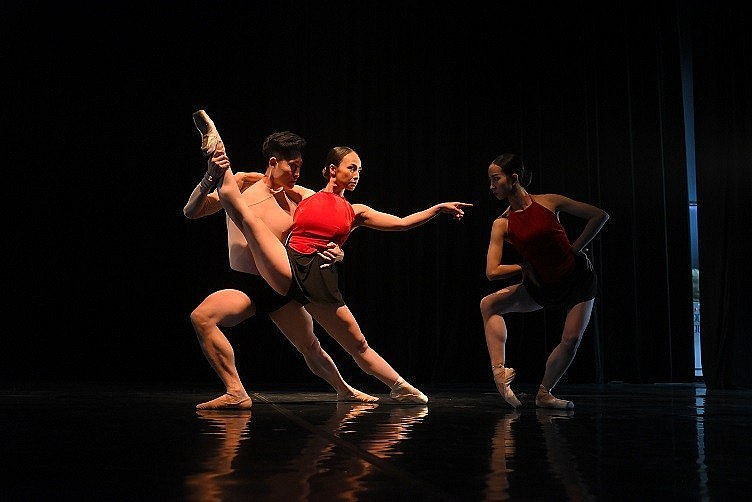 Dong Ho performance, by choreographer Ngoc Anh.
Ngoc Anh is working at the Hong Kong Academy of Performing Arts. Besides working as an artist, he also teaches young children at the Alpha School of Dance in Hong Kong. Since 2010, he has often traveled to Vietnam. Seeing a positive trend in the development of Vietnam's contemporary art, he hopes to open a dance school in Vietnam in the near future.
"I want to bring my experience and passion to contribute to the growth of arts in Asia in general, especially in my homeland. I use Asian elements as a material, to convey a message. Even though I live abroad, my soul is still Vietnamese, I want to bring the Vietnamese soul to foreign classical art, to explore every corner of the world of art while still preserving my Vietnamese soul."