Vietnamese Culture Impresses at Italian Festival
The Vietnamese community in Italy has brought typical features of the national culture, thereby introducing the beautiful image of Vietnam to international friends.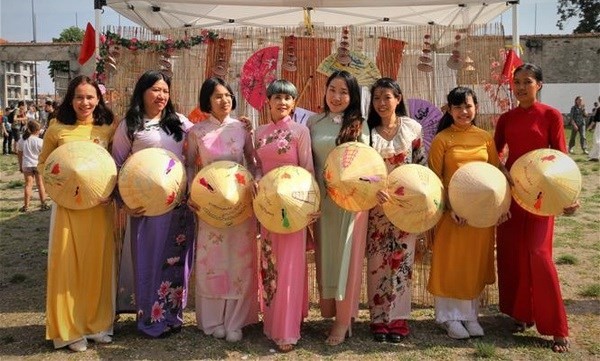 The Vietnamese art troupe at the event. Photo: VNA
The cultural identity as well as the image of a beautiful and peaceful nation of Vietnam have been introduced to international friends during an international festival held in Borgomanero district of Italy's Piemonte region, VNA reported.
The festival, an annual event held in mid-May, provided a chance for foreign communities in Italy to meet and exchange with each other.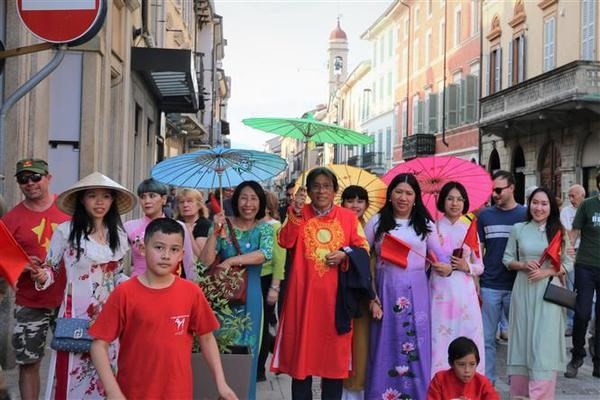 The Vietnamese delegation marching to the central square of Borgomanero during the festival. Photo: VNA
The Vietnamese booth, showcasing Vietnamese traditional conical hats (non la) and calligraphy art, attracted many visitors, especially youngsters.
Visitors had a chance to enjoy Vietnamese ao dai (traditional dress) shows, dragon dances and martial arts performances, as well as traditional dishes of Vietnam.
A large number of participants were particularly impressed and enthusiastically cheered for the ao dai show, lion dance, conical hats dance, along with martial arts performances.
Nguyen Hoang My, who has lived in Piedmont for more than 25 years and has participated in this festival many times, shared, "At first, only my mother and I went with a friend, then people came to participate in large numbers, including a martial arts and lion dance family from the city of Milan".
When saw ao dai, all the participants said, "Oh, Vietnamese girls in ao dai are so cute." Then they gathered to dance, most from Rome and Milan. Some of them who are far away come to my house to practice first, organise cooking classes making spring rolls and dumplings to promote Vietnamese culture in Italy."
"I am very proud to be Vietnamese, so I want to let all of friends know about Vietnamese people and culture," said My.
After performing with his wife to break bricks with bare hands, Zucca Ricardo, martial arts master of Thanh Long Vo Dao sect, shared that he regularly practices and teaches Vietnamese martial arts in Italy. His bond with Vietnam started in 2003 with the first trip to Vietnam to learn about traditional martial arts.
There, he got to know his wife and they got married in 2013. He and his family wanted to introduce the cultural values of Vietnamese martial arts and make a meaningful contribution to this festival.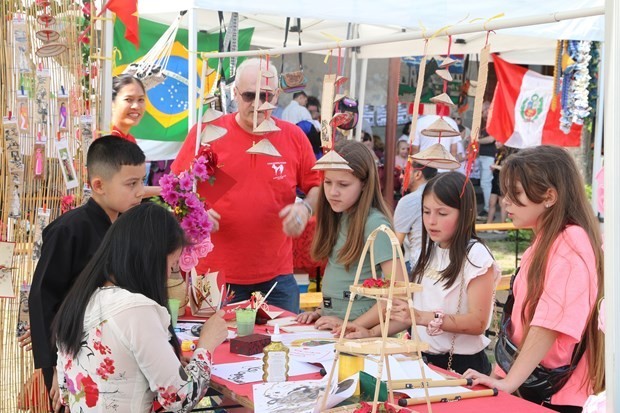 Calligraphy at the Vietnam booth attracts young people to visit and experience. Photo: VNA
Sergio Vercelli, head of the organising board, expressed delight at the participation of the Vietnamese community in the event as well as impression at their special performances.
The festival concluded with a parade to the central square of Borgomanero. It aimed to spread a message of peace, friendship and common development in diversity among all communities not only in Borgomarero but all countries, regions and the whole world.
Last week, Vietnamese handicraft products has been displayed at the MIDA – Florence International Crafts Fair 2023, which runs in Italy from April 25 to May 1.
Co-organised by the Vietnamese Embassy in Italy and the Vietnam Trade Promotion Centre for Agriculture (AGRITRADE), the event gathered leaders of European and Italian craft associations, as well as Italian experts and businesses in the field.
The annual fair attracted more than 500 exhibitors from over 50 countries worldwide, including Vietnam.