4 Overseas Vietnamese in Czech Republic Given Awards
The Vietnamese Embassy in Czech Republic recently held an awards ceremony to recognize individuals with outstanding academic achievements and social contributions in 2020.
At the ceremony, the Ambassador of Vietnam Thai Xuan Dung conferred certificates of recognition to four overseas Vietnamese with outstanding achievements in 2020: Nguyen Dong Nhat - postdoctoral student at the Czech Technical University in Prague, Hoangova Thao Sandra for mobilizing student support to help flood victims in central Vietnam in 2020, Duong Hong Nhung for initiating the construction of a kindergarten and helping poor people in Nghe An province, and medical student Jana Nguyenova for winning the first prize at the SOC innovation contest held by the Czech Ministry of Education, Youth and Sports in 2020.
Ambassador Dung highlighted the role of Vietnamese youth in elevating the image of the Vietnamese community in the Czech Republic. He said that addition to their excellent academic and research achievements, they had made practical contributions calling for the implementation of charity events to support Vietnam overcoming natural disasters.
The ambassador stressed that the four individuals who received the certificates from the embassy had shown continued efforts to contribute to Czech development and improvie the image of the Vietnamese community in the country and across the world.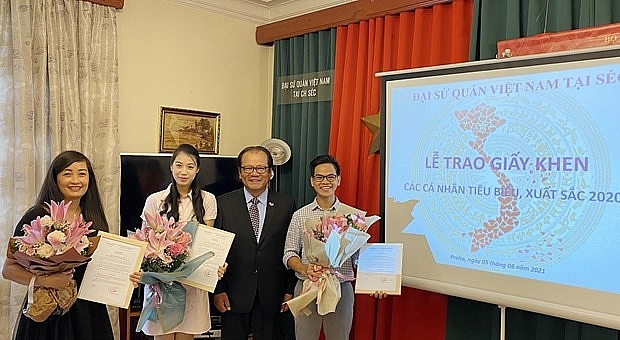 The outstanding individuals receiving the award from the Embassy of Vietnam in the Czech Republic. Photo: Vietnam News Agency
Expressing his honor as one of the reciepients, Nhat said "I feel lucky and thankful to be recognized as a young intellectual in the Czech Republic. I will work in Vietnam soon and will continue to connect universities in Vietnam with the Czech Technical University in Prague. I will also hold exchange workshops on advanced technologies related to the 5G technology to make further contributions to my homeland."
Nhat and his colleagues have conducted highly practical research projects recognized in the U.S. They have established a system to test 5G signal transmission via wireless networks without using optical fiber, the first of its kind in the world. The group's research report is highly evaluated by the scientific community in the U.S. for its superiority, effectiveness and production cost-saving.
Dung hoped the Embassy's award would encourage leaders of the Vietnamese associations in Czech to continue looking for excellent individuals who made significant contributions to the Vietnamese community and showcased the Vietnamese's solidarity and studiousness.
President of the Association of the Vietnamese in Europe Hoang Dinh Thang and President of the Association of the Vietnamese in Czech Nguyen Duy Nhien appreciated the Embassy's award for excellent individuals in 2020, showing the embassy's support for the Vietnamese youths in the Czech Republic.
Nhien believed the embassy's decision to award individuals with outstanding achievements in research, study and social contributions was meaningful in encouraging young Vietnamese to continue enhancing the image of the Vietnamese community in the Czech Republic.