COVID-19 raging: Litte Saigon faces struggles, Vietnamese Americans enjoy gardening
From 24/7 when the state of California (USA) suddenly witnessed a surge in the number of Covid-19 infections, the life of overseas Vietnamese in Little Saigon became even more difficult. Despite that situation, Vietnamese Americans still follow the regulations to prevent the Covid-19 while waiting for the difficulty to pass.
Saigon Bakery is always crowded with customers waiting outside (Photo: Thanh Nien)
Although nail and hair salons in California have been allowed to open to work outdoors, not many people are excited because there are still many difficulties such as few customers, hot, cold, unusual wind, and, most importantly, not every salon has a spacious place outside to continue its business.
The life of Vietnamese in California is even harsher. However, people here are still complying with the regulations to prevent the Covid-19 pandemic. While waiting for the difficulty to pass, Vietnamese Americans spend their time enjoying leisure, especially by gardening and planting trees, Thanh Nien Online cited.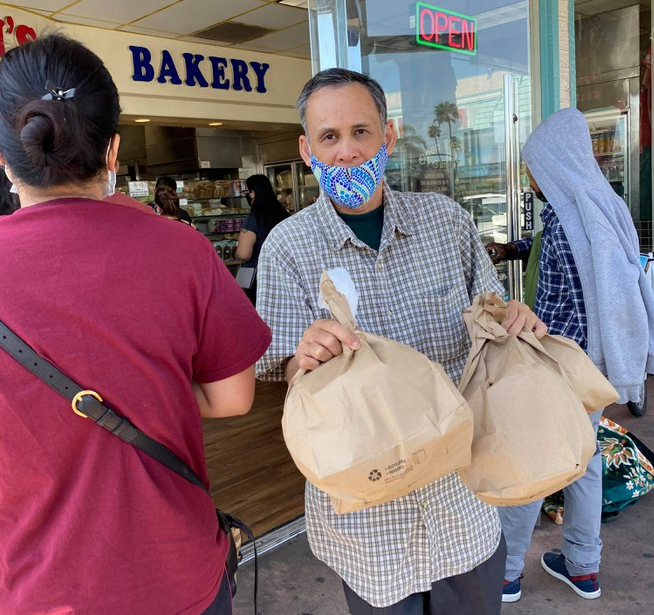 The Saigon bakery was crowded even in Covid-19 outbreak (Photo: Thanh Nien)
Markets, bakeries, fruit shops, restaurants, beverage shops also establish outdoor stalls and take away services. The outdoor agricultural market seemed to be popular with many people during the period of Covid-19.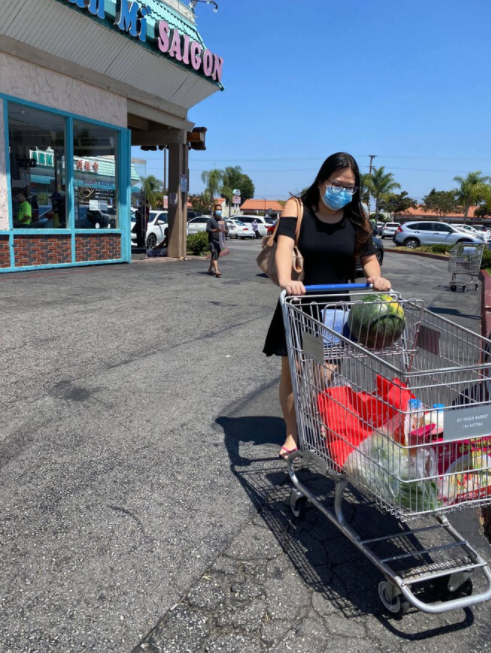 A woman wearing mask when shopping in My Thuan market (Photo: Thanh Nien)
A customer in an outdoor vegetable market (Photo: Thanh Nien)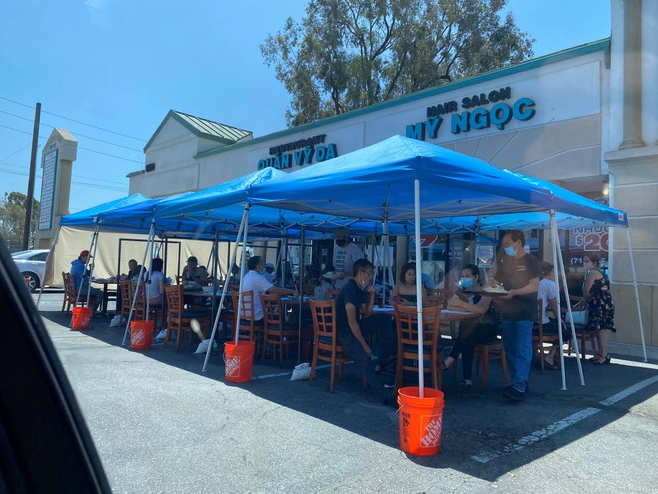 My Ngoc Hair Salon opens outdoor stalls (Photo: Thanh Nien)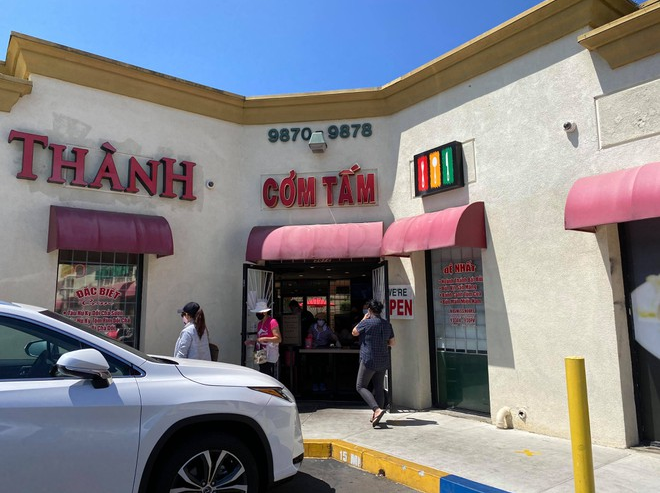 A cơm tấm restaurant which sells take-away dishes only (Photo: Thanh Nien)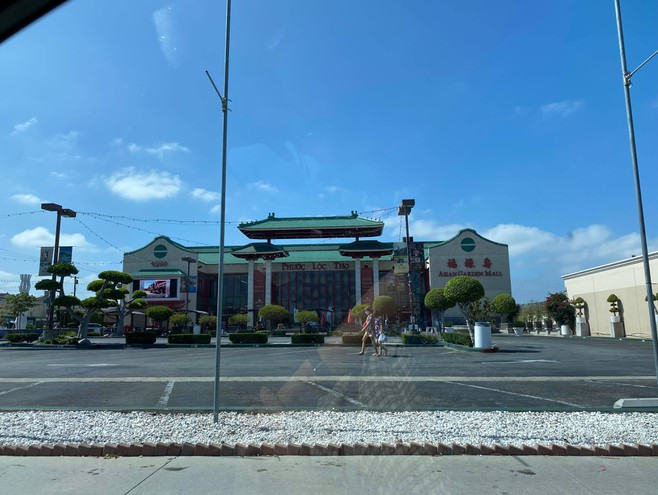 Phuoc Loc Tho shopping mall which used to be busy now having no customer. (Photo: Thanh Nien)
However, summer is also the harvest season for the Vietnamese community in America. Many families grow a clean vegetable garden at home so they do not need to go to the market often. Many families even have enough surpluses to share with relatives and friends.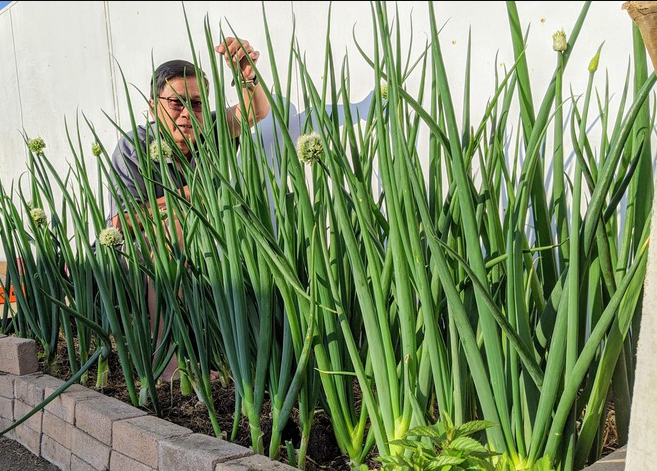 Author Vo Dac Danh beside his fresh onions (Photo: Thanh Nien)
In recent years, many Vietnamese people who have just come to the US have tried to grow vegetables of all kinds, such as gourd, melon, tropical fruit trees to earn extra income during the COVID season.
Author Vo Dac Danh and his wife have been living in the US for nearly 5 months. Arriving in the US right in the middle of Covid-19 period, they do not have much to do but plating vegetables such as beans, melons. His gardening is so successful that he not only has enough vegetables to supply for the family's meals but also to share with acquaintances.
The wife of author Vo Dac Danh (Torrance, Los Angeles) shows her "achievements" (Photo: Thanh Nien)
Danh's wife is a famous chef, so she takes advantage of the opportunity to make all kinds of jam cakes and dishes from homegrown and help her husband make a YouTube video to earn money to continue implementing the fundraising program to build bridges for Western Vietnam. Their project got 7,000 USD supporters right after established.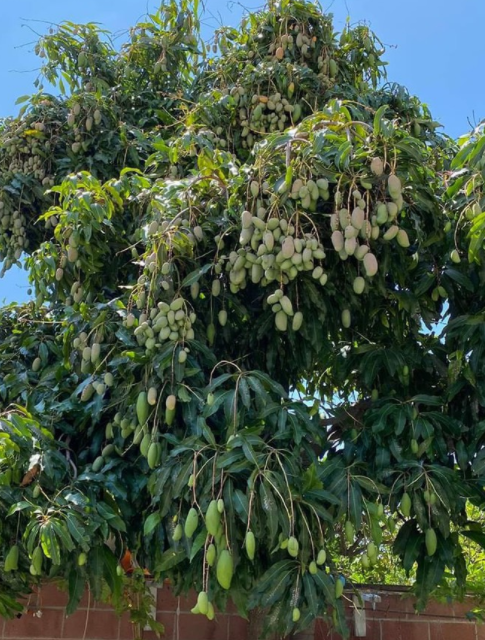 Mango trees in Little Saigon are filled with mango fruits during the Covid-19 period (Photo: Thanh Nien)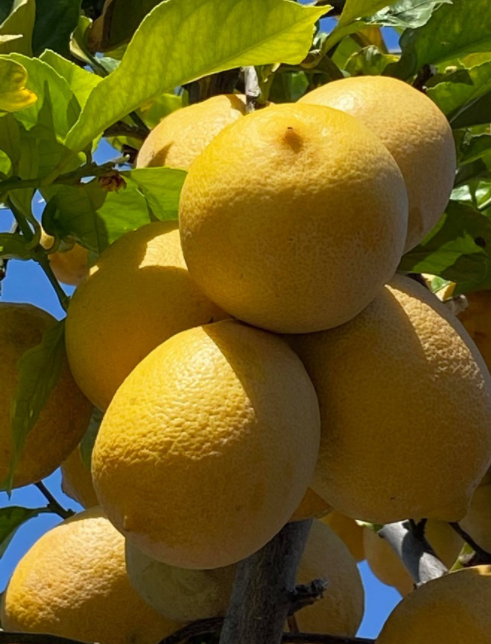 The vibrant lemon tree at Mrs. Mai Nguyen's house (Photo: Thanh Nien)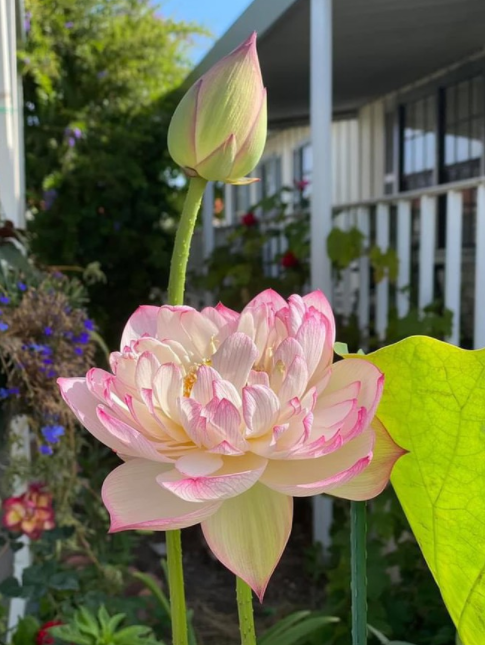 Lotus flowers are planted in pots in front of guitarist Nguyen Trung Nghia's house (Photo: Thanh Nien)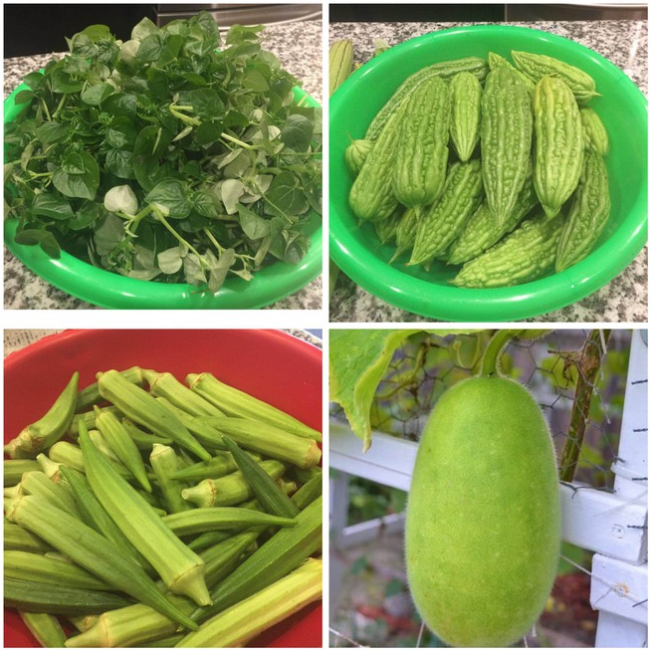 Ms. Anh Phuong's family harvested abundant fruits and vegetables (Photo: Thanh Nien)
The Covid-19 period is also an "excuse" for many Vietnamese in the US to show their artistic sides. This year, many Vietnamese photographers are happy to be able to take pictures of Flamboyant flowers in Orange county. The Flamboyant flower photos are widely shared online, making many viewers think that they were taken in Vietnam.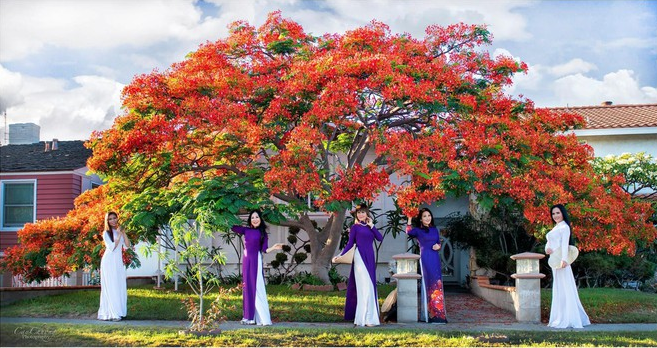 Vietnam American Photography Association took many beautiful pictures of flamboyant flowers for people (Photo: Thanh Nien)