Ho Chi Minh City to set up 12 checkpoints to control Covid-19 infection
HCMC police will set up 12 Covid-19 checkpoints at the city's gateways from May 15 in an effort to control the coronavirus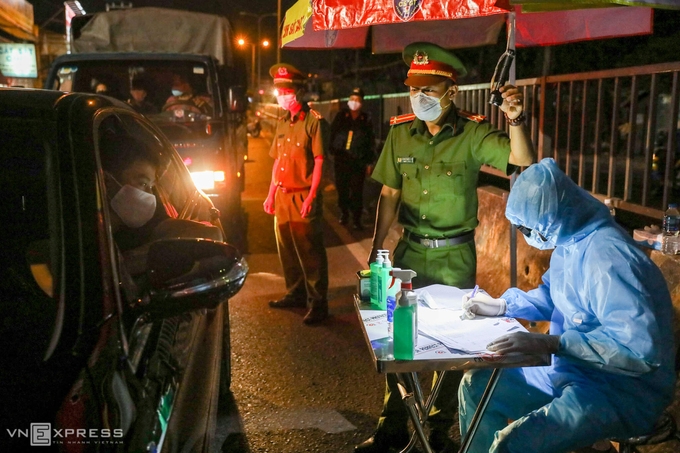 A Covid-19 checkpoint set up in Linh Xuan ward, Thu Duc city in April 2020. Photo VnExpress
The southern city of Ho Chi Minh is to set up a dozen checkpoints to help ensure the safety of the metropolis during the latest outbreak of coronavirus.
Lieutenant Colonel Nguyen Van Binh, deputy head of Ho Chi Minh city's police department, said the checkpoints would be established at Long Phuoc toll booth, Trung Luong expressway, Doi bridge on Tran Van Giau street, Ba Lang road, Xuyen A road on highway No 22, Phu Cuong, Vinh Binh, Song Than, Dong Nai bridges, and highways 1K, 50 and 1A.
The checkpoints will be set-up once more following order of Nguyen Thanh Phong, chairman of the city people's committee, due to the increasing Covid-19 community cases detected over the past few days in 26 provinces and cities including in HCMC.
Local authorities have asked police to step up inspection at residential areas to detect illegal entry.
Authorities at the district level must regularly inspect service businesses and public places to ensure they observe Covid-19 prevention protocols.
A checkpoint will be set up at Trung Luong expressway. Photo VnExpress
The city's health department has been assigned to set up working groups to take testing samples and ensure the taking of 50,000 samples per day. At the same time, medical forces must prepare plans to respond to any arising problem and build more centralized quarantine sites with capacity of more than 10,000 beds.
Earlier in April 2020, Ho Chi Minh City established 62 similar checkpoints when Vietnam enforced extensive social distancing rules because of a serious outbreak.
The municipal administration dismantled them after three weeks, once the virus had been kept at bay.
This week Ho Chi Minh City Chairman Nguyen Thanh Phong warned the city of a high risk of Covid-19 infection due to the large numbers of people in concentrated quarantine facilities of various sizes making it easier for cross-transmission to occur.
Ho Chi Minh City has recorded only one Covid-19 case during the new wave so far, a 28-year-old man who travelled to the city from Ha Nam Province on April 29.