Vietnamese Community In Odesa And Ukraine Celebrates President Ho's Birthday
Recently, at Lotus Village in Odesa, the Vietnamese Embassy in Ukraine coordinated with Vietnamese Associations in Odesa to celebrate the 133rd birthday of President Ho Chi Minh (May 19, 1890 - May 19, 2023).
Speaking at the opening ceremony, Vietnamese Ambassador Nguyen Hong Thach in Ukraine emphasized that despite the difficult circumstances, the Embassy still tried to coordinate with the Vietnamese community to organize a meeting to celebrate President Ho's birthday to pay respect and infinite gratitude to him.
Photo: Baoquocte
The Ambassador would like to thank the representatives of Odesa and the artists who came to participate and contribute musical and puppet shows to celebrate this event of the Vietnamese community, showing their love and respect for the Ukrainian people to the great leader of Vietnam.
The Ambassador wished the Vietnam-Ukraine friendship to be more sustainable.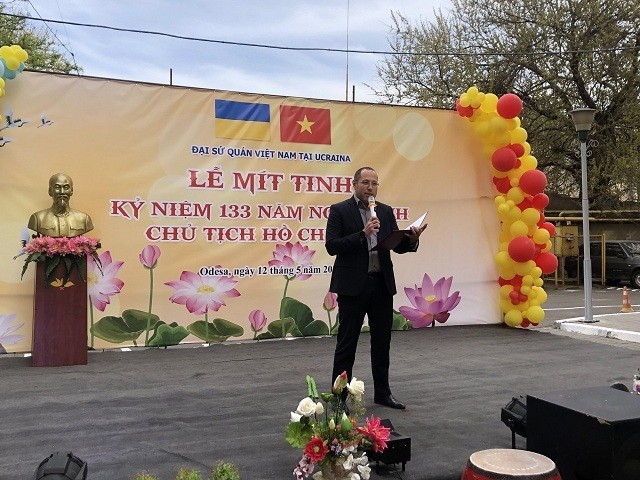 Artur Mikhailovich Brednhiev, Foreign Affairs Advisor of the Acting President of Odesa Province spoke. Photo: Baoquocte
On behalf of the Odesa provincial government, Artur Mikhailovich Brednhiev, Foreign Affairs Advisor of the Acting Chairman of the province warmly congratulated the Vietnamese community in Ukraine on the great national holiday.
Artur Mikhailovich Brednhiev emphasized that President Ho Chi Minh was a hero who made many contributions to the country of Vietnam and not every nation is fortunate to have such great people.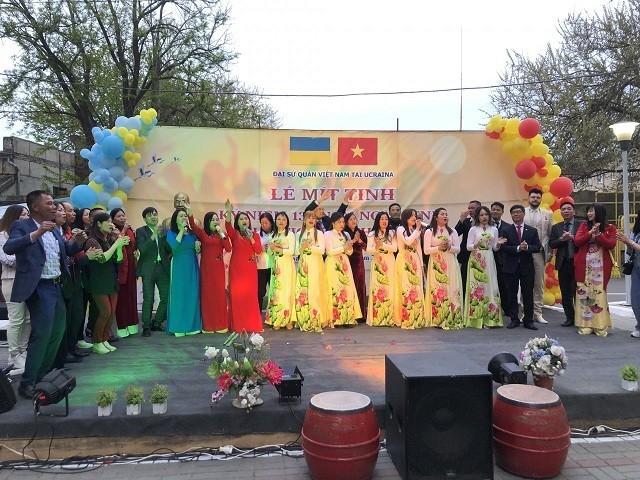 Photo: Baoquocte
He is admired by many people, and his statues and names are placed in many countries around the world. Odesa is one of the cities that was honored to welcome President Ho Chi Minh to visit in 1957.
After the congratulatory speeches of the guests, Ukrainian artists, and the Vietnamese community had many musical performances praising Uncle Ho and their love for the homeland, the country, and the friendship between the two nations.