Vietnamese Consulate in Vladivostok celebrates National Reunification Day
The Consul General Nguyen Hoang Viet looks back at Vietnam's postwar development, while looking forward to enhanced Vietnam-Russia friendship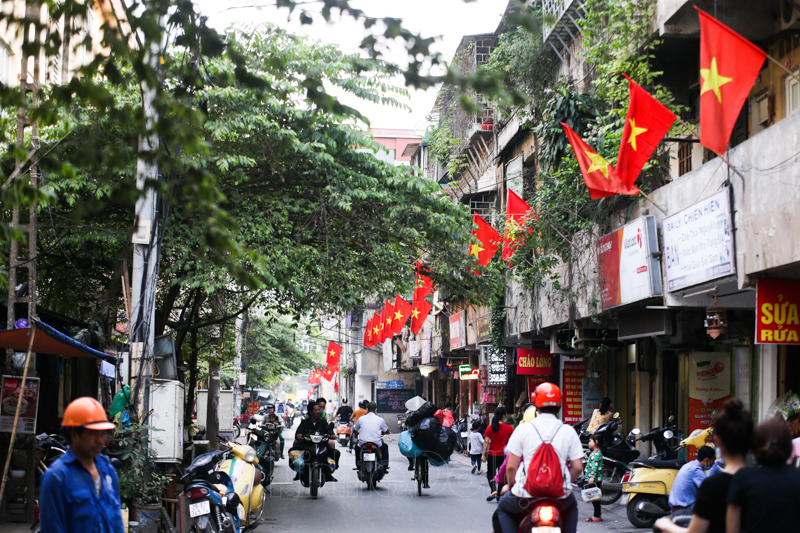 A street in Hanoi is radiantly bedecked with the national flags to celebrate the 46th anniversary of Reunification Day (30/4/1975 - 30/4/2021). Photo: Kinhtedothi
The Vietnamese Consulate General in Vladivostok, Russia, marked the 46th Anniversary of National Reunification Day on Aril 30, Vietnamplus has reported.
Due to the complicated Covid-19 situation and a social distancing order in the Primorye region, the event was more limited in scope this year.
At noon April 30, Consul General Nguyen Hoang Viet and staff of the Consulate General offered flowers at the President Ho Chi Minh monument in the city of Vladivostok in Russia's far east.
That afternoon, the Consulate General held a meeting to celebrate the anniversary, attended by staff of the Consulate General, representatives of the Vietnamese community in Primorye Province, as well as students from the Far East Federal University and National Maritime University Nhevelskoy.
In a solemn atmosphere, Consul General Nguyen Hoang Viet and participants reviewed the April 30 event, evaluated the country's post-war development, and encouraged each other to improve the image of Vietnamese people, while nurturing Vietnam-Russia friendship.
The Consulate General also visited and presented gifts to 30 Russian veterans in Primorye, who supported Vietnam in the war against the United States as well as in rebuilding the country thereafter.
Earlier, the Vietnam War Veteran Association in Russia also held a ceremony to celebrate reunification (April 30), International Worker's Day (May 1), and the Association's 5th anniversary.
The ceremony welcomed Colonel Tran Tien Phuong, Vietnamese Defense Attaché in Russian Federation; Mr. Le Trung Hieu, Community Affairs Standing member of Vietnam Embassy to Russia; members of the Vietnam War Veterans Association in the Russian Federation; and a number of representatives from Vietnamese businesses in Russia.