Vietnamese Teachers Abroad to Learn about the Motherland
On August 29, the closing ceremony of the training program on Vietnamese language teaching for Vietnamese teachers abroad took place in Hanoi.
Useful knowledge
Speaking at the closing ceremony, Dinh Hoang Linh, Director of Information and Culture Department, State Committee for Overseas Vietnamese of the Ministry of Foreign Affairs of Vietnam said that after more than 2 weeks, nearly 70 teachers from 9 countries and territories have successfully completed the training course on Vietnamese language teaching for overseas Vietnamese teachers in 2022.
Participants have been equipped with pedagogical skills and formal and professional Vietnamese teaching methods. Through the lectures, the teachers and students have gained more useful knowledge about Vietnamese culture and history as well as enhanced the richness and beauty of the national language.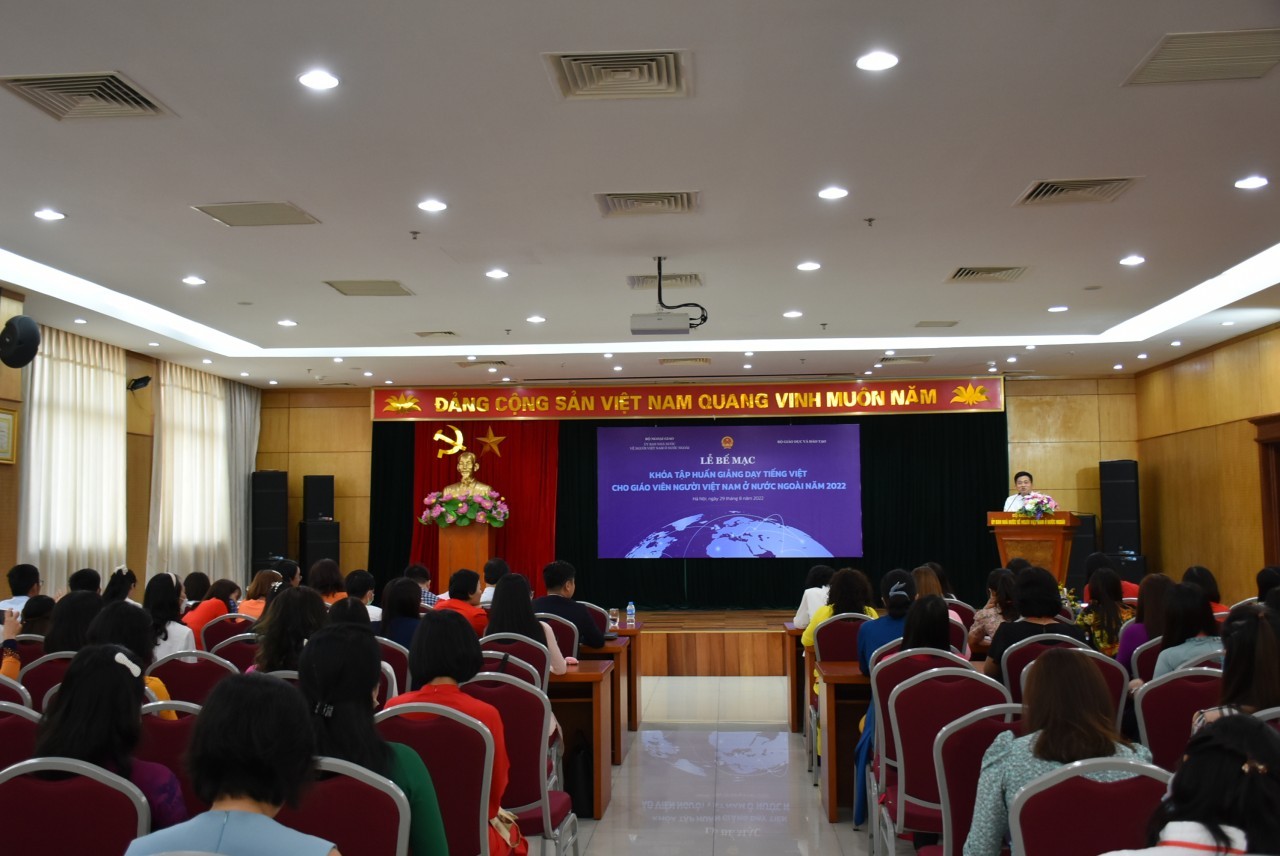 The closing ceremony. (Photo: Thoi Dai)
In addition, participants are also provided and shared with valuable teaching materials, which are taught by experienced language experts from the Hanoi National University of Education and the University of Humanities and Social Sciences, to support the improvement of Vietnamese language teaching skills.
Overseas Vietnamese teachers also attended the exchange program to gain more practical experiences in teaching Vietnamese at Nguyen Binh Khiem primary school, participated in the seminar "Methods of teaching Vietnamese to Vietnamese children abroad" organized by Vietnam Education Publishing House, visited and learned about historical sites in Hanoi, Ninh Binh such as the Presidential Palace, Temple of Literature, the Trang An tourist site, Bai Dinh pagoda, Hoa Lu relic site.
"More than 2 weeks of training with exciting and useful lessons have ended. I hope that all overseas teachers have gathered useful knowledge in teaching and learning Vietnamese and have good memories with participants from many countries and territories through group study sessions and discussions. This will give more motivation for teachers to overcome difficulties to continue the career of preserving the Vietnamese language for the young generations of Vietnamese people living abroad," said Linh.
Knowledge, skills, experience, and connections
Le Mai Tri Dung, a teacher from Sweden, was touched and highly appreciated the training program. Dung said that the course is long enough for teachers to have basic experiences about our country changing in the new situation, along with beautiful and memorable memories during this 2022 training. Most of all, children from far away have the opportunity to return to their homeland, bond with each other, and be emerged in Vietnamese culture.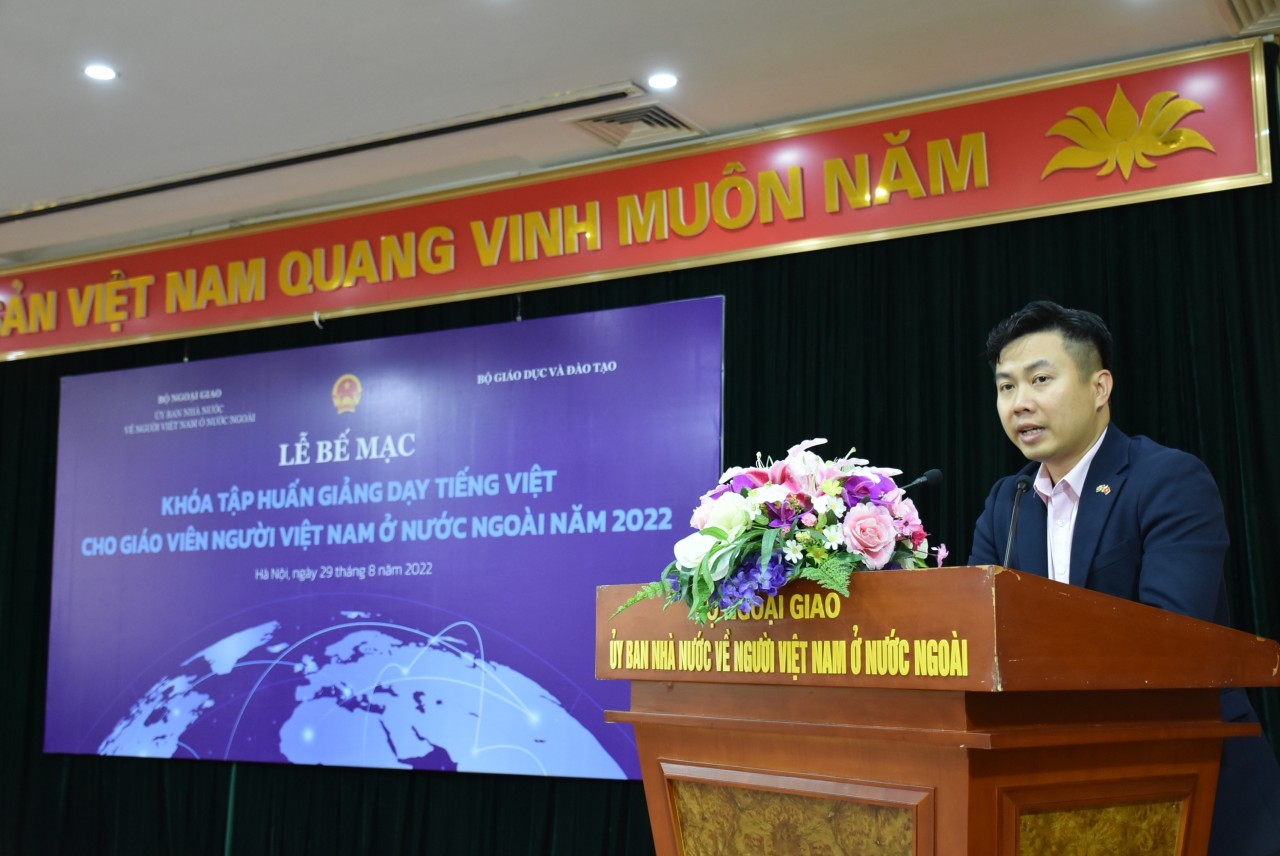 Teacher Le Mai Tri Dung, from Sweden speaking at the ceremony. (Photo: Thoi Dai)
"This year's training course is special there were participants who were infected with Covid-19. The organizers were very active and flexible in arranging isolation and online learning for them. The teachers and lecturers have tried their best to organize online classes and exams. Despite being very sick, participants were still passionate, studying hard with the desire to absorb all the quintessence of the lecturers," said Dung.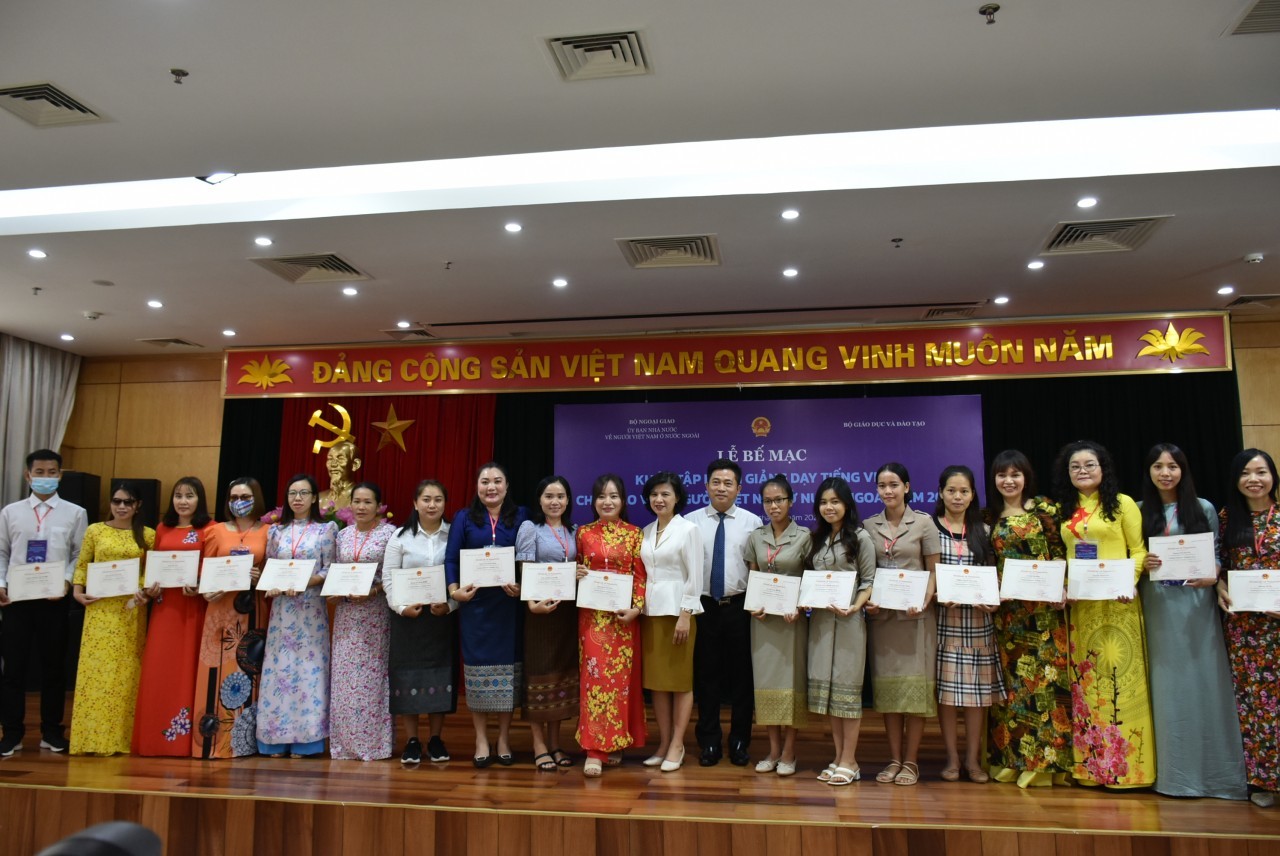 Presenting certificates to teachers. (Photo: Thoi Dai)
Nguyen Thi Anh Tho is a Vietnamese teacher living in Japan. She, unfortunately, contracted Covid-19 and had to study online from a hotel room instead of going to class in the last sessions of the training program.
"For me, the certificate has to be exchanged by blood and tears. The blood here is being infected with Covid-19. Tears are the fear that my elderly parents might get the infection, and then missing my children while staying far away from them for many days. This certificate is also valuable in that it is a certification of what I, as well as other participants, have obtained through this training session. I can encapsulate in 4 words: knowledge, skills, experience, and connections," said Tho.