Bringing Vietnamese Fish Sauce to the US
From the love of his mother's dishes and the taste of the homeland's fish sauce, Cuong Pham (65 years old, overseas Vietnamese in the US) brought Phu Quoc fish sauce over 40,000 kilometers to the US. That raised the level of Vietnamese fish sauce into a high-class food brand trusted by the world.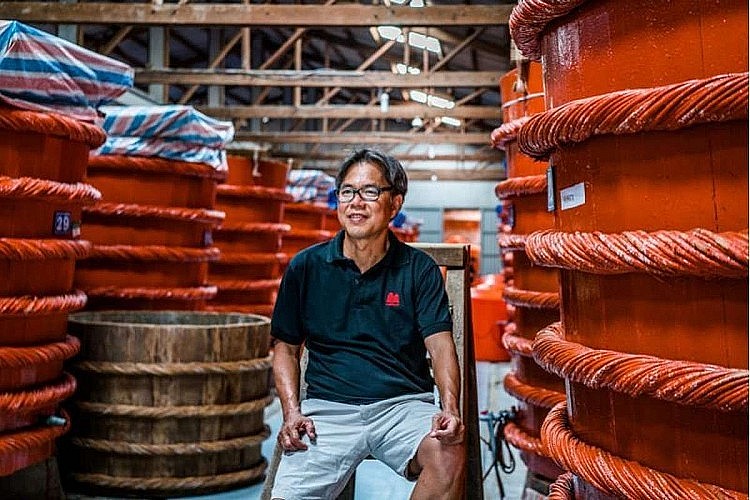 Cuong Pham at a fish sauce factory in Phu Quoc.
Bringing fish sauce across the ocean
Cuong Pham, born in 1958, visited Phu Quoc for the first time in 2005. The special taste of this traditional fish sauce made him realize that this was his shortcoming in his efforts to inherit his mother's recipes over the years.
Cuong immigrated to the US in his twenties. Ten years later, when life was stable, he brought his mother and family to the US. His mother is a primary school teacher in Saigon, who also loves to cook and has trained as a French chef. After the trip to Phu Quoc, the gift he brought back to the US for his mother was a bottle of Phu Quoc fish sauce. His mother was moved to tears when she felt the taste of her homeland again.
Returning to the US, Cuong continued to work at Apple as an information technology engineer. At the same time, he started investing in fish sauce production with a couple producing Phu Quoc fish sauce.
After 3 years of experimenting to find the best recipe to produce fish sauce, Cuong transported his Red Boat fish sauce from Phu Quoc to the US by boat and bottled at Hayward, California, US.
After that, he drove around the US to market the product. The chefs quickly became interested in the product, but the retailers did not.
Unable to distribute, Cuong sold the fish sauce online. There are days he can luckily get 10 orders.
Homeland flavor
In 2011, a turning point for his company came when culinary journalist Florence Fabricant wrote a short article about Red Boat fish sauce in The New York Times. After this article, distributors who had previously rejected him began to contact him.
A year later, he quit his job at Apple to focus on producing and trading fish sauce. To date, Red Boat fish sauce receives 400 orders a day. His company produces about 500,000 liters per year. His children also join him in running the company. Tracy, eldest daughter, is in charge of finance and sales. Kevin is in charge of production. Tiffany, the youngest child is in charge of marketing and food safety management.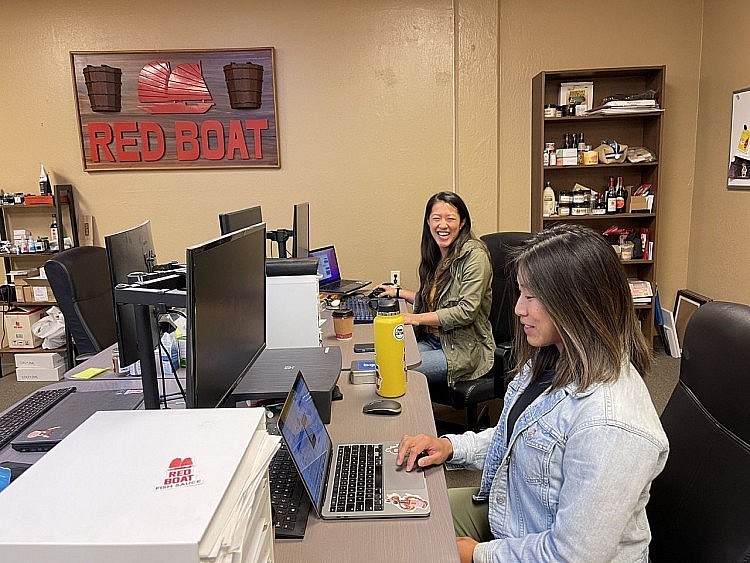 Cuong Pham's two daughters, Tiffany and Tracy at the headquarters of Red Boat in the US.
Cuong Pham said that the things he learned from working at Apple for 20 years contributed to the success of his fish sauce production and business. It is a product that must be of high quality and distinctive.
He hired a fishing team, making fish sauce right on the boat with fresh fish and sea salt. He used wooden crates to incubate the fish, and adjusted the temperature according to traditional methods. His Red Boat fish sauce is marketed for about US$7 a bottle, twice the price of mass-produced competitors, containing many additives.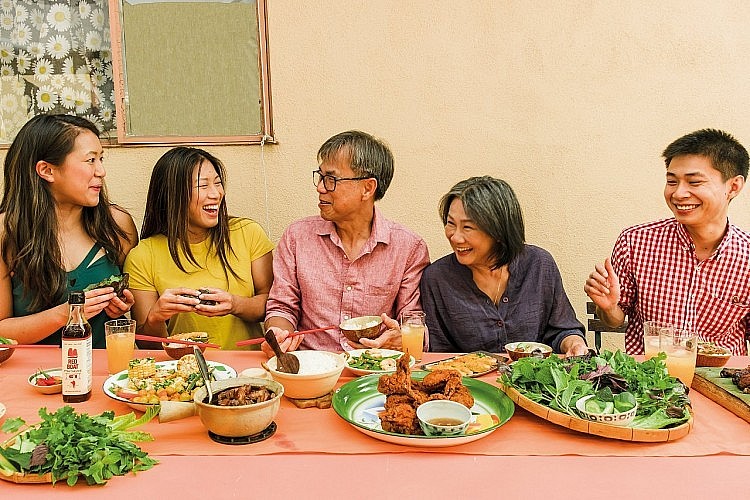 Cuong Pham's family enjoys a traditional Vietnamese meal.
Grateful to his mother for being the inspiration to help him succeed with the Red Boat fish sauce brand.
He collaborated with two other authors to create a cookbook with Red Boat fish sauce in honor of his mother. The book The Red Boat Fish Sauce Cook Book, published during the Covid 19 pandemic, has 50 recipes recorded by his mother from Vietnam to the US.